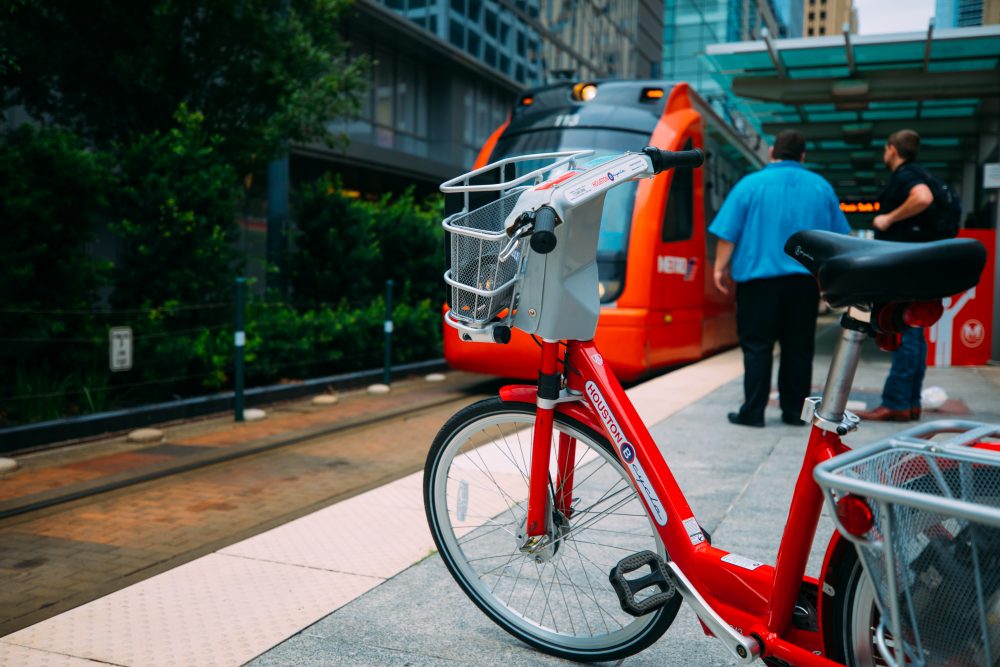 At last week's Houston Climate Week event, Mayor Sylvester Turner laid out the city's plans to tackle climate change and make Houston carbon neutral by 2050.
Part of those plans: investing in the city's transportation system to reduce carbon emissions.
Referring to Houston as a "car-centric" city, Mayor Sylvester Turner opened the week by stressing the necessity of cities coming together to face climate challenges.
"We recognize that these storms are coming with greater intensity, with greater frequency and Hurricane Harvey was the mother of them all," Turner said. "We recognize that we just couldn't continue to do things as we had done them in the past."

The city's Climate Action Plan, which started implementation last week, came partially as a response to an increase in major rain events and to the impact of Hurricane Harvey on the Houston area. And as yet another storm season barrels down on the gulf, city officials and transportation experts emphasize the need for reducing carbon emissions to address climate change.
MORE | 5 Things You Should Know About Houston's Climate Action Plan
The plan is set up to target transportation emissions specifically by shifting the city's vehicle fleet to electric and low-emission options, reducing vehicle miles traveled per capita and providing commuters with safe options that are convenient and reliable, according to David Fields, Houston's chief transportation planner.
"It is important that we realize that we're not telling everyone that nobody's going to drive, that we're going to be a city where everybody is going to bike from end to end of our 670 square miles every day," Fields said. "What we're going to get to is where it's safe to travel by all modes."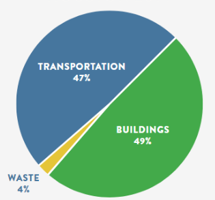 Transportation accounts for 47% of the city's total carbon emissions, according to the city. That analysis excludes areas outside of the city's general-purpose boundary, however — such as the Houston Ship Channel, where some of the region's biggest polluters are located.
The plan is also series of recommendations rather than an ordinance, meaning the city can't do much in terms of enforcement.
Still, the city has already started to implement certain emission-reducing measures, including the conversion of Houston's municipal car fleet to all electric vehicles, according to Marchelle Cain, deputy assistant director of fleet management for the city. The electrification process is projected to be completed by 2030.
And METRO plans to switch to electric or hydrogen-powered buses, according to Kimberly Williams, METRO's chief innovation officer. The regional transit authority has undertaken a study on electric bus charging infrastructure and received funding to begin electrifying buses within the Houston Airport System.
"What I'm looking at is the future and making sure that whatever we implement is future-proof," Williams said. "Meaning that it's looking at what technology is coming to the forefront, making sure that infrastructure can accommodate those future roads or future technologies, so it'll be a seamless integration when that technology matures."
The city has already allocated $1.1 million each year for five years since Fiscal Year 2018 to expand bicycle infrastructure and gained support for a $7.5 billion bond referendum to fund transit investment over 20 years through METRONext. The mayor has also said some funding would have to come from the private sector.
In all, the money will support two city plans and two policies and ordinances that focus on climate action to reduce Houston's transportation emissions.
"When people recognize that they really have reliable choices available, that's going to…get us to the place where we're looking to go and to reduce how many vehicle miles we travel every year and to bring down those air emissions to aim toward carbon neutrality," Field said.
Additional reporting by Katie Watkins