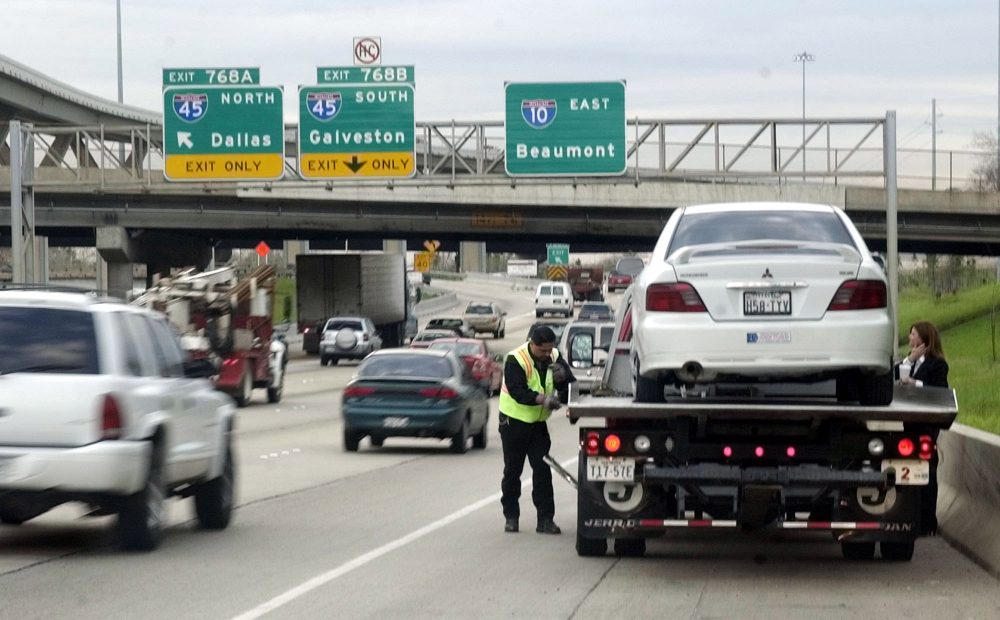 The Houston-Galveston Area Council has now expanded its "Tow and Go" program.
Under that program, disabled vehicles are towed off local freeways free of charge, either from the main lanes or the shoulder.
Tow trucks are dispatched to the scene after the breakdowns are spotted on traffic cameras at the Houston Transtar incident management center. Other incidents are handled by patrolling tow trucks that participate in the program.
The vehicle is then taken to a parking lot or other safe spot off the freeway.
The aim of Tow and Go is to prevent freeway crashes and backups. The program is funded by the U.S. Department of Transportation and the Texas Department of Transportation, and managed by the Houston-Galveston Area Council.
David Fink, program manager with H-GAC's Safety and Regional Incident Management Program, said the council has been been covering about 175 freeway miles within the City of Houston but has now expanded another 69 miles into Harris County. That includes the cities of Bellaire, La Porte, Humble, and Jersey Village.
Fink pointed out the average clearance time for a breakdown is just under 17 minutes. Once it's out of the way, traffic can start to flow again.
"This has been a very productive program," said Fink. "We hope to expand out to other counties in the future where we have camera coverage on the freeways."
That expansion could include I-10 into Waller County, I-45 North into Montgomery County, and I-69 in Fort Bend County. Fink added that I-69 in Montgomery County could also be an option as TxDOT looks to increase its traffic camera coverage.
Those stranded on the freeway can reach Tow and Go by calling 713-881-3333, or by going to towandgo.com. Drivers are advised to stay inside the vehicle with a seatbelt on until help arrives.
As H-GAC looks for other ways to keep the roads clear, Fink said it also plans to launch a pilot program in conjunction with the Houston police and fire departments in which minor non-injury crashes would be investigated remotely instead of sending units to the scene.
Fink also said current traffic patterns due to the COVID-19 pandemic has translated into fewer breakdowns on the freeways.
"We saw a major decrease in traffic in April when we were at complete shutdown, which was about 23% less tows during that time," explained Fink. "But we've seen traffic pick up and we're now about 8% below our average of 2019."