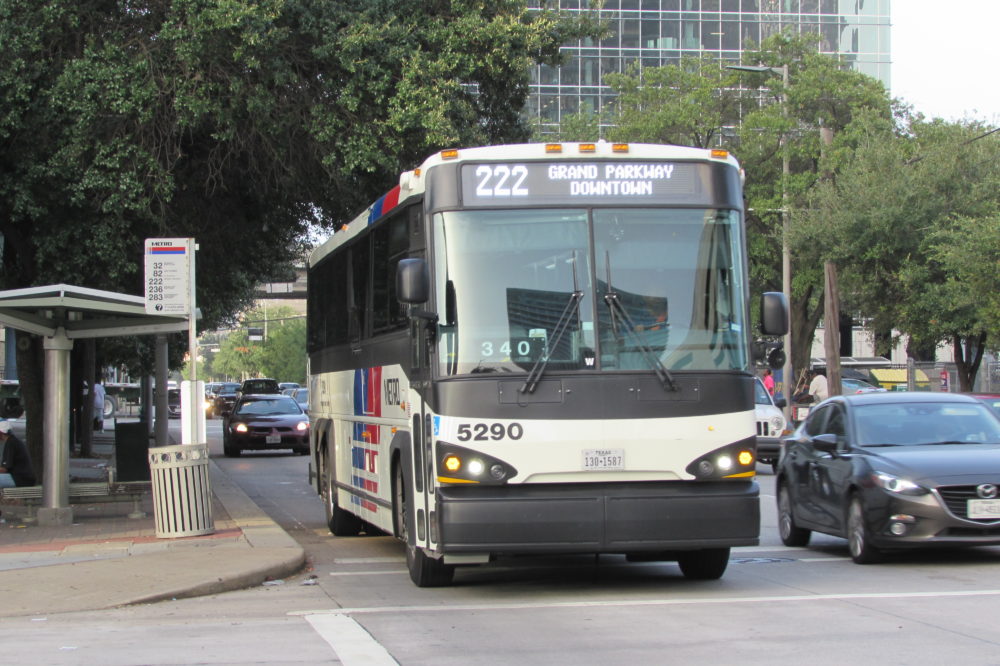 Many Harris County residents are staying home because of the COVID-19 pandemic, but other people deemeed to be essential workers don't have that option. And a lot of those workers are using public transit.
About 100,000 riders take METRO every weekday, the agency says, and its putting extra buses on the local routes to help promote social distancing.
METRO buses now include shields that separate operators from the public, and all riders are now required to wear masks and operators are giving them to people who don't have one.
As it provides for the region's immediate transportation needs, METRO says it's continuing work on long-term transit projects that were in the planning process before COVID-19 hit. But it's having to make adjustments: Bus and train ridership has been cut in half and the agency has also been seeing a loss in sales tax revenues that provide the bulk of its funding.
METRO President and CEO Tom Lambert spoke to Houston Public Media about some of the challenges of operating during a pandemic.
The below interview has been edited for length and clarity.
Well over 100 METRO employees have now tested positive for COVID-19 along with a couple of dozen contractors. This includes both transit operators along with employees who don't have any contact with the public. Do you have any idea how they're contracting the virus?
We don't know. We're working with Harris County Public Health as their contact tracers begin to look at all this. We're sharing all the information about employees and contractors so they've got all the best data as they begin to drill down and find out where folks may have gotten it.
I will tell you that since we began to reopen the state that's where we've really seen the numbers pick up. If you look at prior to May 26, we had about 23 cases reported from March 28 through May 26. May 27 through July 7, we've actually had about 93 cases and those numbers are growing. Since we began seeing the state open back up that's when we've seen the numbers increase as well.
Since the start of the pandemic ridership has fallen all across the METRO system but the steepest drop is on the park and ride buses. According to May's figures, commuter bus ridership was down over 90 percent from the same time last year. As employment patterns change, what is METRO anticipating in terms of future ridership?
I think it's going to take some time for the commuter park and ride service to come back. We've been talking to the Downtown Management District, getting a sense of what downtown employers are looking to do. Thirty-seven percent of the work trips downtown were by METRO prior to COVID-19. So, we've got to be in lock step with what those employers are proposing to do in bringing those employees back. I don't see that coming for quite some time.
METRO just reinstituted fares after suspending them back in March to allow for back-door boarding and fewer interactions with bus operators. What is the anticipated impact of the loss in fare revenue as well as decreased funding from other sources?
Clearly there are some cost implications and funding implications and we'll just have to work our way through. The fares here at METRO are about 10% of our revenue stream. Most of our money comes through the sales tax, which is extremely important. We're seeing some hits with that because of COVID-19 as well as the oil and gas impacts right now. So that's something we'll look at as we go forward because that's very important to this agency and how we can support our operations today and in the future.
Along with the agency's day-to-day needs during the pandemic, METRO is also working to advance projects under the METRONext Moving Forward Plan. How is the agency looking toward the future?
We were very fortunate to get funding for the Inner Katy BRT from the Houston-Galveston Area Council Transportation Policy Council. So there's funding there, that we're able to move that project forward. We also have money to expand the universal accessibility program that the board implemented a couple of years ago to make all 9,000 of our bus stops fully accessible for all users, to connect sidewalks that are disconnected. That program continues to move forward. We've got grant fund already obligated to that so we're going to move that forward as well.
What has it been like to operate a transit agency during these uncertain times?
I'm very proud of the employees at METRO. I want to give them a lot of recognition. They continue to provide essential services to this community. They've been very adaptable to changing conditions. We've had to learn a lot of lessons on the fly.