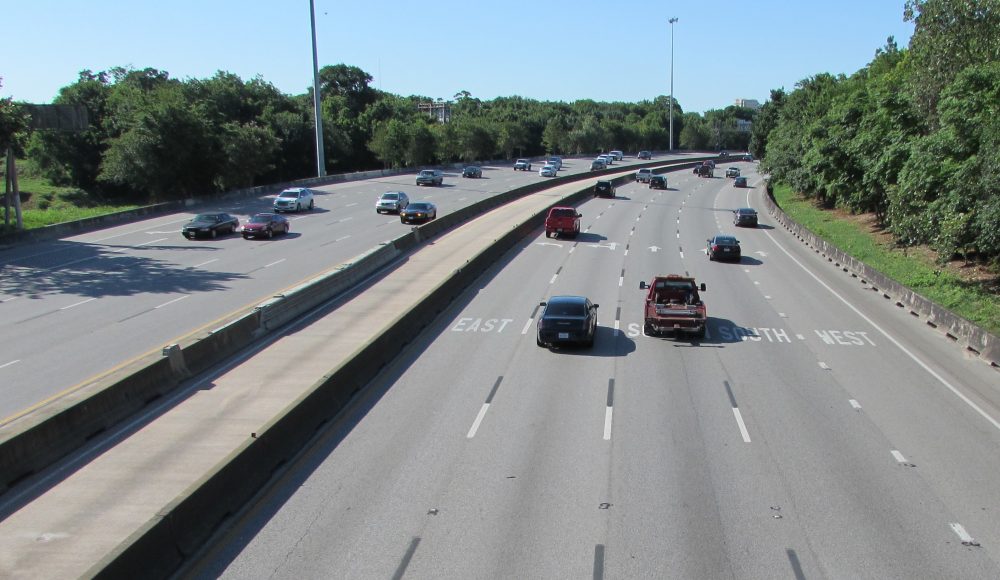 Houston freeways are starting to see an uptick in traffic, as more businesses are reopening and people are heading back to work.
But a lot of Houstonians are now working from home, while others have lost their jobs.
To see what this could mean for Houston's traffic going forward, Houston Public Media transportation spoke with Tim Lomax, a research fellow at the Texas A&M Transportation Institute.
This interview has been edited for length and clarity.
So as more people go back to work here in greater Houston, are we going to start seeing the usual stop and go traffic that we see during the rush hours?
I think in the next few months we're going to see more traffic congestion, people going back to work, people getting on transit to go back to work. So I think you're going to see more crowding. I don't think we're going to get back to normal traffic congestion, maybe not even by the end of the year. I think it's going to take a while for the economy to recover and that means it's going to take a while for traffic congestion to "recover."
What impact will working at home have on traffic patterns?
We always had telework as one of the solutions we pointed to that not just cities but companies should pay attention to. It's essentially a nice benefit for employees, to know that they don't have to get in their car and commute to work all the time. Even the act of getting up and working from home for a couple of hours, meaning that you can miss the morning commute. Or getting off and beating the evening rush home and then you work from home for a couple of hours. That's a big benefit and one that I think employees and employers are better able to understand now, that they can really accomplish everything they want to do and not have to be out on the roads.
According to some of the data you've seen, you tell us that people are also making different kinds of trips during the workday.
The trips that seem to be up during this time period are the neighborhood trips. I think what you're seeing is, folks going to the store, folks maybe going to check on relatives. They're teleworking but they're moving around in shorter trips. I think that's a component that we're probably going to see for another several months, maybe beyond a year.
And we're also seeing more bike and pedestrian activity in some areas now that people are staying home during the day.
I think that's going to mean that more folks are interested in pushing for those, seeing more investments. If not in really long-distance trips, you're not going to see a lot of people riding their bike 25-to-30 miles to get to work but certainly the in-neighborhood trips that you can accomplish by walking rather than driving. I think those are going to be a bigger feature of what we see in the future. Therefore there's going to be more interest in having pedestrian paths, bicycle paths, be invested in.
So as we head into the summer months, what will Houston drivers see out on the freeways?
I think it's going to take us a while to get back to the typical two hours of stop-and-go traffic congestion in the morning and another two hours in the evening. I don't think we're going to see that even into early 2021. I think you're going to see some spreading, people traveling at different times than they normally would. I think you're going to see some changes. Some of those that we've developed over the last few months are going to be permanent.