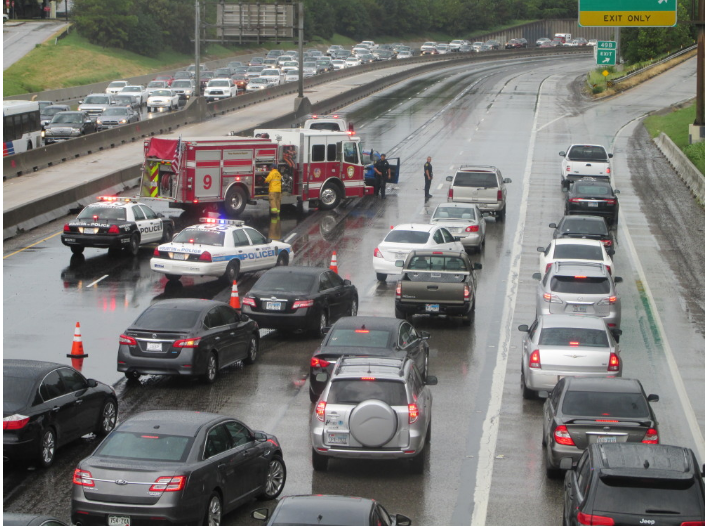 When there's a crash on a Houston-area freeway, traffic can back up quickly, creating the risk of another collision. To address that risk, the Houston-Galveston Area Council (H-GAC) has launched an initiative to help police, EMS and tow truck drivers clear crashes more efficiently.
"Traffic crashes and the injuries and deaths that result from them are one of the biggest concerns that we have in transportation," said Alan Clark, H-GAC's Director of Transportation Planning. "It's been a longstanding concern and there's no one simple strategy to address it."
H-GAC currently sponsors the "Tow and Go" program that's designed to get disabled vehicles off the freeway quickly so they won't cause a crash.
Clark said when they first started the motorist assistance program it only operated during peak periods. But they soon learned that some of the most serious crashes were happening during the overnight hours and on the weekends. Because of the lighter traffic, drivers were often traveling at higher speeds.
Clark said another thing they've learned is that a single stalled vehicle can lead to a lot of rubbernecking, as drivers slow down to see what's happening. Vehicles can back up quickly and that can cause another collision if a driver topping an overpass is caught unawares by the slower traffic.
"So it's one of the reasons we put a lot of emphasis on how to make sure that these incidents are dealt with as efficiently as possible," Clark said.
As part of their new public safety effort, H-GAC is bringing together police, EMS and tow truck drivers to talk about how they can handle crash scenes and breakdowns more efficiently and keep traffic moving.
"It makes those first responders aware of how to work together and what to do if they are the first person on the scene, to make sure to the maximum extent possible they are protected, waiting for any other resources that need to arrive," Clark said.
He also said the training is classroom-based and they like to include a mix of first responders.
"That's important so they can understand their role and how their role changes potentially with the arrival of other first responders," said Clark. "It also allows them to talk with each other about their past experiences."
One of the things they talk about in those safety sessions is how to correctly position rescue vehicles so they don't funnel traffic into the crash site.