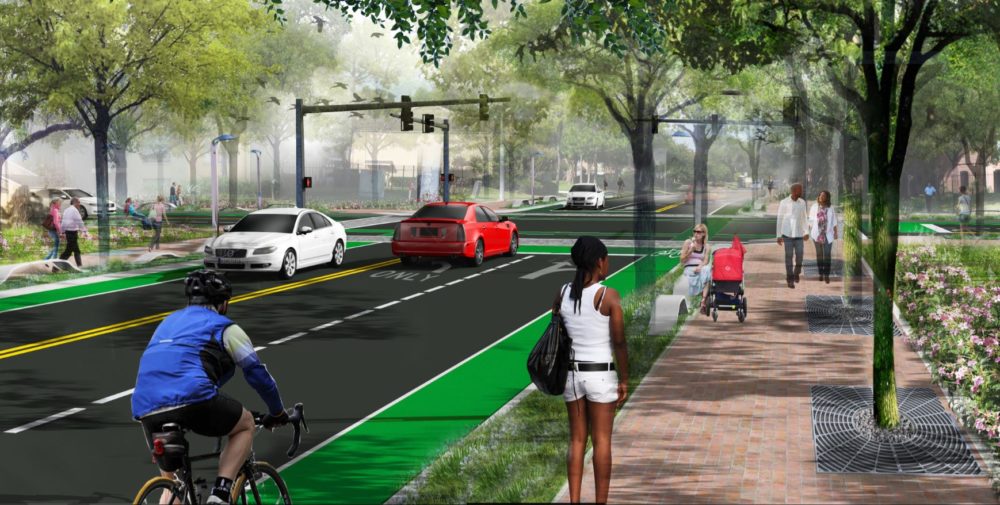 A heavily-trafficked street in Houston's Westchase District is set to get a revamp, including improvements for cyclists and pedestrians.
The project will upgrade a one-mile segment of Walnut Bend Lane, which intersects with major roadways including Westheimer, Richmond and Westpark.
"It's significant because this roadway was built 30 years ago and has not been maintained so it's taken a toll," said Irma Sanchez, the Westchase District's Vice-President of Projects. "Unfortunately, the infrastructure does not serve the needs of the area."
Along with underground utility work, the project includes a new roadway design. Sanchez said Walnut Bend is supposed to have two lanes in each direction, but since there's only a center line stripe and the travel lanes aren't clearly marked, sometimes vehicles take up the entire two lanes to drive one way.
The road's unclear markings also cause problems when METRO buses stop to pick up riders. Sanchez said vehicles tend to back up behind the buses because drivers don't realize there's another lane they can use to pass.
"We're hoping that by really identifying where the travel lanes are, motorists will be able to move through more efficiently through the intersection," said Sanchez.
Segments of Walnut Bend are used for on-street parking and Sanchez said that will continue, but only in designated locations.
As for improvements for walkers and cyclists, Sanchez said they're building continuous bike lanes in each direction. The project also includes a six-foot sidewalk separated from the street by a landscaped buffer.
"By doing it that way we are separating the motorists from the cyclists, the cyclists from the pedestrians, so that they are each in their own realm," said Sanchez. She added they'll have clear lane delineations at intersections so all road users can safely cross the street and make turns.
The Westchase District also has a growing network of off-street trails, and Sanchez says the new Walnut Bend on-street lanes will help enhance connectivity. Walnut Bend just north of Richmond Avenue connects with the Westchase District's Library Loop Trail system, which runs along a Harris County Flood Control channel. That trail then connects to the Brays Bayou Connector Trail that runs south and connects to Art Storey Park.
Design and construction for the Walnut Bend improvements will cost about $20 million. The project is being funded through several sources, including the Federal Highway Administration and the City of Houston.
"It really goes hand-in-hand with the City of Houston's Complete Streets program in terms of accommodating all users," Sanchez said.
The project is expected to be finished in the summer of 2021.