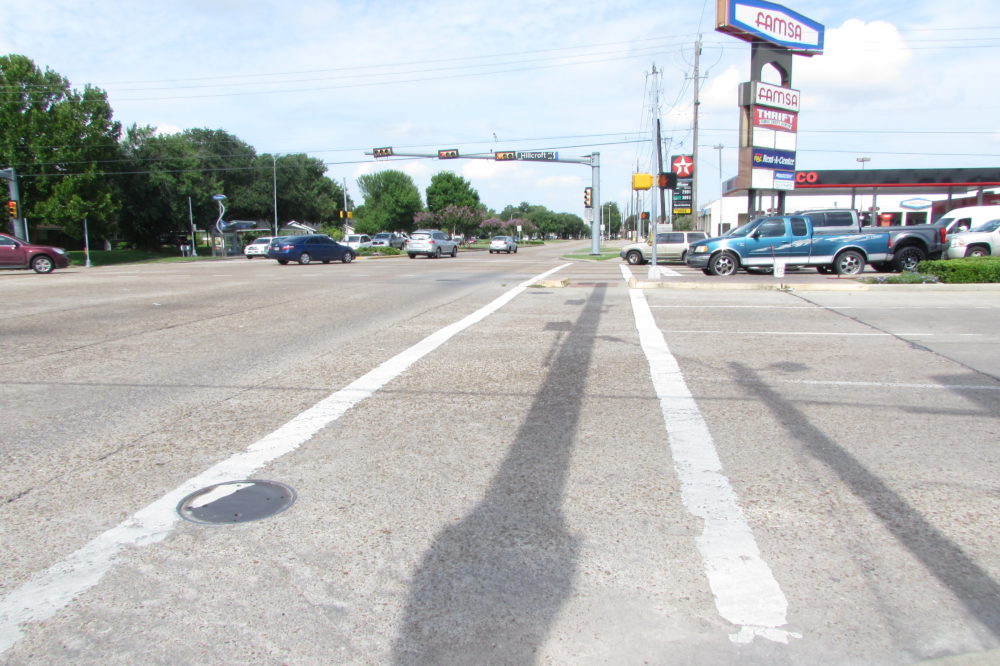 Mayor Sylvester Turner announced Wednesday a series of pedestrian improvement projects for the Gulfton neighborhood in southwest Houston, to help with the area's poor sidewalks and lack of safe crosswalks.
Turner said that Gulfton is often the first home for many refugees in the U.S., many of whom can't afford a car so they rely on walking and transit.
But the problem is that a lot of Gulfton residents have to make their way across wide and busy thoroughfares like Hillcroft Street. Recent studies from Rice University's Kinder Institute have highlighted issues like poor sidewalks and high crash rates at busy intersections.
"We know about the needs because grieving families have spoken to City Council about their relatives who were killed or injured by vehicles while walking from school or catching a bus," said Turner.
Using funds from both the public and nonprofit sectors, the city is now targeting a segment of Hillcroft — from Bellaire Boulevard north to High Star Drive — for a series of projects to improve safety.
"The long-term plan calls for signalized pedestrian crossings on Hillcroft, wider sidewalks, new curbs, bigger bus shelters, delineated bike safety lanes and the possible reduction of motor vehicle lanes," Turner explained.
District J Council Member Mike Laster said the neighborhood has a large number of schools and that the safety of children is a huge concern.
"In any given day we have between 2,000 to 3,000 students," said Laster. "That's not everybody else, that's just students who are walking through, traveling through, at least in this corner of Hillcroft and Bellaire."
Houston Public Works is putting up $500,000 toward the effort. Another $125,000 is coming from "Together for Safer Roads," a coalition of private sector companies.