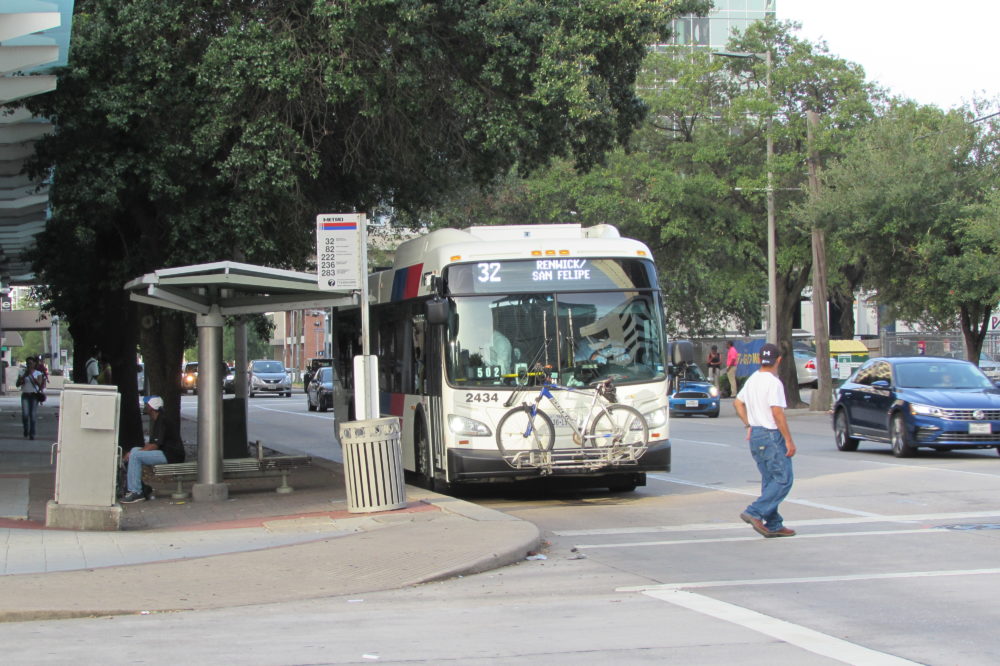 LINK Houston Executive Director Oni Blair said in neighborhoods where there's infrequent bus service it's especially tough for people who work late into the evening.
"If you are doing something early in the morning or late at night, how easy it is for you to get from your neighborhood to where those activity centers are," said Blair. "Particularly those places that do run late and house hourly jobs like the Convention Center, the Galleria, and the airports."
And for other transit riders it can be difficult to get anywhere at any time of day.
"In some low-income neighborhoods the bus comes every hour," explained Blair. "Which is a really long time to wait for a bus especially if you miss that bus."
And it's not only the frequency of service that can make travel tough for low-income Houstonians. Some neighborhoods have cracked and broken sidewalks that make getting to a stop difficult, especially for disabled riders. In other places there are no bus shelters so riders have to wait next to a sign on a busy street.
"The riders in the region who are most acutely in need of equitable or affordable transportation will go through quite an ordeal to use the affordable resources already present," said Jonathan Brooks, LINK Houston Director of Policy and Planning.
Brooks said more frequent transit service will give Houstonians increased access to jobs and education, allowing people to improve their quality-of-life.
"If service is more frequent it's able to attract more riders," Brooks said. "There's a lot of research around that nationally and we've seen that locally. And there's a case to be made that it's best long-term for the region to improve equitable outcomes by improving frequency."
In 2015 METRO launched its new bus network, with additional direct routes and more frequent service. The agency is also hoping to put a bond issue on the ballot later next year to pay for additional improvements under a new Regional Transit Plan.
Among other recommendations, the LINK Houston study asks Metro to increase the number of frequent routes, along with adding more late-night service.