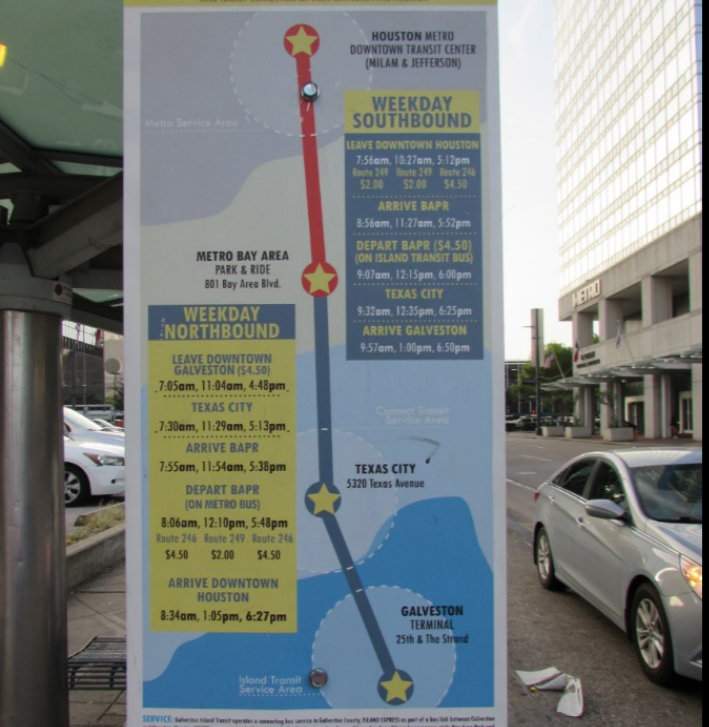 It's been three years since we made a bus trip to Galveston with Cite Magazine's Raj Mankad. There is no commercial bus service between the two cities, so we did it entirely by public transit.
Our trip began on a METRO park and ride bus to the southern tip of the transit agency's service area. Then we made a long walk down a feeder road to hook up with a Connect Transit bus that took us into Galveston.
In September 2017, local entities came together to close that gap with the Island Express bus. It carried riders from METRO's Bay Area Park and Ride to downtown Galveston, with a stop in Texas City.
However, the service was limited. It had three round-trips on weekdays and officials say only a handful of people rode it. Also, with recent population gains Galveston, is losing the rural transit grant that funded the bus.
With little discussion at Thursday's meeting, the Galveston City Council voted to cancel an interlocal agreement between Galveston County, the City of Texas City, and the Texas Department of Transportation.
As of right now, there are no plans to replace the bus with another service. Assistant City Manager Rick Beverlin told the Galveston County Daily News he hoped they could come up with a new route in the future that would take riders directly from Houston to Galveston.