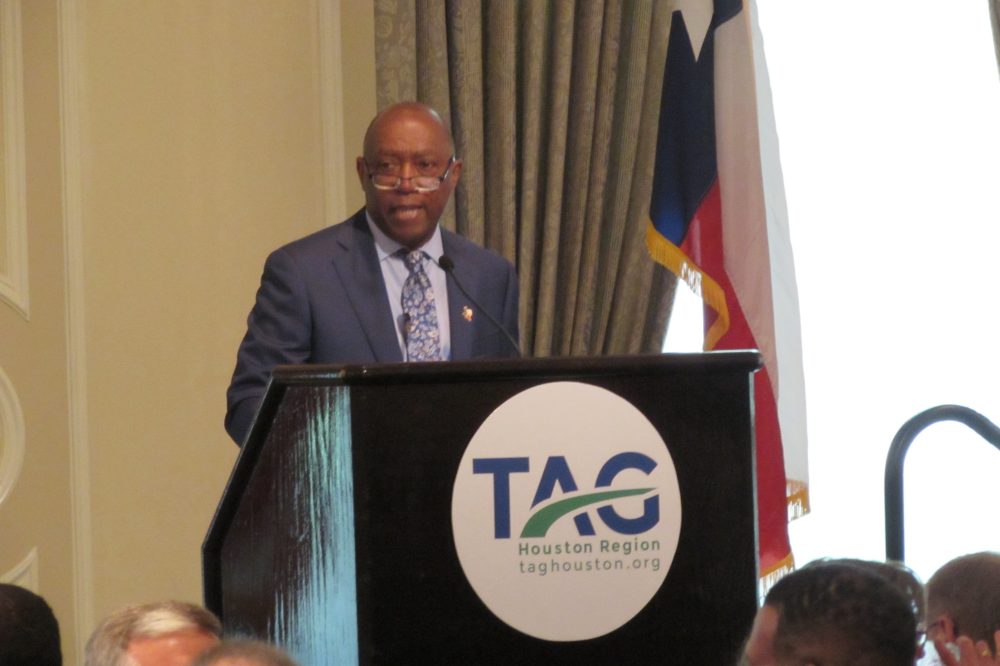 Speaking before the Transportation Advocacy Group (TAG), Houston Mayor Sylvester Turner delivered his annual State of Mobility speech on Thursday and noted that, as the roads get more crowded, he thinks Houstonians are now ready to start using transit.
"But we have to make it attractive, we have to make it more convenient, and they have to move faster on the public transit system than they would be moving in their car or their trucks," added Turner.
The mayor said the most crucial transit needs include better connections between downtown and The Galleria. He also called on Metropolitan Transit Authority of Harris County (METRO) to come up with new options for getting riders to Bush and Hobby Airports.
"What we have to do is create more of a transit grid so people can get to wherever they need to go as quickly and safely as possible," explained Turner.
"We have a number of business, economic centers all throughout our region. So we have to create a transit system that connects better to these economic centers."
In addition, Turner wants METRO to study whether HOV lanes should be open 24-hours a day, seven days a week, instead of just during the business day.
On the issue of cycling and pedestrian safety, Turner said he is asking Bike Houston and cycling advocates to help identify the city's most dangerous intersections for bikers and walkers.
"And I've said to Public Works, then let's quickly go out and assess those areas, those intersections, to see whether or not the design is creating problems, making these areas more hazardous," the mayor explained.
Turner also mentioned efforts to improve I-45 North, a project that calls for part of the freeway to go underground. The mayor said he has put together a task force to look at ways to create new public spaces as part of that project.
Full house at the @HoustonianHotel for the @TAGHouston State of Mobility address with Mayor @SylvesterTurner @HPMNews887 @HoustonPubMedia #Transportation #traffic #cycling #walking pic.twitter.com/SwLzjMHaGP

— Gail Delaughter (@Gail_HPM) May 24, 2018
Mayor @SylvesterTurner Houston "needs to connect people to economic opportunity" in planning for transportation needs. @TAGHouston @HPMNews887 pic.twitter.com/CXhEcxEgb4

— Gail Delaughter (@Gail_HPM) May 24, 2018
"Transit is the most critical component" in Houston's future mobility planning, says Houston Mayor @SylvesterTurner, calls for better connections between downtown and Galleria @TAGHouston @HPMNews887 @HoustonPubMedia

— Gail Delaughter (@Gail_HPM) May 24, 2018
Houston Mayor @SylvesterTurner calls for "reimagining" of HOV system, says lanes need to operate 24/7 and on weekends @TAGHouston @HPMNews887 @HoustonPubMedia

— Gail Delaughter (@Gail_HPM) May 24, 2018
Houston Mayor @SylvesterTurner wants rail to Hobby Airport, better transit connections to Bush @iah, in State of Mobility address before @TAGHouston @HPMNews887 @HoustonPubMedia

— Gail Delaughter (@Gail_HPM) May 24, 2018