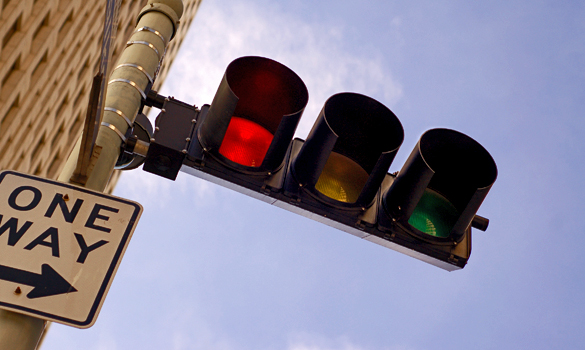 Once again this session, state lawmakers are considering the pros and cons of limiting or banning red light cameras statewide. The Senate Transportation Committee heard testimony on the idea on March 6, 2017. Some municipalities have limited their use, or eliminated them for enforcement.
Houston disconnected red light cameras years ago, but Sugar Land has used them for a decade. In 2015, the State Senate passed a ban on them, but the House didn't.
On this edition of Houston Matters, we discuss this year's prospects and whether the state should have an across-the-board policy on red light cameras — or leave them up to local communities to decide.
Also this hour…
Ending Vehicle Inspections
Should Texas end its vehicle inspection requirement? State Sen. Don Huffines has authored and introduced SB 1588, which would end the mandatory annual vehicle safety inspection — checking the lights, the brakes, the horn and so forth. To him, it's a waste of taxpayer money and not necessarily about safety. The Texas State Inspection Association disagrees. To learn more about the situation, we hear first from Sen. Huffines about his bill, then we talk with Greg Cole, president of Express Automotive Group in Houston and a board member for the TSIA.
The Good, the Bad, and the Ugly of the News
A lot can happen in a week. Some of it good. Some of it bad. Some of it downright ugly. When faced with intriguing developments in the week's news, we turn to our rotating panel of "non-experts" to parse The Good, The Bad and The Ugly of it all. This week, our panel weighs in on: the Supreme Court ruling Texas' standard for mental disability in capital cases is unconstitutional and obsolete; Pasadena Mayor Johnny Isbell using a term with a Councilman Cody Ray Wheeler that Wheeler saw as offensive, and the debate over whether Houston or Austin should lay claim to an official state music museum.
On today's panel: Mustafa Tameez, media and public affairs consultant and managing director of Outreach Strategists; Joe Mathew, attorney and Navy veteran; and Marco Roberts, president of Log Cabin Republicans of Houston.
Skyline Session With Rodney Crowell
Grammy Award-winning singer-songwriter Rodney Crowell grew up in Houston's Third Ward and far east-side neighborhoods. On his 18th studio album Close Ties, Crowell mines that autobiographical territory, and, while on tour, Crowell visited Houston Public Media's Geary Studio to record the songs Reckless and East Houston Blues, both off the new album. We hear a preview of his performance, which will be featured on an upcoming edition of Houston Public Media's Skyline Sessions.
Audio from today's show will available after 3 p.m. CT. We also offer a free daily, downloadable podcast here, on iTunes, Stitcher and various other podcasting apps.