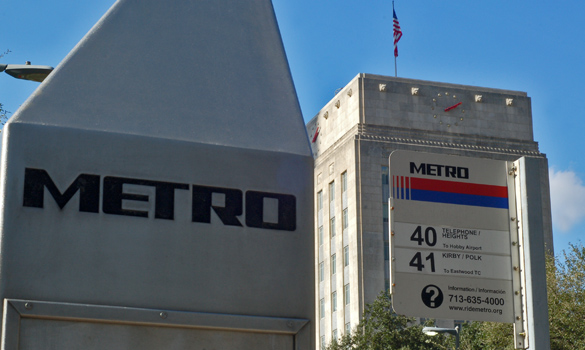 METRO is working on a long-term regional transportation plan that lists off projects it wants to do in the coming years. How will these projects be paid for? That may be up to voters this year.
On this edition of Houston Matters, we talk with METRO Chair Carrin Patman about what METRO has in store. And she fields your general questions about METRO and public transit in Greater Houston.
Also this hour…
Farmer's Market
The City Hall Farmers Market is back for the spring season. Every Wednesday through June, more than 30 local farmers, food trucks and other vendors will be on hand outside City Hall with their products. To get a better sense of the local food and growing scene, Michael Hagerty went downtown to check it out.
A Houston Entomologist Fields Your Insect Questions
Dare to step outside of your air-conditioned world, and you'll find Houston offers a unique ecosystem, filled with interesting, creepy crawly things – insects of all manner of size and shape. Ever see one of our many-legged insect friends and wonder: "Just what is that thing?" We try to shed some entomological light with the assistance of Erin Mills, entomologist and director of the Cockrell Butterfly Center at the Houston Museum of Natural Science.
Houston Novelist Cassandra Rose Clarke
This week, Writespace hosts its second annual Writefest, a literary journal festival targeted at emerging writers. Cassandra Rose Clark, a Houston-area novelist known for her young adult and science-fiction works, is one of the Writefest coordinators, and she was recently featured on Dacia Clay's Writing the City series. In this conversation they talk about the festival, what attending writers can expect, and even some of the challenges that come with being an emerging writer.
Houston Matters offers a free daily, downloadable podcast here, on iTunes, Stitcher and various other podcasting apps.