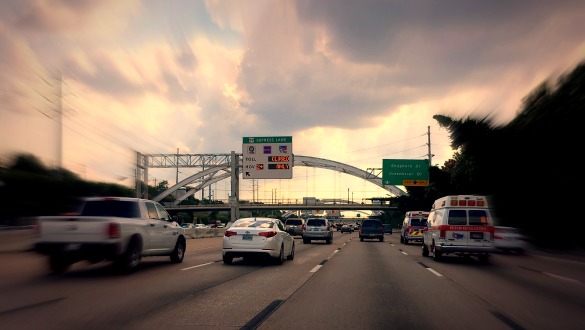 It happened in a flash — 2016 is almost in the books. It's been a busy year for Greater Houston, so we're taking some time this week to recap this past year's biggest developments with our beat reporters, covering transportation, education, energy, politics and arts & culture and sports. On this edition of Houston Matters, we start off with the year in transportation.
There have been many notable transportation projects this year. Motorists may have noticed construction on I-45. Progress continues with the Grand Parkway. And, in September, TxDOT gave the green light to extend the SH 249 toll road into Grimes County. Also Houston riders may be surprised to learn Metro still has a segment of its light rail that hasn't opened yet.
We discuss these issues and more with Gail Delaughter, News 88.7's transportation reporter.
Also this hour…
The Year in Houston Transportation — 2016 Continues
Gail Delaughter, News 88-7's transportation reporter also touched a little on regional transportation issues beyond Houston and Harris County, She attended the Houston Regional Transportation Advocacy Group's inaugural transportation panel.
The panel included Fort Bend County Judge Bob Hebert, Montgomery County Judge Craig Doyal, Waller County Judge Trey Duhon, Harris County Judge Ed Emmett, Galveston County Judge Mark Henry, and Brazoria County Judge Matt Sebesta. We explore how difficult it is to getting different counties, all with very different agendas to coordinate on transportation projects.
Answers to Your Pet Care Questions
Once again, Houston Matters goes to the dogs...and cats. We get answers to your pet care questions from Dr. Lori Teller from the Meyerland Animal Clinic, and welcome anything else you'd like to know about your beloved dog or cat.
UH Names a New Coach
The University of Houston named Major Applewhite its next head football coach, promoting from within instead of seeking out another big name who might leave in a year or two. Plus the Texans played the Colts in Indianapolis, and the Rockets reached a new deal with forward Donatas Motiejunas. We discuss those stories and other developments in Houston sports with Jeff Balke, who writes for Houston Press and Houstonia Magazine.
Houston Matters offer a free daily, downloadable podcast here, on iTunes, Stitcher and various other podcasting apps.