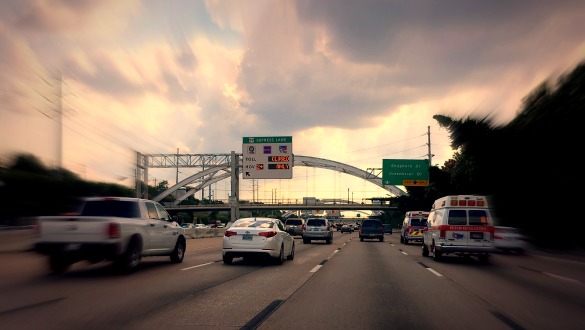 There may be no more viscerally frustrating experience about living in Houston then dealing with traffic. It's the most common theme we hear when we engage in our quarterly Houstonian Pet Peeves collective moan session. And that's understandable.
We've seen huge population increases in Greater Houston in recent years, and our infrastructure hasn't always kept up — even though we actually have (frontage roads included) 26 lanes across one stretch of the Katy Freeway.
You can only disperse traffic so much by adding lanes, and there's really not much room left to add on some of Houston's major highways. Which is why there are efforts in the region to improve mass transit and encourage more hiking and biking where appropriate. Because if we ever really want to reduce traffic we probably won't do it with more lanes; we're going to need to have fewer cars.
We routinely discuss transit, hiking, biking and other alternative transportation options on Houston Matters. So today, we highlight some recent conversations we've had about Houston transportation and ask that you help create more of these conversations by supporting Houston Public Media with a donation during our fall fundraising campaign.