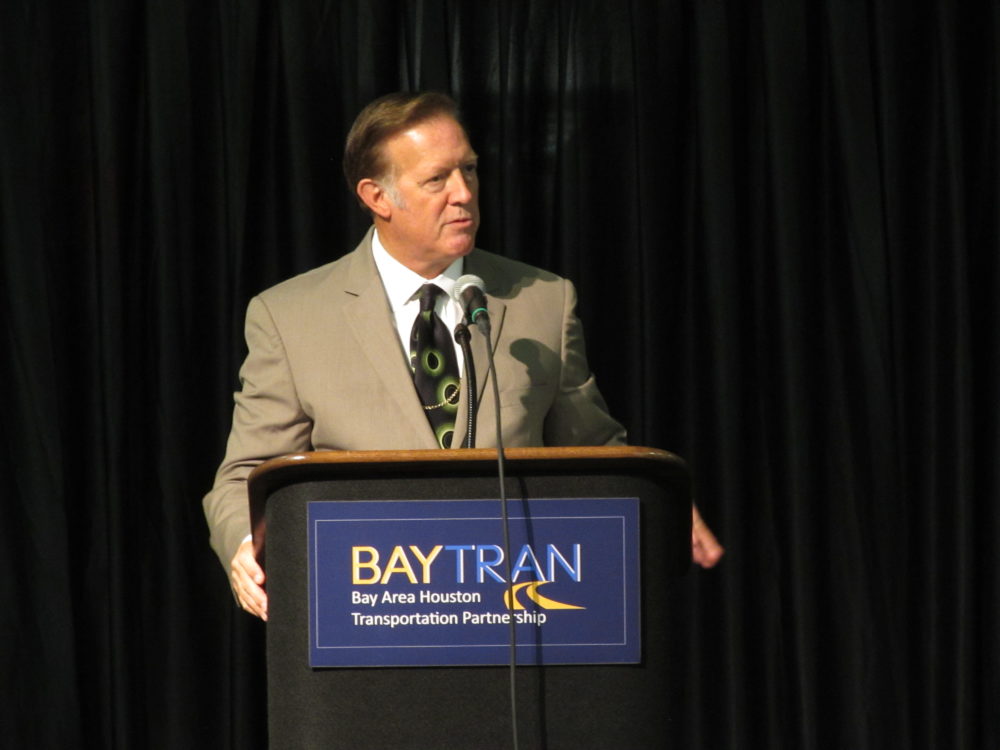 Galveston County held its first ever transportation summit Thursday (Sept. 1, 2016) to discuss how $500 million could be invested to improve transportation infrastructure over the next decade.
News 88.7 transportation reporter Gail Delaughter was there and shares what was discussed on this edition of Houston Matters.
(Above: Rep. Randy Weber (R-Friendswood) speaks at the Galveston County Transportation Conference about the importance of long-term federal transportation funding. Photo: Gail Delaughter, Houston Public Media)
Also this hour…
Discussing the Origins and Popularity of Houston's Many Nicknames
Houston sure has a lot of nicknames. There is something inherently cool about a city that isn't just one thing, and our many nicknames reflect Houston's connections to climate (the "Bayou City"), culture ("H-town") industry ("Space City"), even our openness in taking in Hurricane Katrina evacuees ("The Big Heart") a decade ago. Classy. We discuss the history and popularity of Houston's many nicknames — and seek out your favorite — as we talk with University of Houston professor of history Matthew Clavin.
Guns in Court, Sheet Cake, and Dancing with the Stars: The Good the Bad and the Ugly
A lot can happen in a week. Some of it good. Some of it bad. Some of it downright ugly. When faced with intriguing developments in the week's news, we turn each Friday to our rotating panel of "non-experts" to parse The Good, The Bad and The Ugly of it all. This week, panelists Natalie Arceneaux, Joe Holley, and Marcus Davis weigh in on Ken Paxton suing to allow guns in the Waller County Courthouse, the city of Houston's 180th birthday, and former Gov. Rick Perry appearing in the upcoming season of Dancing With the Stars.
Still Awaiting the 'Great Houston Novel'
From time to time on Houston Matters, we talk with writers who are either from Houston or who write about Houston (and sometimes both). And recently, there have been a handful of novels set in Houston getting critical praise, from The After Party, to Sunset City, to A Wife of Noble Character – among others. But while Texas Monthly executive editor Mimi Swartz (herself a Houstonian) says those novels get pretty close to authentically capturing life in Houston, they still left something to be desired. So she wrote an article asking why it's so hard for novelists to get Houston right. She tells Michael Hagerty she thinks the great Houston novel hasn't been written yet – while other major cities may have several.
Houston Matters offers a free daily, downloadable podcast here, on iTunes, Stitcher and various other podcasting apps.