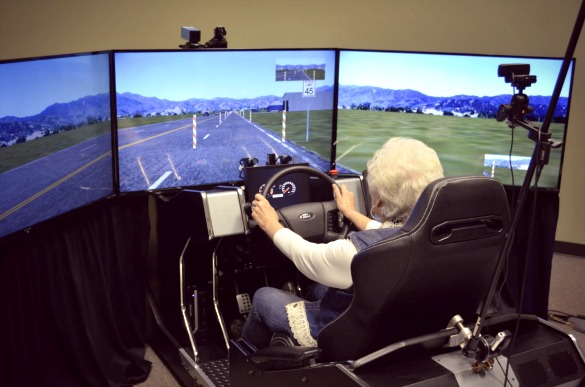 Amid ongoing concern over the proliferation of texting while driving, researchers from the University of Houston and the Texas A&M Transportation Institute set out to determine how absent-mindedness and stress impact driving and learned along the way that — while texting is far more distracting than talking on the phone — there are cognitive, emotional and sensory factors at play in those and other activities that can lead to distracted driving.
The report, published last month in the journal Nature, also offers insight into the importance of — as the old adage puts it — keeping your eyes on the road.
We talk with report co-author and computer science professor Ioannis Pavlidis, founder of the Computational Physiology Lab at the University of Houston.
(Above: One of the 59 volunteers in a distracted driving study by the University of Houston and Texas A&M Transportation Institute sits in a high-fidelity driving simulator. Photo: Malcolm Dcosta, University of Houston)
MORE:
A Sixth Sense Protects Drivers Except When Texting (EurekAlert, May 12, 2016)
Study: Dissecting Driver Behaviors (Nature, May 12, 2016)