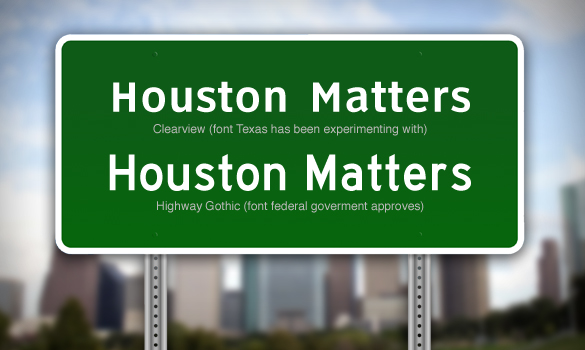 Highway signs are carefully regulated. They have to be a certain height and color. Most importantly, of course, they have to be as legible as possible, and that's why there are standard rules for lettering.
Back in 2004, Texas and some other states opted to use a new, independently designed font called Clearview instead of the longstanding font called Standard Highway Alphabet. The Federal Highway Administration approved the font — and the switch — as a sort of experiment. Now it appears the experiment is over. The FHWA in January announced it wants new signs to once again use the Standard Highway Alphabet. But the Texas Department of Transportation wants the federal agency to reconsider.
Why the dust-up over a font? If they're both readable, does it really matter? And what say does Texas ultimately have over something like highway signs?
We learn more about the fight over fonts from News 88.7 transportation reporter Gail Delaughter.
(Photo: Derek Stokely; Illustration: Michael Hagerty, Houston Public Media)
MORE: Font On Texas Highway Signs Set For Another Shift (News 88.7 March 19, 2016)