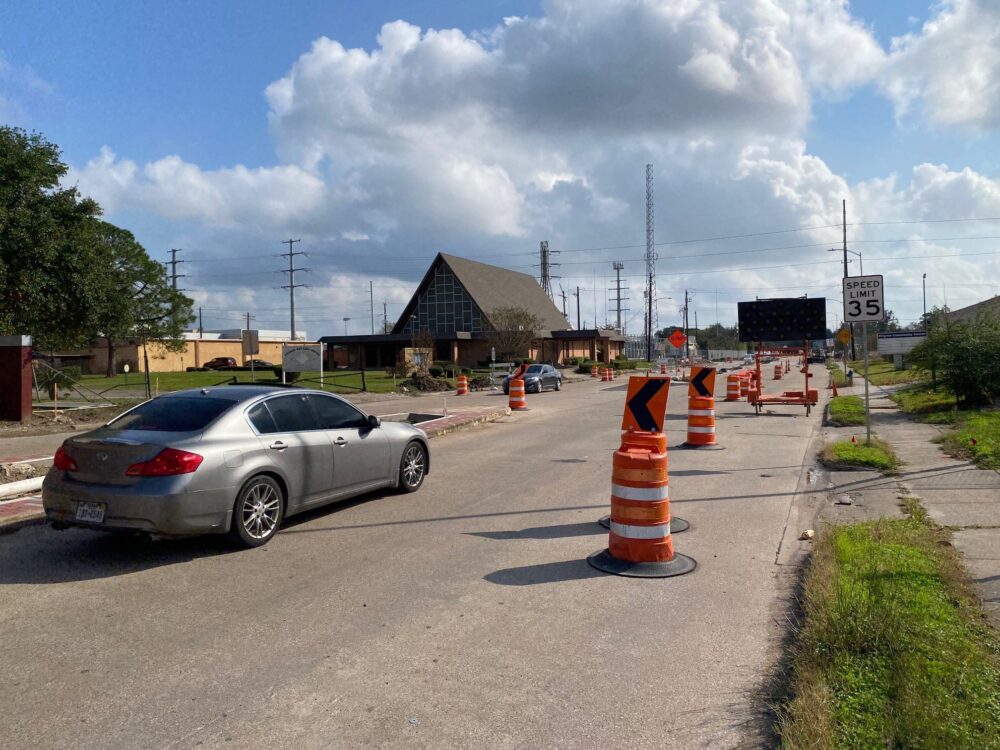 The county commissioner behind a controversial bike lane project in Houston's Third Ward is willing to pause the ongoing work and retool the plan – if the city increases its financial commitment by several million dollars.
Harris County Precinct 1 Commissioner Rodney Ellis, in a Jan. 6 letter written to Houston City Council member Carolyn Evans-Shabazz and shared with Houston Public Media, said he is open to amending a $12.1 million road reconstruction project that calls for drainage improvements, wider sidewalks, the addition of bicycle lanes and the reduction of vehicular lanes on a stretch of Blodgett Street that runs alongside Texas Southern University. But because construction began nearly a year ago and the county already has paid more than $4 million for the work, according to Ellis, he said suspending and redesigning the project as requested by some concerned community members would add at least a year to its timeline while increasing the overall cost by at least $4 million.
So Ellis said he and the county would be willing to go down that road only if the city – which initially agreed to cover about $400,000 of the project total, with Ellis' office covering the remainder – commits to splitting the overall cost evenly. That would up the city's share to an estimated $8-$9 million, according to Ellis.
"Given that the city approved the current design and allowed construction to begin, it's appropriate that the city share costs for pausing and redesigning," Ellis wrote in his letter. "Under this option, we ask that the city secure these funds up front and work quickly to pass a renegotiated interlocal agreement as soon as possible."
That is unlikely to happen, according to Houston Mayor Sylvester Turner, who was copied on Ellis' letter. Turner said in a Tuesday afternoon statement to Houston Public Media that the city doesn't have $8-$9 million to spend on the project.
"The project, already under construction, should move forward," Turner said.
Ellis' offer comes about one month after Evans-Shabazz, who represents the Third Ward as part of District D, held a townhall meeting in which some residents expressed concerns about the potential for increased traffic congestion and reduced street parking as well as the necessity of bike lanes. Some also said they were not adequately engaged about the initiative, which is part of a 2018 agreement between the city, county and historically Black university to make transportation and drainage improvements in the area.
In late November, Evans-Shabazz led the city council in voting to table a proposed payment of $396,471.60 for the city's agreed-upon share of the project cost. But a spokesperson for Houston Public Works said in early December that the council's action did not figure to impact the ongoing construction and the city would find another way to reimburse the county for money it had already spent.
Evans-Shabazz wrote a Thursday letter in response to the one drafted by Ellis, her former cousin-in law. In the letter, which her office shared with Houston Public Media, she reiterated that she does not support bike lanes as part of the project and also questioned how reducing the number of vehicle lanes on Blodgett would make the street safer for motorists.
She asked that the addition of bike lanes be revisited until 2024, even though the project is slated to be completed this fall. Evans-Shabazz did not address the city's willingness or ability to increase its financial commitment toward the work, as requested by Ellis, saying she had requested a copy of the contract between Harris County and its construction contractor, Main Lane Industries, so she could review project costs.
"As an option, expanded sidewalks are permissible in the city and can provide a safe means for bikers and pedestrians to coexist as long as the bikers give the right of way to pedestrians," Evans-Shabazz wrote. "In addition, sidewalks are a safer means of movement for bikers and pedestrians without impacting four lanes of mobility of motorized vehicles."
Texas Southern University said in a December statement that it supports the ongoing work on Blodgett, including the addition of bike lanes, and looks forward to its completion in the fall. Ellis, an avid cyclist who also provided most of the funding for the already-completed first phase of the project on nearby Cleburne Street, said it's part of a broader transformation of a corridor that also includes the University of Houston.
Ellis wrote in his letter that the work will provide increased transportation access and equity in the Third Ward, where about 30 percent of households do not have automobiles, according to data compiled by the city. It also serves as a street safety project as there were 117 collisions on that stretch of Blodgett between 2017-21, with the intersection of Blodgett and Scott Street having been identified as among the most dangerous in Houston, according to Ellis.
The plan calls for reducing the number of vehicle lanes from two to one in each direction on Blodgett between Scott and Ennis Street to the west. Evans-Shabazz described this as unnecessary in her letter, saying police officers for Texas Southern University and the city could control speeding by issuing citations.
"The inclusion of protected bike lanes combined with widened sidewalks and accessible bus stops is intended to create a complete street that everyone can safely use whether they're walking, driving, riding a bike, or taking public transit," Ellis wrote in his letter.
Ellis outlined public engagement events for the project and related communications with Evans-Shabazz and other city officials, dating back to 2020, but acknowledged that community engagement leading up to the start of construction last year – by the county as well as the city and Texas Southern University, his alma mater – "did not meet expectations and could have been better." He ended his letter in part by saying he and Evans-Shabazz "must ensure the community is engaged and benefits from this project."
"That's always been the goal," Ellis added. "If you share in that same goal, it's imperative that we work together to move this project forward however we can for the benefit of the people we both serve."