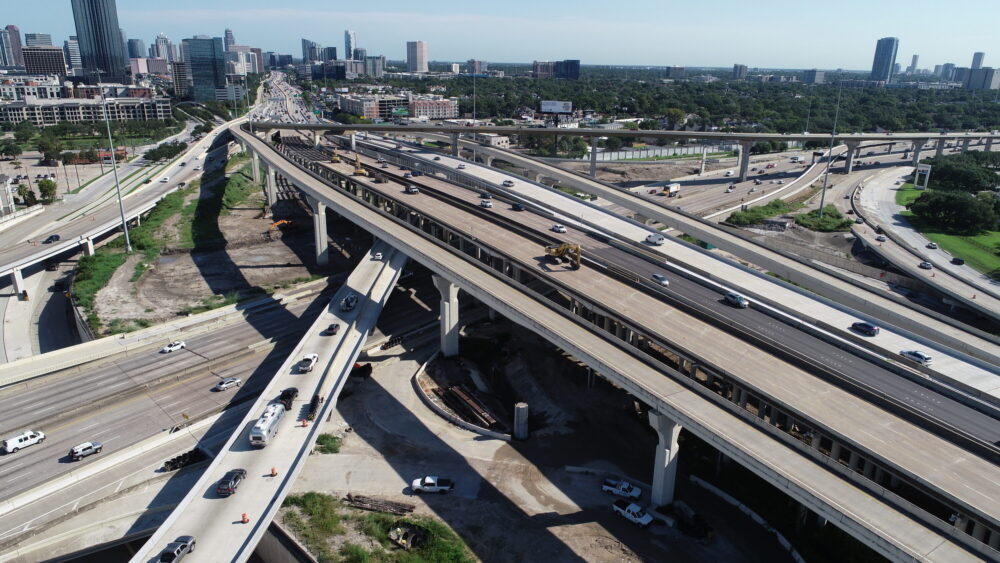 Houston motorists must prepare for two more road closures near one of the city's busiest freeway intersections as the Texas Department of Transportation (TxDOT) continues work on a years-long interchange project.
The southbound entrance ramp to Loop 610 West, from Westheimer Road near The Galleria, will close for several months beginning at 9 p.m. Tuesday. TxDOT also plans to close Westpark Drive – which runs parallel to Interstate 69 south of the freeway intersection – from 9 p.m. Friday until 5 a.m. Monday so it can continue demolishing the southbound 610 bridge and connector ramp from I-69 that both cross Westpark.
The West Loop and I-69 are among the state's five most congested roadways, according to TxDOT spokesperson Danny Perez, who said their intersection is the busiest in Houston.
"We understand the impacts. We did wait for the holiday shopping season to end before we did this Westheimer entrance ramp closure," Perez said. "We're also very mindful of the impacts there are to residents and the community, the business community. We make sure we adjust closures and are not compounding closures at any one time."
Perez said work on the interchange project, coming at an estimated cost of $259 million, began in 2018 and is expected to be complete in 2024. It entails replacing the 610 main lanes through the intersection as well as all the connector ramps between 610 and 69, along with adding stormwater detention between 69 and Westpark in an attempt to mitigate nearby flooding risks.
The goal of the project, according to TxDOT's website, is to "enhance safety and improve mobility by widening the connector ramps to two lanes, increasing sight distances and providing remedies to eliminate weaving."
We are making great progress on the @HOU610at69 interchange project. To keep this project going at a great pace, we will be closing the I-610 West Loop southbound entrance ramp from Westheimer Rd near the @HoustonGalleria tonight at 9pm until Fall 2023. pic.twitter.com/tiuvR1KfpN

— TxDOT- HOU District (@TxDOTHouston) January 3, 2023
Perez said the work is 88 percent complete and on schedule, with a decrease in traffic during the early stages of the COVID-19 pandemic allowing construction crews to expand their hours and finish some work earlier than originally planned.
"That's the goal is to finish sooner than anticipated," said Perez, adding that inclement weather could slow down the timeline. "We're still shooting for that."
Most of the work on the connector ramps is complete, according to Perez, who said new ramps at the southeast corner of the intersection – from 69 southbound to 610 southbound and from 610 northbound to 69 northbound – still need to be constructed. And the connector from 610 southbound to 69 southbound still needs to be extended from one to two lanes, he said.
Perez said the connector from 69 southbound to 610 northbound already has been widened but is remaining a one-lane roadway, which has drawn complaints from community members. But Perez said TxDOT's options for that ramp are limited because it can not expand its right-of-way in that part of the intersection, which is adjacent to a residential neighborhood.
Another significant closure at the intersection is planned for February. Perez said 69 in both directions will be closed for an entire weekend, so steel girders for the southbound 610 lanes can be hung above 69. Then, during several weekday nights later in February, 69 as well as its HOV lanes will be closed in order to continue securing the steel girders.
"To get to a good point and get this project complete, we do have to do some major closures," Perez said.
More information about the interchange project and related closures, along with suggested detour routes, is available at www.dot.state.tx.us/hou610at69. Additional road closure information will be posted to the Houston TranStar website at www.houstontranstar.org.