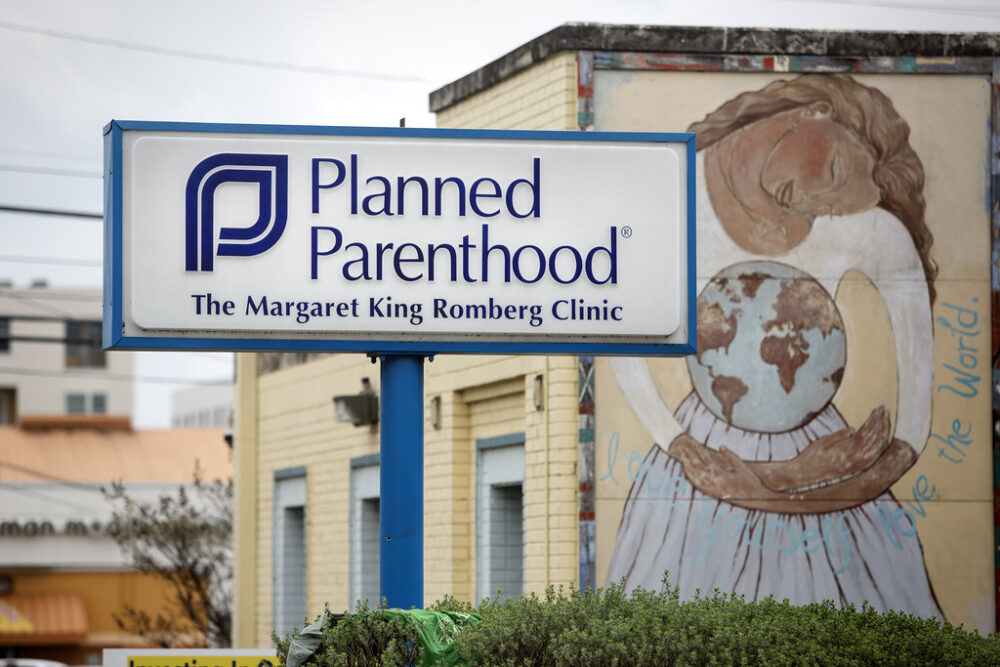 At 19, Natalie Vallot was diagnosed with a lump in her breast during an annual wellness exam. Then a waitress in Houston, Vallot didn't have health insurance, so she relied on low-cost services at Planned Parenthood, her sole provider at the time. The nurse there referred her to a surgeon who accepted uninsured patients, and Vallot had the walnut-sized tumor removed. The surgeon told her that while the tumor was benign, it was growing rapidly and could have become malignant had it not been detected early.
"I really feel like Planned Parenthood saved my life," said Vallot, now 48.
Vallot continued to visit Planned Parenthood for follow-up mammograms after her breast cancer scare to ensure the growth did not return. During the 15 years she was a patient, she was provided health exams, STD tests and treatment, and birth control, all for affordable, sliding-scale fees. But the services she relied on during her most vulnerable years may vanish for thousands of other low-income Texans if the state gets its way.
As part of a decade-long strategy to topple the abortion provider, Texas officials in 2022 sued Planned Parenthood's national organization as well as its state affiliates in federal court for more than $1.8 billion, claiming it committed Medicaid fraud when it filed reimbursements at a time when the state was seeking to expel the organization from the federal program. Should it lose the case – believed to be the first of its kind in the United States – Planned Parenthood could go bankrupt.
Planned Parenthood calls the lawsuit "meritless" and "politically motivated," countering that there was a court order in place that allowed it to continue to bill Medicaid. Texas knew the clinics were providing the services, reimbursed them for those services, and never asked them to repay the state before filing the lawsuit, the provider says.
"[T]his is a baseless case that should go no further," Susan Manning, an attorney with Planned Parenthood Federation of America, said in a recent interview. "Planned Parenthood organizations are nonprofits that follow the law and provide essential, life-saving health care to their patients. The plaintiffs' only goal in this case is to achieve their decades-long goal of shutting down Planned Parenthood to advance a political agenda."
More than a decade of attacks
Texas officials have been steadily chipping away at Planned Parenthood – a punching bag for anti-abortion politicians – despite the fact that state and federal funds are barred from covering abortion care. In their quest to dismantle the provider, Republican state lawmakers have decimated the family-planning safety net and stymied access to basic care for the state's poorest residents. Even with multiple laws banning abortion care in Texas, conservative state leaders continue the fight.
In 2011, Texas lawmakers slashed the state's family-planning budget by $72 million and ensured Planned Parenthood would be last in line for funding. The cuts resulted in the closure of 82 clinics, a third of which were operated by Planned Parenthood. None provided abortion care; instead, they offered preventive care, like health exams and birth control. One year later the state sought to exclude Planned Parenthood from the Medicaid-based Women's Health Program, leaving roughly 50,000 low-income patients without care.
While the Centers for Medicare and Medicaid Services tried to stop Texas by threatening to withhold $30 million in federal funding, the state simply walked away from the cash, choosing instead to fund the program itself so it could keep Planned Parenthood out. The crusade continued in 2015, when lawmakers booted Planned Parenthood's patients from a life-saving breast and cervical cancer program and halted funding to an HIV-prevention program.
Research from the Texas Policy Evaluation Project (TxPEP) – which tracks the real-world effects of state reproductive health care policies – shows that after these exclusions, patients faced barriers to finding new providers and experienced reduced access to the most effective forms of contraception. Among those who weren't able to access their preferred birth-control methods, TxPEP researchers found, there was an increase in taxpayer-funded births – the very outcome lawmakers intended to curb when starting the original Women's Health Program.
"Texas reproductive health policy since the 2010s – and even before – has often focused on preventing Planned Parenthood and other specialized family planning providers from receiving state funds for contraception and other reproductive healthcare services," said Dr. Kari White, lead investigator for TxPEP. "This legislation has damaged the safety-net provider network and reduced access to high-quality, continuous reproductive health care for the most vulnerable Texans."
By 2016, the state set its sights on removing Planned Parenthood from Medicaid, basing its claims on misleading "sting videos" surreptitiously recorded by the Center for Medical Progress, an anti-abortion activist group. The heavily edited videos purported to show a discussion about the illegal sale of fetal remains. Twelve states, including Texas and a congressional investigation found no evidence of wrongdoing by Planned Parenthood. In fact, a grand jury in Houston indicted the anti-abortion activists for deception and fraud. Nevertheless, after a five-year court battle, the state – aided by the conservative 5th Circuit Court of Appeals – used the fallacious claims to drive the provider from Medicaid in March of 2021, leaving 8,000 patients scrambling for family- planning care.
Now, an anonymous activist associated with the same anti-abortion organization, along with suspended Texas Attorney General Ken Paxton – the subject of an impeachment trial for bribery and abuse of office – argue that Planned Parenthood must pay back Medicaid reimbursements from 2017 to 2021, despite a 2017 strongly worded court injunction in place that allowed them to continue billing the state.
Last year, Paxton said it was "unthinkable that Planned Parenthood would continue to take advantage of funding knowing they were not entitled to keep it." Under the federal False Claims Act, which allows fines for every alleged improper payment, the plaintiffs maintain that Planned Parenthood should pay $10 million, in addition to penalty fees for each of the thousands of claims filed for services, totaling around $1.8 billion, a figure that would likely bankrupt the national organization and wipe out Texas clinics.
Among its counterclaims, Planned Parenthood points out that federal and state Medicaid regulations expressly require that states notify a provider of any overpayment. Texas failed to issue such notice at any point before filing a lawsuit, evidence that the legal challenge is a "transparent" attempt to achieve their ultimate goal of once and for all shutting down the health care clinics, Planned Parenthood said in a motion filed in January.
"There is no authoritative guidance – indeed, no guidance whatsoever – from either of the states or the federal government that suggests, let alone clearly states, that payments, lawful when received, could retroactively become 'overpayments'," the motion says.
'All you're doing is punishing patients'
A ruling in Texas' favor would hit vulnerable communities the hardest. For instance, Planned Parenthood of Greater Texas – which oversees 19 clinics, including in Austin, Dallas and El Paso – typically see younger patients, two-thirds of whom are uninsured. Serving more than 100,000 patients annually, the clinics are relied upon for contraception care and STI prevention. They also offer gender-affirming hormone therapy, cervical and breast cancer screenings, HPV vaccines, post-menopausal hormone therapy, PrEP prescriptions and rapid HIV tests.
The centers fill a specific – and growing – need amid underfunded Federally Qualified Health Centers and the dwindling number of reproductive health clinics in the wake of the U.S. Supreme Court's ruling in Dobbs v Jackson Women's Health, which overturned abortion rights. The 19 Texas clinics have seen client volume increase by 20% from last year – in just August alone they saw 8,000 patients – underscoring the need for services.
"The demand is huge," said Dr. Amna Dermish, chief medical officer of Planned Parenthood of Greater Texas. "If we're gone, who steps into that space? The capacity is not there. We have a syphilis epidemic. We have little access to prenatal care and a high maternal mortality rate. We have the highest rate of uninsured in the country. There hasn't been an effort by the state to expand care since [Dobbs] so there's going to be a big void that will have a devastating effect."
In a study documenting the impact of the state's decision to remove the provider from Medicaid in 2021, researchers with the Texas Policy Evaluation Project found non-Planned Parenthood clinics have "limited capacity" to provide timely access to contraception. Researchers also found that Medicaid patients booted from Planned Parenthood said other providers were unable to meet their needs; as a result, the patients could not access "time-sensitive, affordable" reproductive health care. With few realistic alternatives to Planned Parenthood, some patients reported that the process of re-establishing care elsewhere was so burdensome that they still had not found a new provider and worried that they never would.
"I know the state wants to punish Planned Parenthood for being an abortion provider – but all you're doing is punishing patients," Dermish said.
The case is pending before U.S. District Judge Matthew Kacsmaryk of Amarillo, who is expected to rule in the coming weeks. The Trump-appointed judge is a polarizing figure with deeply held anti-abortion and religious beliefs, including opposition to birth control and sex outside of marriage. A former attorney with the conservative Christian legal group First Liberty Institute, Kacsmaryk's rulings on the bench appear to reflect his principles; he has struck down the Biden administration's protections for transgender people; ruled against protections for teenagers seeking contraception under Title X; and most notably – in a decision rooted in medical mistruths and inflammatory language – found in favor of an anti-abortion group's request to rescind FDA approval of abortion drug mifepristone. In what many describe as "forum shopping" conservatives eyeing favorable rulings with national implications seek out Kacsmaryk's courtroom, in a federal district with a single, uber-conservative judge. Geographic relevance need not be an issue: In this case, no Planned Parenthood health center is located in or anywhere close to Amarillo.
Dermish, who worked as an abortion provider at Planned Parenthood from 2013 until the Dobbs ruling came down last year, said that her inability to perform abortions under the state's harsh laws – starting in 2021 with Senate Bill 8, which imposed a near-total ban – has been nothing short of "traumatizing." She struggles to talk about the experience without crying. Still, Dermish chose to remain in Texas and weather another state-led attack so she can offer preventive care. "We cannot provide abortion but we still have an important role in our communities," she said.
Dermish noted what she called the hypocrisy of stripping away basic health-care services amid laws that will likely cause a jump in pregnancies and births, increasing the need for services.
"We live in a state that bans abortion because of ostensibly pro-life values, but the same people are trying to block treatments that could help pregnant women be safer and healthier?" she said. "The disconnect has been hard to reconcile."
Natalie Vallot's appreciation for Planned Parenthood has only grown since her cancer scare nearly three decades ago. Working in Texas hospitals as an internal medicine provider, she sees emergency rooms teeming with patients who let ailments fester because they could not afford either preventive care or required treatments. Without low-cost providers like Planned Parenthood, already overburdened hospitals and clinics will feel added strain.
"Every doctor and nurse I talk to knows how devastating this could be – honestly, they are scared," Vallot said. "The infrastructure Planned Parenthood has built in the community is being completely taken for granted by Texas. The repercussions of this will be felt throughout the whole health care system."
Mary Tuma is a freelance writer in Austin who covers reproductive rights. She wrote this article for Public Health Watch, a nonprofit investigative news organization.