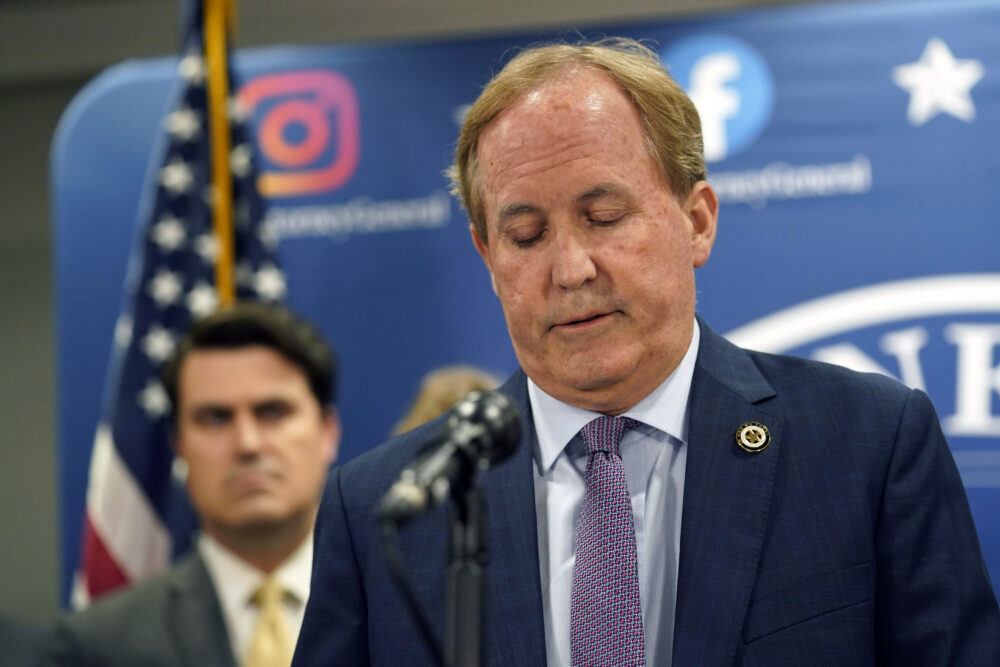 The long-delayed securities fraud case against suspended Texas Attorney General Ken Paxton should be tried in Houston as ordered by a judge in 2017, the state's highest criminal court ruled Wednesday.
The Texas Court of Criminal Appeals, made up entirely of elected Republicans like Paxton, ruled by a margin of 6-3 to overturn lower-court decisions that voided the case's transfer to Harris County from Collin County, where Paxton lives and has historically had support. District court Judge George Gallagher in the Dallas-Fort Worth area transferred the case to Harris County in 2017, to help ensure a fair and impartial jury, but a judge in Houston transferred it back to Collin County in 2020 after Paxton's attorneys argued that Gallagher's jurisdiction over the case had expired.
An appellate court in 2021 upheld the transfer back to Collin County, but the Texas Court of Criminal Appeals ruled that the case should remain in Harris County.
"Judge Gallagher had constitutional and statutory authority to preside when he ordered the change of venue to Harris County," the court wrote in its opinion. "The district court in Harris County had no authority to void it."
The issue of venue had been a key sticking point in the case against the 60-year-old Paxton, who was elected as attorney general in 2014 and indicted in 2015 on two felony counts of securities fraud and one felony count of serving as an investment advisor without registering as one. While the case has dragged on amidst arguments about where it should be tried, among other issues, Paxton was re-elected in 2018 and again in 2022.
Wednesday's ruling means a criminal trial in Harris County, which has preferred Democrats over Republicans in recent elections, could be imminent as Paxton also faces an impeachment trial in the Texas Senate that is scheduled to start this summer. The Texas House last month approved 20 articles of impeachment against Paxton, thereby suspending him from his duties as attorney general. Some of the articles accuse him of abusing the judicial process and obstructing justice by finding ways to delay a trial in his criminal case.
"We're gratified but not surprised that the court recognized that this defendant must stand trial before a Harris County jury and a judge who will follow the law," Brian Wice, a Houston attorney prosecuting the criminal case, said in a statement.
Defense attorneys for Paxton, who could ask the Texas Court of Appeals to reconsider its decision, did not immediately respond to an email seeking comment.
Paxton, who served for a combined 10 years in the Texas House and Senate before becoming attorney general, was accused in 2015 of soliciting investors for a McKinney-based technology company without disclosing that he was being compensated by the company. He also is alleged to have directed clients to a friend's investment firm without registering as an advisor with the state.
Paxton has pleaded not guilty to the criminal charges against him.