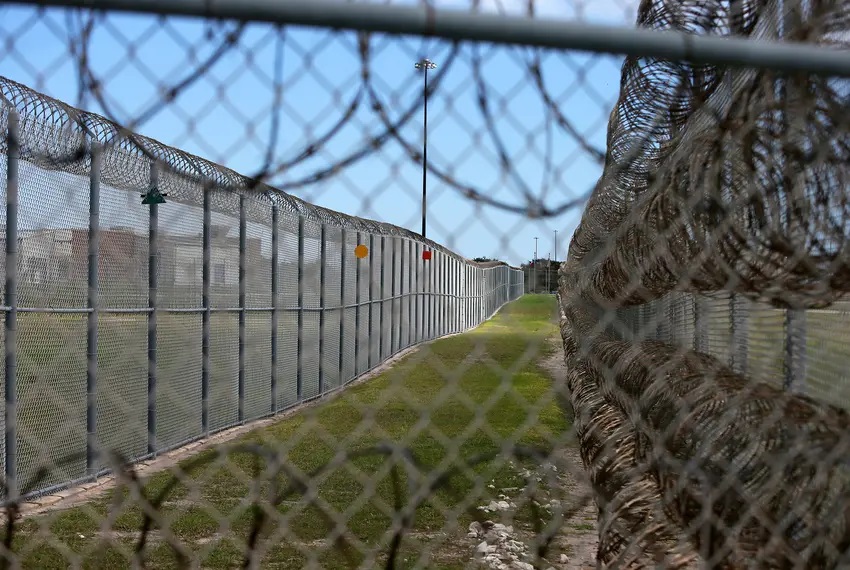 The Texas Legislature had an extra $32.7 billion in the bank to spend on the state's next two-year budget, but lawmakers ultimately decided not to put a penny directly toward cooling dangerously hot prisons.
Drafts of the final $321.3 billion budget proposal released Thursday would give the Texas Department of Criminal Justice a late add-on of $85.7 million for "additional deferred maintenance projects," which will likely be used to install some air conditioning. The House — along with many prison rights advocates — had hoped to tap more than a half-billion dollars to cool prisons.
Inside Texas prisons, summer heat has baked prisoners to death, likely contributed to severe staff shortages and cost taxpayers millions of dollars in wrongful death and civil rights lawsuits. More than two-thirds of Texas' 100 prisons don't have air conditioning in most living areas, forcing thousands of prison officers and tens of thousands of prisoners to work and live in sweltering conditions.
The House had been pushing to include $545 million — a hefty sum, though a relative drop in the bucket in the state budget — to cover two phases of a four-phase plan to install air conditioning in all Texas prisons by 2031. But the Senate dashed those hopes, offering no money for the purpose.
For prisoner advocates, it was a slap in the face.
"It's incredibly disappointing. The Senate is very clearly stating ... that they endorse torturing incarcerated Texas citizens," said Amite Dominick, president of Texas Prisons Community Advocates. "We're all just kind of at a loss, like what else are we supposed to do about these situations?"
State Sen. Joan Huffman, a Houston Republican and the chamber's budget chief, did not respond to questions about the lack of funding for prison air conditioning.
The final budget still needs to be approved by both chambers and Gov. Greg Abbott, who has the authority to veto specific pieces.
In 2021, the House first indicated it was primed to cool Texas prisons, at least in theory. The chamber passed a bill to incrementally install air conditioning, but lawmakers didn't set aside any money to get the job done. Still, the Senate didn't act on the bill.
This year, the House put its money where its mouth was, setting aside the historic amount of money and passing a bill to require prisons be kept between 65 and 85 degrees Fahrenheit, which is already required in local jails. The measure failed in the Senate.
The House's proposal would have spent $225.9 million to cool 16 facilities by 2025, focusing on transfer facilities, which hold newly sentenced prisoners, and those with large special needs populations, according to a TDCJ draft plan. Phase 2 would have used $319.3 million to air condition another 30 facilities by 2027, focusing on larger prisons built in the 1980s and 1990s.
It's unclear which facilities the department will prioritize with the limited funds available in the current budget. Though lawmakers did not explicitly put funds toward cooling prisons, budget language indicates the newly added maintenance funds could be used for the project.
Earlier this month, budget leaders from both chambers had agreed to give TDCJ an additional $87 million for major repairs and improvement projects — for things like roof repairs and fixing broken fire alarm systems. But they said any compromise on air conditioning funds would later be included in a section of the budget that includes miscellaneous funding.
In Thursday's final budget proposal, lawmakers had added the additional $85.7 million "deferred maintenance" funding in the miscellaneous budget section. Though lawmakers didn't explicitly say the money was for air conditioning, the money falls under the same budget category from which TDCJ pulls funds to install air conditioning.
TDCJ spokesperson Amanda Hernandez would not confirm if the newly added money would be used exclusively for air conditioning costs. But she did say Thursday that the newly added funds, along with the $87 million lawmakers had previously set aside for repairs and improvements in TDCJ, would be used for "projects like roof repairs, security fencing and lighting, fire alarms, wastewater improvements, and adding additional air-conditioned beds within the system."
"The funding will make for significant improvements in a number of areas across the system and we are very appreciative of the investment in TDCJ," Hernandez said.
Even if the entirety of the $85.7 million is used for air conditioning, it's unclear exactly how many beds or units it would cool. TDCJ and the Legislative Budget Board have estimated that cooling prisons would cost between $620,000 to $48 million per facility, depending on the prison.
Jeff Edwards, the lead attorney in a yearslong and historic prison rights lawsuit that ended with TDCJ agreeing to install air conditioning in a geriatric prison in 2018, said the Senate's unwillingness to install air conditioning in prisons is short-sighted.
"It is crystal clear that the Texas Department of Criminal Justice and its leadership at all levels, including its board, know that the temperatures inside the majority of Texas prisons are dangerous and potentially deadly during the summer months," he said Thursday. "To fail to remedy such dangerous conditions legislatively means that inmates and advocates for basic human rights will have no alternative but to seek court intervention."
Aside from air conditioning, the budget negotiators assigned to the conference committee also proposed shifting three of the state's prisons out from under the private prison company Management and Training Corporation. Eleven of Texas' 100 prison facilities are run by MTC, a controversial group that has been accused of defrauding the state in other prisons. The new budget would provide $76.7 million for TDCJ to take over operations at the Bell, Diboll and Estes prisons in East and North Texas.
The budget agreements would also give TDCJ an additional $100 million to partially cover the expected rise in health care costs and $42.2 million for raises to TDCJ medical staff, above the 5% raise pledged for all state employees. With extreme understaffing creating dangerous and sometimes deadly situations, security staff in Texas' adult and youth prisons received an emergency 15% raise last year which lawmakers plan to continue in the budget.
Also, if legislation passes to make it a state crime to illegally enter the country — language which is currently in House Bill 7 — the lawmakers are pledging $10 million to TDCJ to help with the influx of inmates the bill would require the state to imprison.
Already, the prison system has for two years been supervising thousands of not yet convicted migrants accused of trespassing on private land. The arrests, which have spurred a plethora of lawsuits and a U.S. Department of Justice investigation over allegations of discrimination and civil rights violations, are a key component of Abbott's controversial border mission.