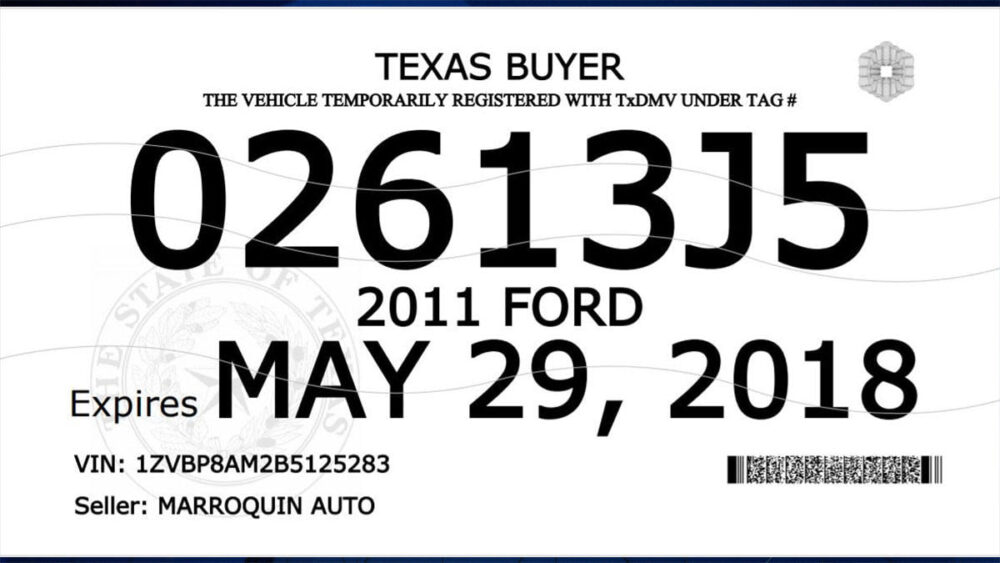 A Houston woman has pleaded guilty to being part of a conspiracy in which hundreds of thousands of fraudulent temporary license plates were issued and sold throughout Texas and the rest of the United States, according to a Wednesday announcement by U.S. Attorney Alamdar S. Hamdani of the Southern District of Texas.
Leidy Areli Hernandez Lopez, 41, a native of Honduras who was living illegally in Houston, according to Hamdani, pleaded guilty to conspiracy to commit wire fraud and faces up to five years in federal prison and a maximum fine of $250,000. She is scheduled to be sentenced in October.
Lopez was permitted to remain out of jail on bond until that sentencing hearing, according to Hamdani, who said one of her alleged co-conspirators is wanted by the FBI and considered to be a fugitive. A $5,000 reward is being offered to anyone with information that directly leads to the arrest of 33-year-old Emmanuel Padilla Reyes, who also is known as Christian Hernandez Bonilla or Noel Rivera.
As part of her plea, Lopez admitted that her co-conspirators submitted false information to the Texas Department of Motor Vehicles in order to obtain a fraudulent used car-dealer license so they could print and sell Texas-issued buyer tags to purchasers all over the country, including in New York and Washington D.C., according to Hamdani. None of the paper tags issued were for legitimate vehicle purchases, Hamdani said.
Fraudulent paper tags can be used to hide the identities of vehicle drivers and owners from law enforcement and also to avoid obtaining vehicle registration, safety inspections and liability insurance.
As part of the scheme involving Lopez, emails and other forms of electronic communication were used to buy, sell and deliver the fraudulent temporary plates, according to Hamdani, who said proceeds from their sales were shared through electronic payment services such as Cash App and Zelle.