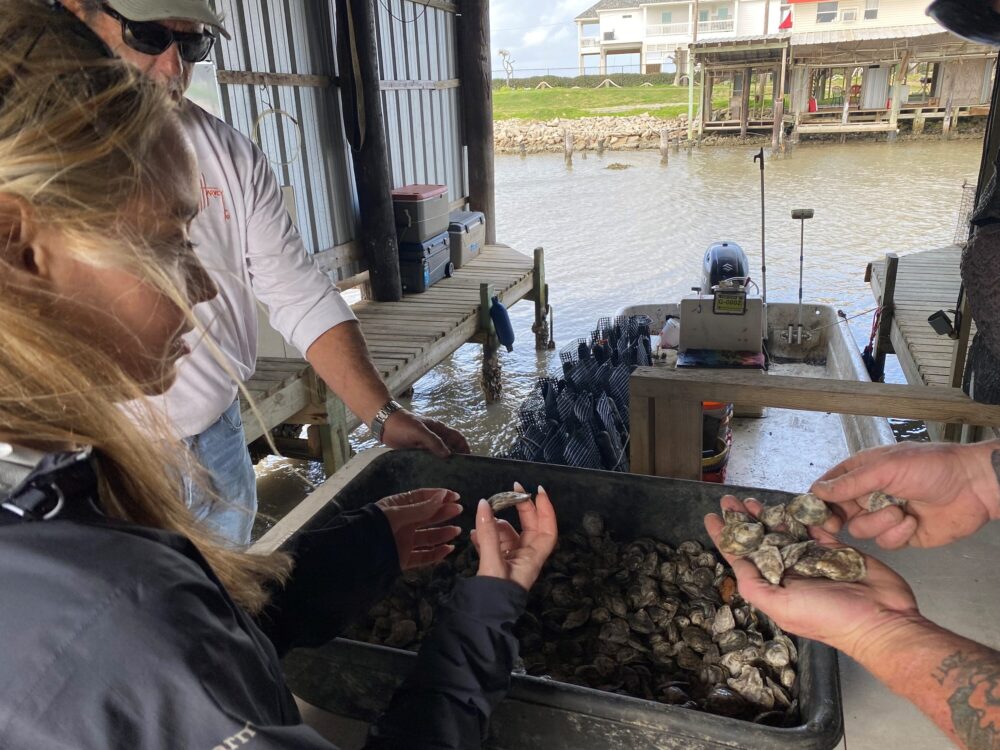 About a mile off Bolivar Peninsula, near Goat Island, black mesh bags full of oysters from a local oyster farm bob on the waves. From far away, they look like a flock of birds. Commenters on Facebook had some different ideas when they first were installed, according to farm founder Hannah Kaplan.
"It's an alien landing site, it's the CIA doing secret research, or it's a trap for your boats or something like that," she said. "People were very interested in what was going on."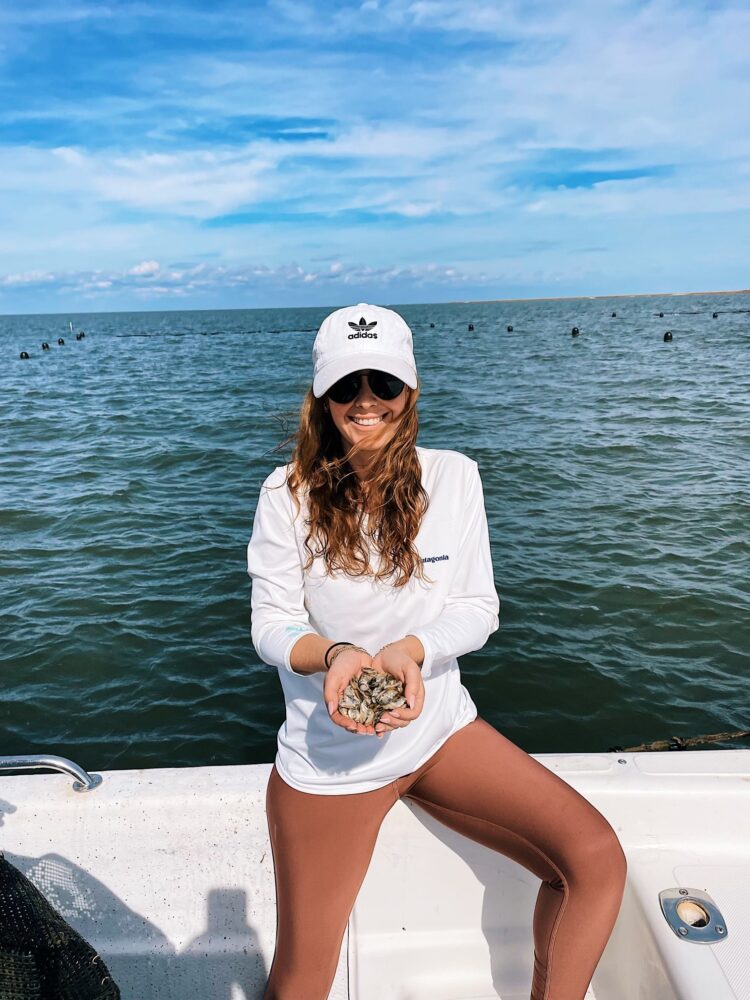 Kaplan is the founder of Barrier Beauties, the second permitted oyster farm in the state. In 2019, Texas became one of the last coastal states in the US to allow oyster mariculture. More than three years later, the first farms have had their initial harvests, and interest in the industry is growing.
This growth in the state's oyster farming industry comes as wild Texas oysters have fared poorly over the past decade, suffering from drought, flood events and hurricanes. Currently, the majority of reefs are already closed to harvesting – even though the wild oyster season is supposed to stay open through April.
While farmed oysters wouldn't replace wild oysters, experts say they could help relieve some of the harvesting pressure or provide a different option for oyster harvesters who find themselves out of work.
"I think oyster farming is one tool in the toolbox when it comes to how to create a more sustainable oyster industry in Texas," said Lauren Williams, the Nature Conservancy's Resilient Coast Program Director for Texas.
Williams said farmed oysters can provide some of the same natural benefits as wild oysters, such as improving water quality.
"There are studies that have shown that in some areas where you have oyster aquaculture, there are sea grasses that have come back in adjacent areas because the water clarity has improved," Williams said. "So mariculture oysters definitely provide some of those same services as wild oysters."
Not all oysters are alike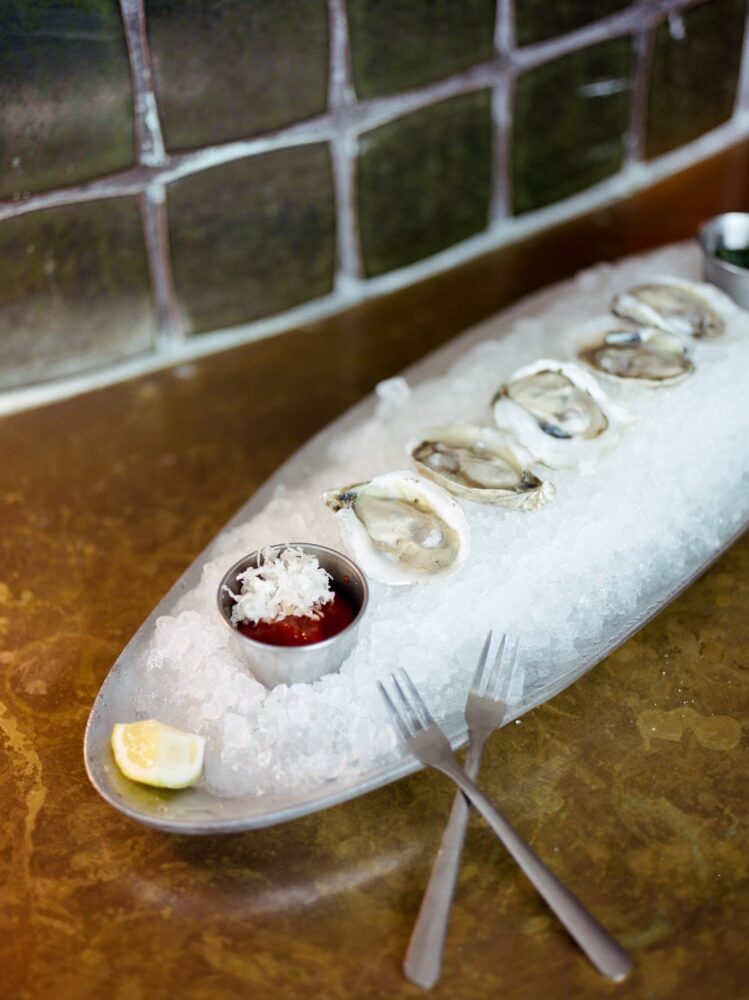 In terms of harvesting, however, farmed oysters tend to go to a specific market.
"Oysters that are mariculture tend to just be prettier, and so they're more desirable for the half shell market," said Williams.
Part of the reason is because of the farming practices in place, according to Kaplan, the founder of Barrier Beauties.
Kaplan's oysters are grown in bags that float at the top of the water column. They're attached with clips to lines that are anchored to the seafloor on her 10-acre plot. As the oysters grow bigger, they transfer them to larger bags – a process known as splitting – to give them more room to grow.
Another farming practice is called tumbling, where the oysters are placed in a rotating tube.
"It helps chip off the edges so that they grow with a deeper cup," said Kaplan.
Kaplan said she looked into oyster farming after her previous job shut down due to the pandemic. Her dad had a friend with an oyster farm in Florida and being part of a new Texas industry sounded exciting. Kaplan said she grew up keeping kosher and one of the first oysters she ever ate was from her farm.
"I was actually very surprised about how much I liked them," she said. Kaplan said the oysters from her farm "have a very pretty briny taste with a little bit of sweetness."
Farmed oysters are like fine wine in that they taste different depending on where they're grown. That also means that each Texas farm has its own unique flavor, according to Mario Marquez, the Aquaculture Specialist with Texas Sea Grant.
"Every bay and estuary in Texas is different," he said. "That's the beauty of the farming – the oysters are not all going to taste the same."
Marquez owned an oyster farm in Florida. Now he helps those interested in joining the fledging Texas industry navigate the process from permitting to finding loans and partnering with restaurants.
"People call me if they're interested in oyster farming," Marquez. "I basically hold their hand until they don't need me to hold their hand anymore."
Jumpstarting an industry
Oyster mariculture dates all the way back to the Romans, and oyster farming in the US first appeared as early as the 1820s in states like Connecticut. Texas was late to the game.
"Texas was not even able to compete or participate in that opportunity," said Joe Fox, who's now the executive director of the Palacios Marine Agriculture Research Institute. Before that, he worked at Texas A&M University-Corpus Christi and helped start the oyster farming industry in Texas.
Fox said a small group of researchers started discussing the opportunity when they learned of the funding that would be available to Texas in settlement money from the BP Deepwater Horizon oil spill. At the same time, wild oyster populations were in decline.
"The harvest had been declining rather precipitously, and we said 'this is one of the ways in which we can help save oysters for the state, where people would be able to continue to buy Texas oysters,' Fox said. "And so we said, well, you know, we need to draft some legislation and propose it to the state."
Fox said it was pretty easy to get people on board – legislators, the restaurant industry, and the Coastal Conservation Association. In 2019, a bill passed that gave Texas Parks & Wildlife the authority to develop the program.
"In a very short period of time, we'd kind of jump-started an industry," Fox said.
Still, getting it started had its challenges. For one, Texas doesn't yet have any oyster hatcheries or nurseries up and running, meaning that farms had to work with hatcheries in other states.
"In order to do that there was a lot of permitting and steps that were required to assure that you weren't bringing back to Texas contaminated or infected oysters or anything like that," said Fox.
Another challenge is that though Texas Parks & Wildlife issues the main permit, there are also components that need to be signed off on by the TCEQ, the GLO, the US Coast Guard, and in some cases the Army Corps of Engineers.
"Trying to figure out who has what jurisdiction and coordinating all those industries together – I think that's the frustrating part both for regulators and also obviously for the business owners," said Lindsay Campbell, who oversees the oyster mariculture permitting process for Texas Parks and Wildlife Department.
Despite the challenges, there are now three farms operating in the state, including Kaplan's. Five more farms have been issued conditional permits and a few other applications are in the works, according to Campbell.
"We've seen a lot of uptake in interest," Campbell said. "I think it is a growing industry that really is going to take off, especially now that we've gone through one harvest of the fully permitted locations."