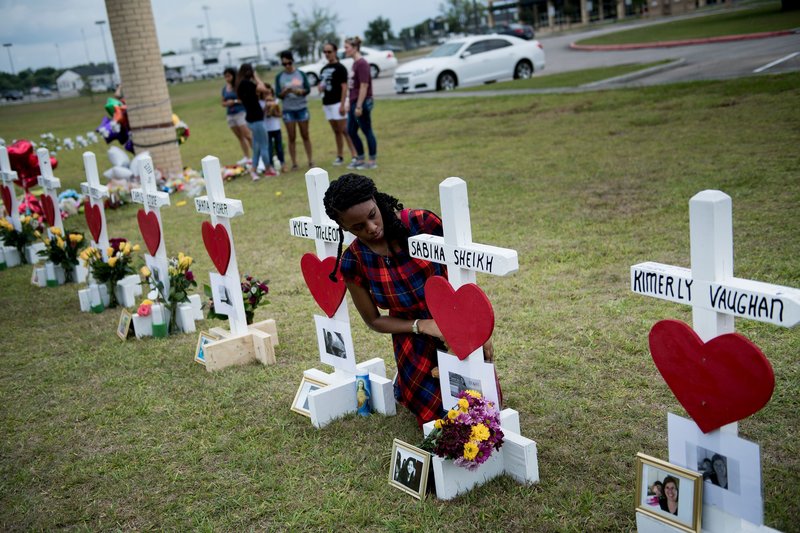 Nearly five years after eight students and two teachers were killed in a mass shooting at a Houston-area high school, the victims' families remain largely in the dark about their loved ones' final moments.
That's because medical examiner's reports, surveillance footage and other evidence from the tragedy at Santa Fe High School on May 18, 2018, have been withheld by the Galveston County District Attorney's Office so as not to influence potential jurors and help ensure a fair capital murder trial. But such a trial likely will not happen for at least another year as shooter Dimitrios Pagourtzis, 22, remains committed to a state-run mental health institution and is incompetent to stand trial as determined by a judge.
"I still don't know if Kimberly was shot from the behind or from the front or with what weapon," said an emotional Rhonda Hart, the mother of 14-year-old victim Kimberly Vaughan, during a news conference last week. "I mean as a parent, as a mom, I was actively involved when she came into this world, right? I had a front-row seat. And I don't know how she left it."
A bill filed in the nascent Texas Legislature session aims to help Hart and the other victims' relatives get those long-awaited details and, ultimately, a sense of closure. Senate Bill 435, authored by state Sen. Mayes Middleton of Galveston County, would allow prosecutors to share medical examiner's reports and video evidence with deceased crime victims' parents or children without making that information available to the general public.
The proposed law has the support of Galveston County District Attorney Jack Roady, he said in a statement released by his office.
"Under the current law, crime victims and their families don't have the ability to access this information prior to trial," Roady said. "This has been especially heartbreaking for the victims' families in the Santa Fe High School shooting, since the trial in that case has been delayed while we wait for the defendant to be restored to competency. This bill would address that issue and, hopefully, allow us to provide some of the information these families have been waiting for."
Mayes' office did not immediately respond to a request for comment Thursday.
According to the language in the bill, which was filed Wednesday and referred to the state senate's criminal justice committee, the law would pertain to "evidence of a crime that resulted in the death of a person and that occurred in the prosecutor's jurisdiction." Victims' family members would be prohibited from duplicating, recording, capturing or otherwise memorializing the information they view, and prosecutors could require those family members to sign confidentiality agreements before viewing the information.
The proposed amendments to Texas' public information law would not otherwise affect residents' rights to obtain and use such information under other existing laws, according to the language in the bill. The changes also would apply to crimes that occurred before, on or after the effective date of the proposed law, meaning it would retroactively apply to the Santa Fe High School families and victims of other previous crimes if passed by the legislature.