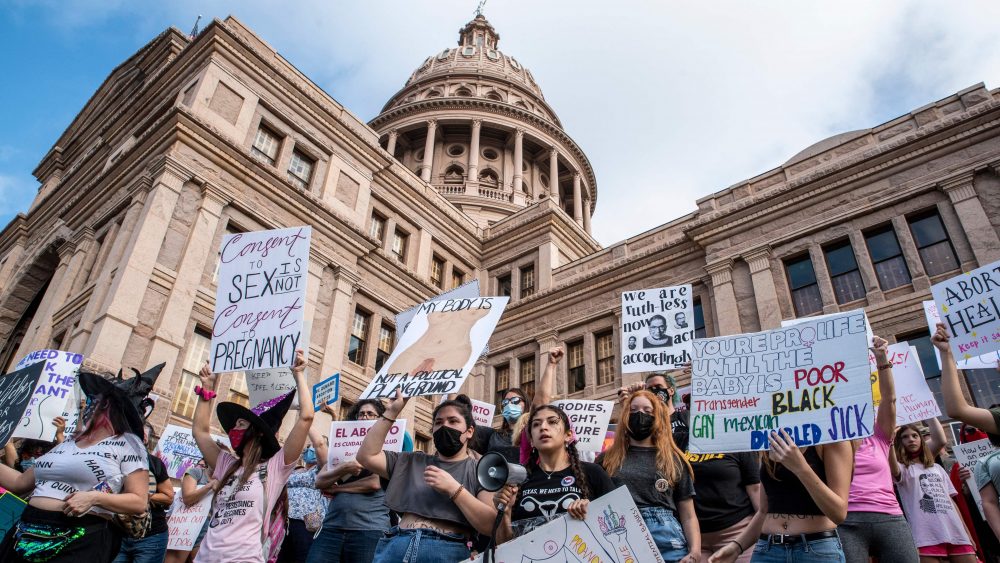 The constitutionally protected right to an abortion ended Friday in a landmark ruling by the Supreme Court. The decision by a new conservative majority effectively ends abortion access that had been in place nationwide for nearly five decades. Nearly half of the states are now expected to enact abortion bans — including Texas, which has a trigger law on the books.
This is a roundup of statements from politicians, civic leaders and groups across the Houston area and Texas reacting to the court's ruling.
Gov. Greg Abbott
BREAKING: The Supreme Court correctly overturns Roe v. Wade & reinstates the right of states to protect innocent, unborn children.

Texas is a pro-life state.

We will ALWAYS fight to save every child from the ravages of abortion. pic.twitter.com/fN1XVmbWnZ

— Greg Abbott (@GregAbbott_TX) June 24, 2022
Lt. Gov. Dan Patrick
"Today is a tremendous day for life. The U.S. Supreme Court's decision in Dobbs v. Jackson Women's Health Organization adheres to the constitution and returns the decision on abortion back to the states. Because of our trigger bill that we passed last year, in 30 days, abortion will be banned in Texas. I thank God for delivering us this day, and I am so proud that Texas has taken the lead to ensure that such evil can no longer live in our state.
"Since I first took office in 2007, protecting life has been my top priority. In 2011, I authored the Sonogram Law, and in 2021, I was proud to lead the Texas Senate in passing the Heartbeat Act, which dramatically reduced the number of abortions that occur in Texas.
"Media estimates report that as many as 62 million innocent lives have been ended since the Supreme Court decided Roe v. Wade in 1973. Words cannot do that unfathomable number justice. The left will surely fight to keep the abortion industry alive in Texas, but they will fail.
"The Supreme Court's ruling is an acknowledgement of the truth: when an abortion is performed, a human life is ended. This watershed victory is not just a victory for innocent life, but a victory for all of humanity."
Attorney General Ken Paxton
"Roe v. Wade and its successor case Planned Parenthood v. Casey have absolutely no basis in the U.S. Constitution. Nevertheless, for half a century, Americans have had to live under these illegitimate, illegal, and unconstitutional dictates of a partisan, willful Supreme Court. No more. Today, the question of abortion returns to the states. And in Texas, that question has already been answered: abortion is illegal here. I look forward to defending the pro-life laws of Texas and the lives of all unborn children moving forward." 
"Further we cannot forget the extraordinary violence that Roe and Casey unleashed on our nation. Because of those decisions, almost 70 million babies have been killed in the womb. And so, today at noon, I am closing all my offices as a memorial to these babies. Our hearts and prayers go out to all of them. Never again should something like this happen in America."
U.S. Sen. John Cornyn
"Today, the Court has restored one of the core principles of our Constitution with this landmark ruling. This decision correctly returns the authority of states to decide the limits on abortion and will save countless innocent lives. I commend the Justices for not bowing to the vicious intimidation campaign waged by the radical Left. I join Texans in celebrating this historic victory for life and the rule of law."
U.S. Sen. Ted Cruz
"The Supreme Court's decision in the Dobbs case, reversing Roe v. Wade, is nothing short of a massive victory for life, and it will save the lives of millions of innocent babies. The decision reverses one of the most egregious departures from the Constitution and legal precedent the United States has ever seen, and one that has resulted in the deaths of 63 million American children.
"Roe was wrong the day it was decided, and it has been wrong every day since then. If you search for the word 'abortion' in the Constitution and the Bill of Rights, you won't find it. The Court at the time acknowledged that, and yet Roe created a brand new constitutional 'right' out of whole cloth.
"And while the left manically argues that the Dobbs decision makes abortion illegal throughout the country, that is false. What this decision does is leave abortion policy up to the states and returns power to the American people—which is exactly how questions of abortion were handled before Roe.
"This is a momentous day, and yet the fight for life doesn't end with the Dobbs decision. It simply begins a new chapter. I've been proud to stand for life in the U.S. Senate, and I will continue to do so as we navigate the path ahead."
Beto O'Rourke, Democratic candidate for Texas Governor
This moment demands action. pic.twitter.com/L0RFu8uk1B

— Beto O'Rourke (@BetoORourke) June 24, 2022
Rochelle Garza, Democratic candidate for Texas Attorney General
"I'm running for Texas Attorney General to fight for Texas families and that includes their constitutional right to reproductive freedom. The Supreme Court decision to overturn nearly 50 years of precedent recognizing the constitutional right to bodily autonomy and abortion access will have terrible repercussions for the working families of Texas, and will disproportionately impact women of color, people living in poverty, and rural communities. When I'm Texas' Attorney General, I will work to restore abortion access and reproductive freedom. This fight is not over, we will stand strong."
Texas Democratic Party, Co-Executive Director Hannah Roe Beck
"Nearly 50 years ago, the Supreme Court enshrined in Roe v. Wade the fundamental right to reproductive freedom for all Americans. Today, our worst fear was realized: the Court has overturned that ruling, ending the federal constitutional protection of abortion rights and threatening the reproductive liberty of millions of Americans.
"No child or adult should be forced to carry a pregnancy to term against their will. By supporting this decision and enacting legislation like the 'trigger' law, Greg Abbott and Texas Republicans have made it clear they are hellbent on doing just that. With the passage of Texas's six-week abortion ban, these radical far-right conservatives have already made Texas an incredibly dangerous place to live for the millions who sought to exercise their previously-protected right to abortion. Now, Texas has become exponentially more dangerous with the activation of this dystopian and extremist law.
"Nevertheless, we cannot and will not stop fighting. Make no mistake: Texas Democrats will not sit idly by as Republicans threaten the lives and liberty of millions of Texans.
"Today's decision is a blaring, five-alarm call to action. It is more important than ever that we send to Washington true, fearless leaders who are ready to fight to codify abortion at the federal level. It is more important than ever that we elect Beto O'Rourke as governor, flip the Texas Legislature, and elect Democrats up and down the ticket who will overturn Greg Abbott's draconian and brutal laws imposing the will of a tiny minority on the entirety of our state.
"We cannot tolerate anything less. This is the moment to organize, raise our voices, and create change. The urgency of protecting abortion access has never been greater; the threat to our livelihoods and freedoms has never been more immediate.
"This November, Texans have a choice: radical conservatives running on a platform of anti-freedom and anti-Texan authoritarianism, forced birth, and human suffering – or Democrats up and down the ticket who will cushion the blow of today's national trauma by ensuring Texans can live without fear of forfeiting the right to their most basic bodily autonomy.
"The choice is clear. The moment to act is right now."
Texas Medical Association
"TMA remains committed to protecting the privacy and sanctity of the patient-physician relationship. TMA is unwavering in its stance against intrusions by government or other third parties that impede the patient-physician relationship, and any criminalization of acceptable and appropriate medical practices that may jeopardize that relationship or patients' safety.
"Especially in high-risk situations, patients need to know their physicians will be there to care for them, and TMA will continue to work with state lawmakers to ensure a safe practice environment for physicians and their patients."
Texas Alliance for Life, executive director Joe Pojman, Ph.D.
"We are ecstatic. The Supreme Court finally remedied a terrible decision made nearly half a century ago that profoundly damaged society in America. Legal abortions have claimed the lives of more than 62 million unborn children and have hurt countless women. That will no longer be the case in Texas. Roe's unsound and ultimately indefensible reasoning cost the trust of millions of Americans in the Supreme Court. This decision begins to restore confidence in the Supreme Court and its application of constitutional principles.
The Court's long-overdue decision will have widespread positive changes in Texas. After nearly half a century, Texas can finally protect mothers and unborn babies from the tragedy of abortion, which the Legislature and Governor Abbott have already taken giant preparatory steps to do.
Now the pro-life movement can expend even greater resources toward providing compassionate alternatives to abortion for women with unplanned pregnancies. Our goal continues to be to build a society where abortion is unthinkable, and women with unplanned pregnancies take full advantage of the vast resources available to them."
Texans for Life Coalition
"Today we pause to celebrate this great victory and thank our God. Tomorrow, we press on toward our goal of making abortion unthinkable and ensuring that every mother and baby has everything necessary to be all they were created to be. This will be the church's finest hour."
Texas Right to Life
"This is a landmark day for the Pro-Life movement and our entire nation. After nearly 50 years, Roe has been responsible for the deaths of over 60 million preborn American children. We give thanks to God for this marvelous victory for Life, but Texas Right to Life knows there is much work ahead of us. We are doubling our commitment in this new chapter of the Pro-Life fight, including 1) enforcing our laws so abortionists don't get a free pass from liberal district attorneys; 2) expanding the life-saving alternatives to abortion program; and 3) protecting vulnerable patients."
Harris County District Attorney Kim Ogg
"The criminalization of reproductive health will cause great harm to women in America; prosecutors and police have no role in matters between doctors and patients. As in every case, we will evaluate the facts and make decisions on a case-by-case basis."
Harris County Attorney Christian D Menefee, chief civil attorney for the county
"For years, Texans have faced numerous, unnecessary barriers to seeking an abortion, and for months have dealt with a near total ban. Now, it will be nearly impossible to obtain a safe and legal abortion in this state. The Supreme Court's conservative bloc has set our country back fifty years, letting states like Texas take away women's ability to make decisions about their own health care.
Texas's existing laws have already led to increases in women seeking abortions in other states, showing us that these bans do not stop abortions but only make it harder for women without access to transportation and the ability to travel out of state. This decision will now let states pass even more draconian laws criminalizing abortion. But these laws will not end abortion—they will only make it more dangerous.
Every single woman in this country should have the right to make health care decisions with their doctor. I remain committed to supporting the full scope of reproductive rights and will continue to advocate for the fundamental rights of the people of Harris County."
Harris County Judge Lina Hidalgo
"What a tragic trampling on the progress women have made, a sad day as long-standing rights are stripped, a dangerous moment for Texas women forced into underground abortions. As the woman in charge of Texas' largest county, I'm further emboldened. I'll continue to fight for us all."
Houston Mayor Sylvester Turner
"Today is a sad day across America. The U.S. Supreme Court's ruling to overturn Roe v. Wade is a chilling and incomprehensible decision. It means women no longer have a federal constitutional right to make decisions about their bodies and what is best for their lives.
This decision unravels 50 years of precedent and settled law. I have always believed a woman has a right to choose and make personal decisions about her health care. I believe abortion is part of comprehensive reproductive health care and support the right to choose as fundamental to each person's autonomy. Individuals and their doctors should make personal life decisions.
I am now equally concerned that SCOTUS, with a stroke of a pen, will eliminate rights to privacy, contraception, and LGBTQ progress made in recent years.
If people are concerned about the direction of this country, I encourage them to show up at the ballot box and exercise their right to vote in November and every election."
State Sen. Carol Alvarado, Houston
"Today's Supreme Court ruling overturning Roe v. Wade is devastating, creating a dark, uncertain reality for many in our country. 36 million women – nearly half of the women of reproductive age (18-49) in the U.S. plus people who can become pregnant – have lost their constitutional right to bodily autonomy. 30 days after the judgement is issued, abortion will be a crime in Texas with doctors facing life in prison and a fine of up to $100,000 – a penalty much higher than a rapist receives. Like many other policies pushed forward by state leaders, low income and minority Texans will be impacted disproportionately by this reduced access to health care.
This isn't the end though. We must unite and use our voices and votes to restore this fundamental right for every Texan. We deserve respect and the right to choose what happens to our bodies and futures."
Fort Bend County District Attorney Brian M. Middleton
The Fort Bend County District Attorney's Office ("FBCDAO") does not grant blanket immunity to anyone to violate Texas law.
Every criminal complaint presented to the FBCDAO will be carefully reviewed and measured against the applicable criminal statutes, the United States Constitution, and the Texas Constitution.
As District Attorney, I will make the final determination to prosecute, or to decline prosecution, in abortion cases.
If the facts and circumstances of a complaint warrant criminal prosecution, then the complaint will be presented to a grand jury for consideration.
If a criminal allegation does not vindicate a compelling State's interest by its prosecution, then prosecution may be declined in accordance with the law.
Texas law provides, "It shall be the primary duty of all prosecuting attorneys, including any special prosecutors, not to convict, but to see that justice is done." Article 2.01 of the Texas Code of Criminal Procedure.
As the elected District Attorney of Fort Bend County, I serve the people of Fort Bend County and I am sworn to uphold the Constitution, to seek justice, and to ensure equal justice under the law. As stated by Thomas Aquinas, "Mercy without justice is the mother of all dissolution and justice without mercy is cruelty."
Harris County Democratic Party, Chair Odus Evbagharu
"SCOTUS returned the verdict we expected, but that doesn't make it less devastating.
"We are angry on behalf of everyone who has the reproductive capacity to become pregnant – because access to safe and legal abortion services is no longer guaranteed. And we know because of this decision made by SCOTUS, people will die.
"The news today from SCOTUS is a crushing blow to human rights.
"This decision will enable narrow-minded Republican lawmakers to trigger discriminatory and draconian abortion laws in states across our nation.
"How should we respond when those tasked with protecting our best interests — those entrusted with protecting basic human rights — fail to live up to our expectations, our requirements for the job?
"The Harris County Democratic Party calls on anyone who cares about human rights to immediately get involved in the fight against the Republican lawmakers who are hell-bent on taking away what defines us as a nation.
"Volunteer with organizations like ours, as well as reproductive rights organizations. Commit to voting for Democrats who will defend your rights instead of taking them away.
"Texas is set to fully ban abortion in 30 days, and a recent University of California study found that more than a quarter of the abortion facilities across our nation will close.
"Yet, we all know people will continue to seek abortions, and as state laws become more restrictive, the risk of complications from unsafe abortions drastically increases.
"We also know Black and Latino Texans will be disproportionately impacted by banning abortion.
"Abortion is an essential aspect of health care, and we will continue to fight for this human right. Access to legal and safe abortion care should be guaranteed for all who need it."