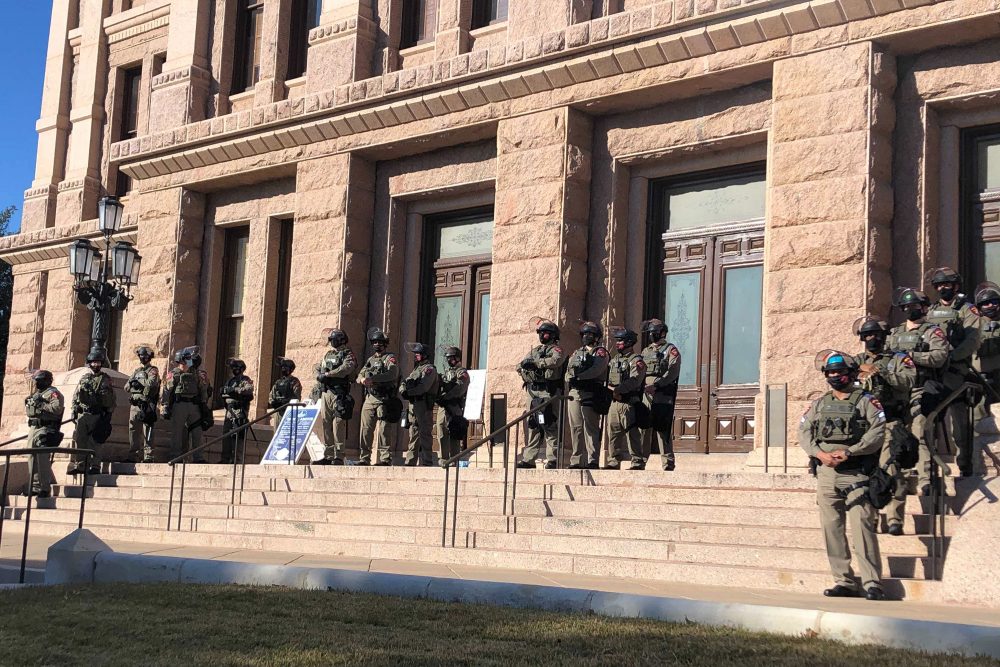 When a pro-Trump mob stormed the U.S. Capitol on Jan. 6, police officers were overrun, drawing major criticism for being unprepared.
Local governments in Texas now want to make sure it doesn't happen to them.
In Houston, more police officers have been deployed to City Hall, and other government buildings, according to Houston police Chief Art Acevedo.
"At the direction of the mayor we have increased our footprint not just at City Hall but across the city we are monitoring sensitive sites," Acevedo said at a recent press conference. "We are fully prepared to respond to any threat in our city."
Mayor Pro Tem Dave Martin told Houston Public Media he feels safe at City Hall, but not just because of increased police presence. Previous protests here have showed that Houston remains relatively calm, he said.
"The citizens of Houston are unlike the knuckleheads that were up in D.C. running around like hooligans," he said. "They weren't. And as long as we have that, as long as we have a good citizenry, I think we'll be an example for other cities on how you handle protests, on how you handle your behavior when you go into city buildings."
At Harris County, the Precinct 1 Constable's Office leads government security. A spokesman said they're on a "heightened state of alert, out of an abundance of caution."
In a statement, Constable Alan Rosen said "specially trained units are on standby to protect county assets, elected officials, county employees and the public in and near county buildings."
Mark Jones, a political scientist at Rice University, said the Capitol Police may have had the excuse that nothing like last week's riot had ever happened. That's not true anymore.
"No longer will state legislatures and city councils have that same excuse," he said. "After what happened, they need to be far more prepared and monitoring the situations for any types of protest."
The Texas Capitol may have had some disruptive incidents in the past, but nothing remotely close to the Capitol insurrection – at least not in modern history.
The last similar incident was nearly 150 years ago, during Reconstruction.
"Democrats were taking back control of the state from carpetbagger Republicans and there was a fraudulent election and Democrats effectively marched on the Capitol and took it by force," Jones said.
In 2013, peaceful protesters in the Texas Capitol galleries succeeded in delaying lawmakers' vote on a bill restricting abortion.
Unlike what happened in Washington, that was still a lawful protest. Jones called it "a minor hiccup," and neither party feared for their safety.
"The Republicans didn't mind it because they were going to win, and the Democrats didn't mind it because it sort of expressed their anger at what was occurring but in a peaceful way," he said. "It was disruptive but it was never threatening."
It's more common, Jones said, for conflict at the Texas Legislature to flare up between lawmakers. In 2017, Republican state Rep. Matt Rinaldi called Immigration Customs and Enforcement on a group of protestors in the Texas Capitol during a debate over the state's sanctuary cities law, then reportedly threatened to shoot his Democratic colleague Alfonso "Poncho" Nevarez in the head after Nevarez told him to meet him outside.
Those past events didn't seem to affect Capitol security, but the recent events in Washington, D.C., did – at least for now.
On Tuesday, the first day of the 2021 legislative session, state troopers and National Guard members stood outside the Texas Capitol as small groups of protestors lingered outside.
The Texas Department of Public Safety, which is responsible for security at the Capitol in Austin, didn't agree to an interview. In a statement, the agency said it will "continue to adjust our operations, including deploying additional personnel and resources as needed to maintain public order and address potential threats."
State Rep. Carol Alvarado, D-Houston, said she was encouraged by the security she was seeing in Austin.
"I think they are prepared, and unlike the Capitol Police, I have a lot of confidence in our DPS troopers that they're going to be able to protect members and our guests," she said.