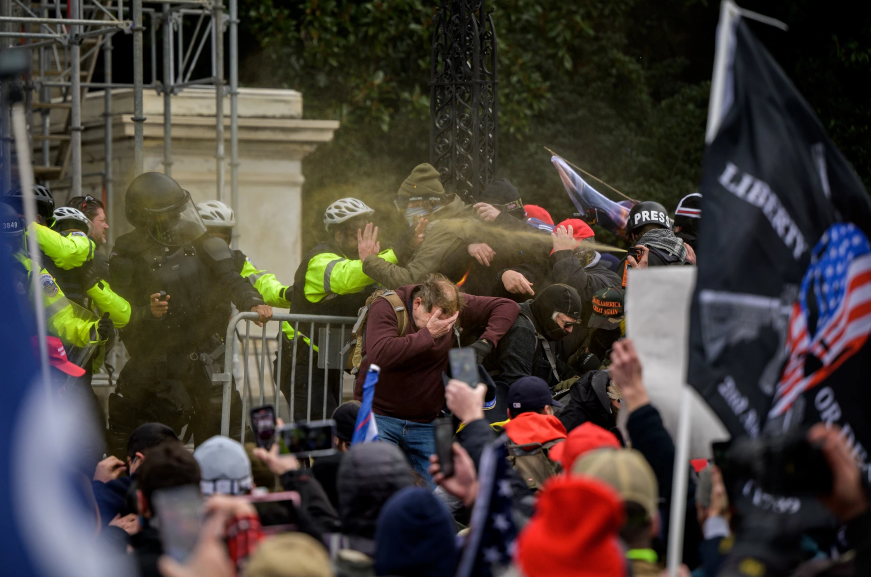 TODAY IN HOUSTON | Start your day with the Houston Public Media newsletter
Updated 8:53 p.m. CT
Prominent Texas Republicans are criticizing the actions from a mob of pro-Trump extremists at the Capitol Building in D.C.
Sen. Ted Cruz and Texas Attorney General Ken Paxton have been at the forefront of conspiracy theories and court cases around the results of the 2020 presidential election. When pro-Trump extremists stormed the Capitol Building, Cruz and Paxton quickly urged them to remain peaceful.
Those storming the Capitol need to stop NOW.

The Constitution protects peaceful protest, but violence—from Left or Right— is ALWAYS wrong.

And those engaged in violence are hurting the cause they say they support.

— Ted Cruz (@tedcruz) January 6, 2021
In a written response to TPR inquiries, Sen. Ted Cruz's press office forwarded a quote from one of his floor speeches.
Cruz laid out a false binary choice facing senators: either certify the election results over objections when "Americans will see a vote against the objection as a statement that voter fraud doesn't matter, isn't real, and shouldn't be taken seriously."
RELATED | U.S. Capitol In Chaos As Pro-Trump Extremists Breach Building
Cruz and others have failed to produce evidence of voter fraud in the 2020 presidential election.
The other choice, as presented by Cruz: enact an electoral commission to look into unsubstantiated claims of voter fraud — which have been intensified by Cruz's rhetoric — and then allow state legislatures to appoint alternate electors.
"Let me be clear: I am not arguing for setting aside the result of this election," he said.
But his preferred path would break with precedent and kickstart a path that could lead to a different election result.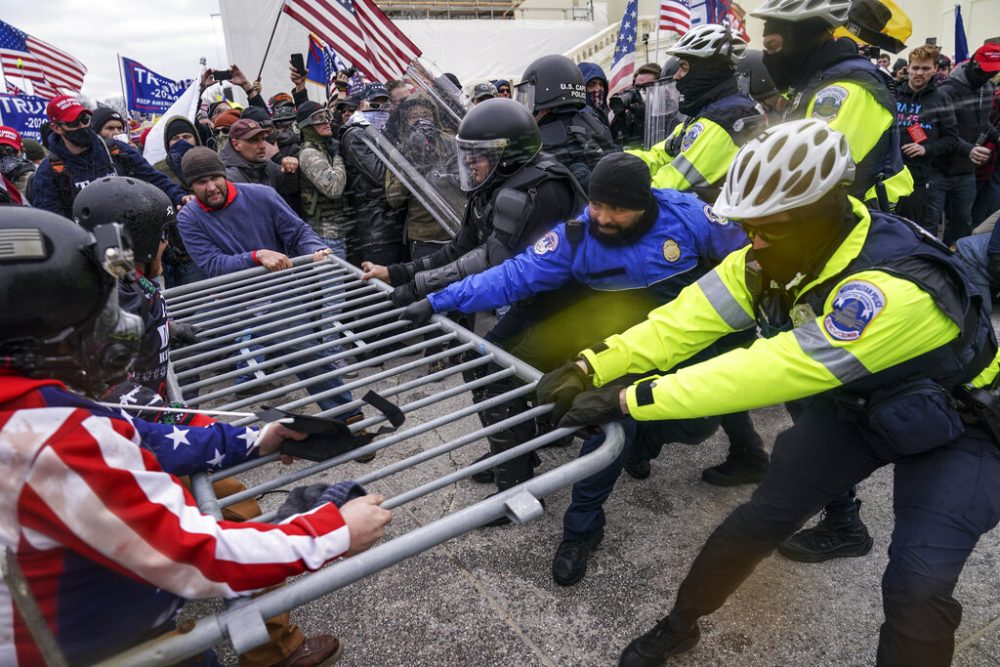 Cruz's office did not answer TPR's question about whether or not the senator would continue to raise objections when the count resumed.
Texas congressman Louie Gohmert has filed a lawsuit and multiple appeals in his effort to overturn the results of the election. As his litigation repeatedly failed, he told Newsmax that "the ruling would be that you got to go to the streets and be as violent as Antifa and BLM."
On Wednesday, he tweeted "Please people; no violence."
Please people; no violence. That only hurts our cause. Those leading the charge like the guy in yellow with the communist hammer & sickle tattoo: stopping the violence applies to you too. pic.twitter.com/XLKU9Y2y4x

— Louie Gohmert (@replouiegohmert) January 6, 2021
The Texas GOP removed its sergeant-at-arms, Walter West, over a series of Facebook posts in which he expressed support for the extremists' actions.
In a written statement, the Texas GOP said, "Whereas we vigorously support the First Amendment right to freely assemble, we condemn violence and pray for all gathering in our nation's capital and those at the Capitol Building. The Texas GOP has always been on the side of law and order and will remain so."
Most Texas GOP press statements include a quote from chairman Allen West, but this release did not. Allen West (no relation to Walter West) has been one of the most radical voices of the Republican Party in Texas.
He fully embraced several conspiracy theories during his tenure and even alluded to QAnon. He has also said, without evidence, that the presidential election was stolen.
Meanwhile, Paxton promoted a baseless conspiracy theory that the extremists who stormed the Capitol were actually "Antifa thugs." All available evidence contradicted this claim.
While Cruz and Paxton pushed back on the results of a fair and free election, some other Texas Republicans stood by the outcome.
Republicans like former congressman Will Hurd said that the storming of the Capitol "should be treated like a coup led by a president that will not be peacefully removed from power."
This isn't a peaceful protest. This is an attack on our democracy and domestic terrorism to try to stop certifying elections. This should be treated as a coup led by a president that will not be peacefully removed from power.

— Will Hurd (@WillHurd) January 6, 2021
Earlier in the week, Congressman Chip Roy forced other Republicans into an on-the-record vote when he opposed the seating of representatives from six key battleground states. The opposition was intended to point out the irony underlying Republicans' acceptance of the results in some races, but not of those in the presidential race.
Roy tweeted that he remained beholden to his constitutional duty, even as extremists stormed the House floor.
We will reconvene. We will vote to accept the electors from the states, as instructed by the Constitution. That is our job. #StandUpForAmerica https://t.co/j2YfQV9KDl

— Chip Roy (@chiproytx) January 6, 2021
Congressman Joaquin Castro and Texas Democratic Party Chairman Gilberto Hinojosa both said Sen. Cruz should resign.
.@tedcruz should resign from the United States Senate immediately.

— Joaquin Castro (@Castro4Congress) January 6, 2021
Hinojosa told TPR that President Trump also bears some responsibility for the insurrection.
"This is shameful on their part, and it's something that has deeply hurt our democracy," he said. "And you saw today what happens when you do this stuff — it empowers people, like these people that showed up at the Capitol, to decide that they want to take over the government by force."
Hinojosa said the event reminded him of images from a "banana republic."
"I think that's what it was intended to be: a coup," he said. "This is an effort by people — who were being encouraged by the President of the United States, and people like Ted Cruz — to take the law into their own hands, and to force the declaration of Donald Trump to be the president of the United States, when he lost the election, when the people in the United States voted by almost 8 million votes to kick him out of office."
He said Cruz should resign, and the Republican Party should take steps to restore trust in American democracy.
"I think the only thing that can happen is if the leadership of the Republican Party steps up and takes the responsible action of letting the American public know that this is something that they do not stand for — that they are opposed to," he said. "And publicly castigating the members of their party — including President Donald Trump and Ted Cruz — for engaging in this conduct."
TPR was founded by and is supported by our community. If you value our commitment to the highest standards of responsible journalism and are able to do so, please consider making your gift of support today.