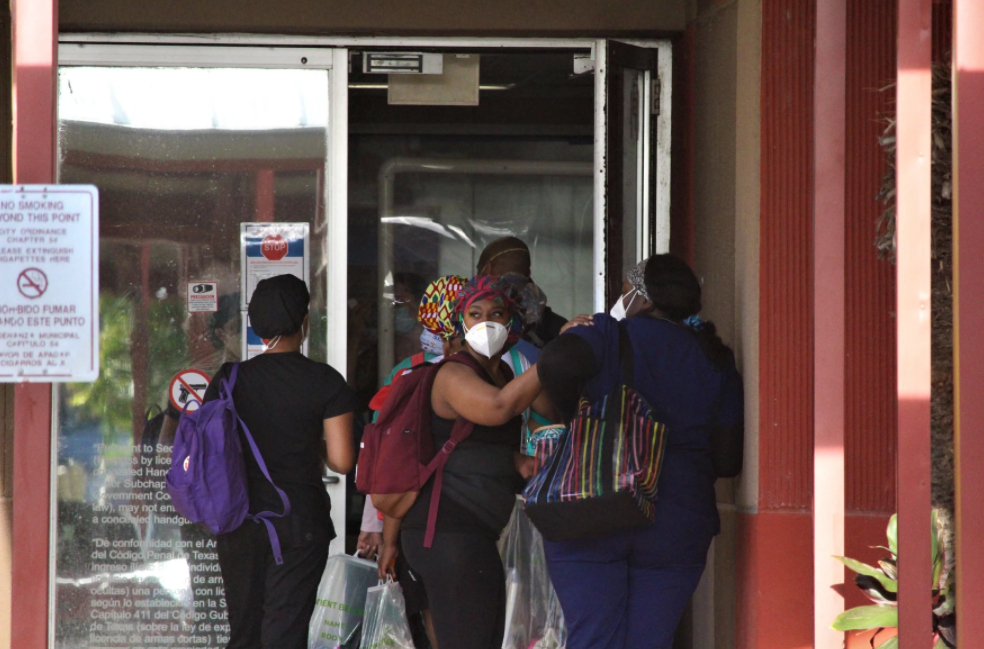 In a written statement, Texas Gov. Greg Abbott's press secretary confirmed to Texas Public Radio that at least 2,000 state-contracted health care personnel are "in the process of deploying" to hospitals around the state.
According to the governor's press secretary, the state has already deployed more than 7,500 personnel.
The statement went on to say, "We continue to work with local officials and surge any necessary resources to protect public health and mitigate the spread of COVID-19."
As of Dec. 2, 138 Texas hospitals reported immediate "critical staffing shortages" to the U.S. Department of Health and Human Services. At the time, that number was expected to grow by about 20 within a week.
On the same day, Texas reported 14,758 coronavirus cases — the state's second highest daily total. The highest daily total came the day before, with 15,182 confirmed cases.
Hospitalizations are also surging. More than 9,000 Texans are hospitalized with COVID-19 for the first time since the summer surge.
And with a 14-day incubation period, new infections from Thanksgiving gatherings are still to come.
Rural areas of Texas have been under extreme stress due to COVID-19 hospitalizations as cases surge.
As of Friday evening, Trauma Service Areas for the Lubbock, Amarillo, El Paso, Dallas/Fort Worth, Midland/Odessa, Waco and Laredo regions have reported hospitals with more than 15% of their capacity devoted to COVID-19 patients over the past week.
Under an executive order issued in October, some bars in those areas must close, and certain businesses must reduce capacity from 75% to 50%. But at least 20 counties in those regions have been granted exemptions to the rule, and many bars are operating as "restaurants" under a separate executive order that eased regulations for food establishments.
Danny Updike oversees Trauma Service Areas J and K — the state-funded networks that help coordinate hospitals in rural parts of West Texas and the Hill Country. He said the smaller hospitals in his area need to be able to transfer patients to larger care centers.
"They don't have an ICU," he said. "They're not used to handling ventilated patients. And they just — they don't have the staff that it requires to take care of a COVID patient."
Larger hospitals have begun rejecting transfer requests at higher rates. Some patients have been sent to big cities, or even out of state to New Mexico. But Updike worries that rising hospitalizations will make those transfers more difficult, overwhelming hospitals in rural areas.
"I am very concerned," he said. "I think our hospitals are doing a tremendous job, but I think that if we have the surge after Thanksgiving — coming up over the next couple of weeks — or even after, around Christmas, I think it could put another burden on them — bigger than what we have right now."
With multiple daily records and increasing hospitalizations, the surge is already here. Public health officials expect it to get worse. But Gov. Greg Abbott has already ruled out any new major mitigation measures at the state level.
"It is important for everybody in the state to know that — statewide — we're not gonna have another shutdown," Abbott said in a November press conference. "There's an overestimation of exactly what a shutdown will achieve, and there's a misunderstanding about what a shutdown will not achieve."
Attorney General Ken Paxton has sued local governments who try to implement their own shutdown orders.
Paxton has allowed some local mitigation efforts, like Thanksgiving-weekend curfews in El Paso and San Antonio.
Public health officials have maintained a consistent message in recent months: stay home if possible, wear a mask if not, avoid unnecessary gatherings and wash your hands frequently.
This story originally appeared on Texas Public Radio. TPR was founded by and is supported by our community. If you value our commitment to the highest standards of responsible journalism and are able to do so, please consider making your gift of support today.