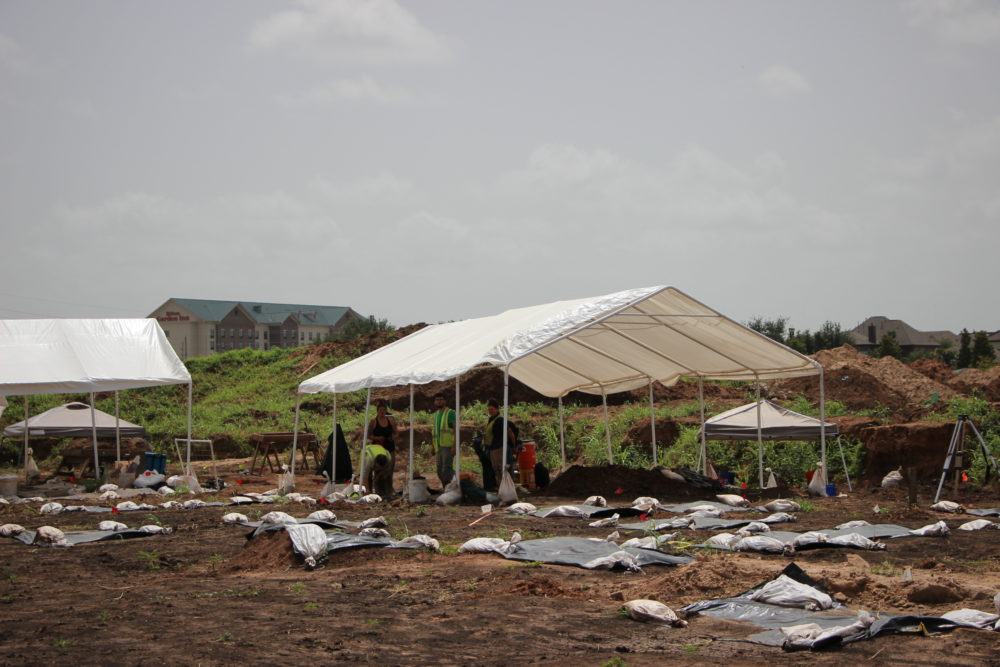 More than two years after the remains of 95 people were discovered at a Fort Bend ISD construction site, researchers are still working to positively identify the people buried there.
Known as the "Sugar Land 95," the remains are those of former prisoners at the Bullhead Convict Labor Camp. In a 500-page report released in August, archeologists described in detail the exhumation and its findings. Work on the site is complete, but DNA analysis continues in order to identify the remains of the 94 men and one woman and their descendants.
To understand more about those ongoing efforts, Houston Public Media spoke with two authors of the report, Reign Clark and Catrina Banks Whitley.
The following interview has been edited for length and clarity.
There's a list of 74 names of people who died at the camp, but for any of the remains in particular, we don't know who is who. Why is it important to learn the names of the deceased, and what can be done to find out?
Catrina Banks Whitley: There are multiple reasons it's important to learn the names of the deceased, I mean, one of them is simply just to be able to give the individual their name back so that people know: this is this person and this is what happened to them in their life. So it's giving them that dignity back. With that, too, though, there's a lot of scientific information that can be looked at, and found, because we can then compare what their skeletons revealed about their life, along with all this information that we have from the historical records. And so that's actually some really rare information to actually have access to whenever we're setting their names.
Reign Clark: Right now, we've secured an antiquities permit through the Texas Historical Commission to conduct DNA work. What that entails is extraction of ancient DNA, analysis of that DNA, and then comparing the resulting information to existing records to identify descendants. And then what follows that is genealogical work from a living descendant back to the individual, and the genealogical record and historical records, and that will actually give us the name of that individual.
I think for a lot of people, this site quite literally brings home the impact of slavery, and the Texas convict leasing system that effectively took its place. I'm wondering how, for the two of you, working at the site might have changed your understanding of the history here.
RC: So about two weeks into the excavation, we were getting more and more evidence through laboratory analysis that what we were seeing here were all adult individuals and evidence of overwork was becoming commonly identified from burial to burial. Catrina had been telling us about some of her observations, and she had aged one individual at 14 years old. I remember when I heard that it didn't quite register for a few hours, but I was back out in the cemetery block and I started thinking about what that meant. So we're on a forced labor camp that existed for over 30 years in this place. And someone, the young age of 14, was subjected to that, and was killed by that forced labor experience. That individual — that child — was worked to death. And I kept thinking to myself, "what could that individual have done to deserve that sort of treatment to be put in that dire position?" It was pretty mind blowing at that point.
CBW: Yeah, absolutely. When we excavated the 14-year-old, it hit me really hard taking a look at this child and realizing they were pretty close in age to my child at the time. But also, during the analysis, coming so close to this, it was very difficult a lot of times to take a look and see just a lot of the brutality that occurred, but also a lot of the misery that happened as well. And that that's something that really hits you hard while you're there working with these individuals.
What do you hope people take away from this?
CBW: One: the children are taught that this actually existed, because so many individuals don't even know that this has occurred. But I'm hoping it also opens up a greater dialogue that when slavery ended, things were still very harsh for the African American population in this country. And this is just, I think, one of the real extreme examples of just how far society could go in in really dehumanizing African Americans.