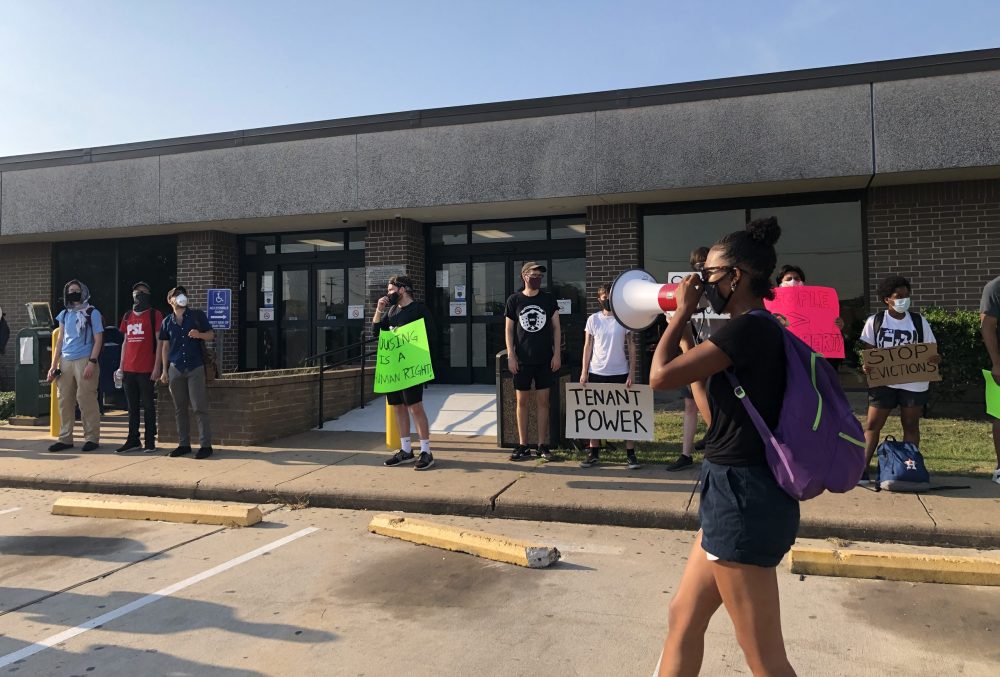 Texas renters will now be given more information to help fight off evictions, thanks to a new order issued by the Texas Supreme Court.
The court on Thursday evening put forward new statewide rules for enforcing a national eviction moratorium ordered by the Centers for Disease Control and Prevention. The CDC order has been in place for two weeks — but it doesn't automatically halt evictions, and many renters don't know they can stop their eviction from happening.
But under the new guidelines — part of the court's 25th emergency order amid the coronavirus pandemic — when a renter receives a citation, they'll also get information about their rights under the moratorium, a link for legal help, and a copy of the declaration form they have to fill out in order to stop the eviction.
The order is in effect until at least Dec. 15.
Among other things, the new rules require citations include the following language:
The Centers for Disease Control issued an order stopping some evictions. You may be able to stop your eviction if you sign the attached Declaration under Penalty of Perjury for the Centers for Disease Control and Prevention's Temporary Halt in Evictions to Prevent Further Spread of COVID-19 and provide it to your landlord and the court. Before signing the Declaration, read it carefully and make sure all the statements are true. The Declaration is sworn, meaning you can be prosecuted, go to jail, or pay a fine if any of the statements are not true. Find out more about the order at TexasLawHelp.org.
It also requires the landlord acknowledge whether their tenant provided them with a CDC declaration, and confirms judges have the authority to question whether a tenant is aware of the CDC order and has had an opportunity to complete the declaration.
If a CDC declaration is given to a landlord and filed with the court, the eviction proceeding must cease, unless the landlord challenges the declaration or the CDC order itself, a hearing is held, and a judge signs a written order giving reasons why the eviction should proceed.
The high court's order was signed by Chief Justice Nathan Hecht, and justices Eva Guzman, Debra Lehrmann, Jeffrey Boyd, J. Brett Busby and Jane Bland. Justices John Devine and James Blacklock dissented.
Many places — like California, New York and Illinois — have statewide moratoriums in place, protecting renters regardless of the CDC order. But Texas is not one of them. And State Attorney General Ken Paxton went a step further, issuing nonbinding guidance advising cities that they may not issue their own local moratoriums.
That — along with Mayor Sylvester Turner's refusal to push for a citywide moratorium — had made Houston the largest city in the country without any protections, despite a population made up of about half renters.
Texas housing advocates say the new statewide order is a win for renters since it could help more people get protection under the moratorium.
Yet some confusion remains on the part of renters, landlords, judges, and constables, who are still trying to figure out how to proceed.
Dana Karni, managing attorney with Lone Star Legal Aid, said the court's guidance was a good step toward providing clarity for renters. But, she added, there will still be people caught up in the confusion of the process.
"There's always going to be some degree of confusion unless or until there's a full blown moratorium," she said.