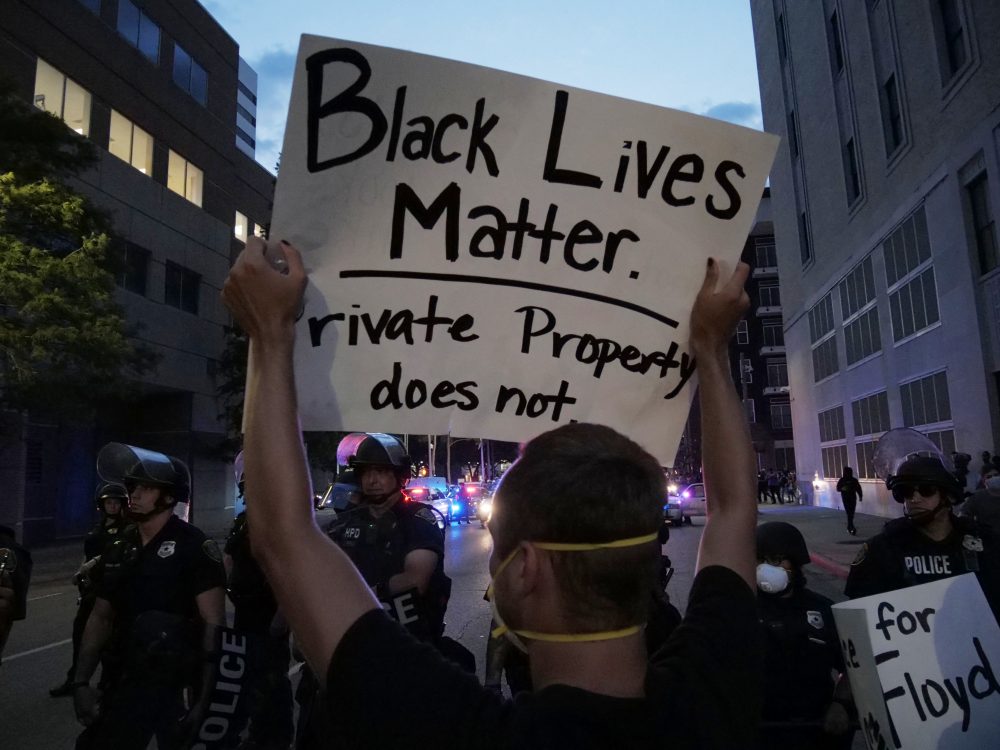 This story originally appeared on the Texas Standard.
Demonstrators took to the streets in communities around the state and the nation over the weekend, protesting the death of George Floyd, a Houston native who died in police custody in Minneapolis. While many encounters began peacefully, blocked roadways and reports of looting resulted in arrests and stepped-up police presence in San Antonio, Dallas, Austin and Houston.
On Sunday, Texas Gov. Greg Abbott declared a state of disaster in all Texas counties.
Saturday, the governor had announced he was activating the National Guard. He also said he had also sent state resources to Houston, Dallas, San Antonio and Austin to maintain public safety. In an email, he said he and DPS officials had spoken with mayors, as well as law enforcement officials in those cities.
"Texans have every right to exercise their first amendment rights, but violence and looting will not be tolerated," the governor said in a statement.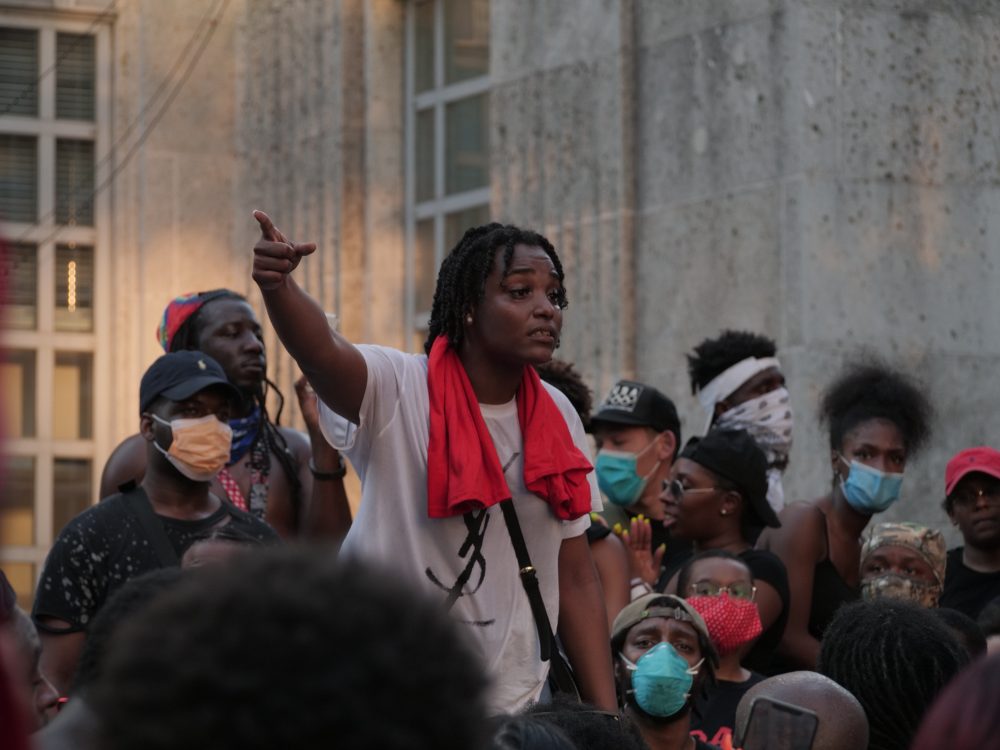 The Houston Police Department drastically increased its presence on the streets of the city Saturday. In a march that began in Emancipation Park, protesters and police walked side-by-side in the early evening, with Police Chief Art Acevedo standing up front, speaking with demonstrators as he went.
"We stand with these Black Lives Matter activists out here that what justice, that is what we all want out here," Acevedo said as he marched. "And most importantly, we want to respect our cities, and respect the memory of George Floyd by protesting, demanding action, and doing it in a way that honors his life and his memory."
During a press conference with Mayor Sylvester Turner earlier Saturday, Acevedo said that there would be a significant increase in the amount of law enforcement throughout the city, with the entire police department working rotating 12-hour shifts. Turner said he had also activated the Office of Emergency Management.
"If you think there were a lot of cops yesterday, that's nothing compared to what we're going to have moving forward now that we're fully mobilized and we have assets from other agencies," Acevedo said.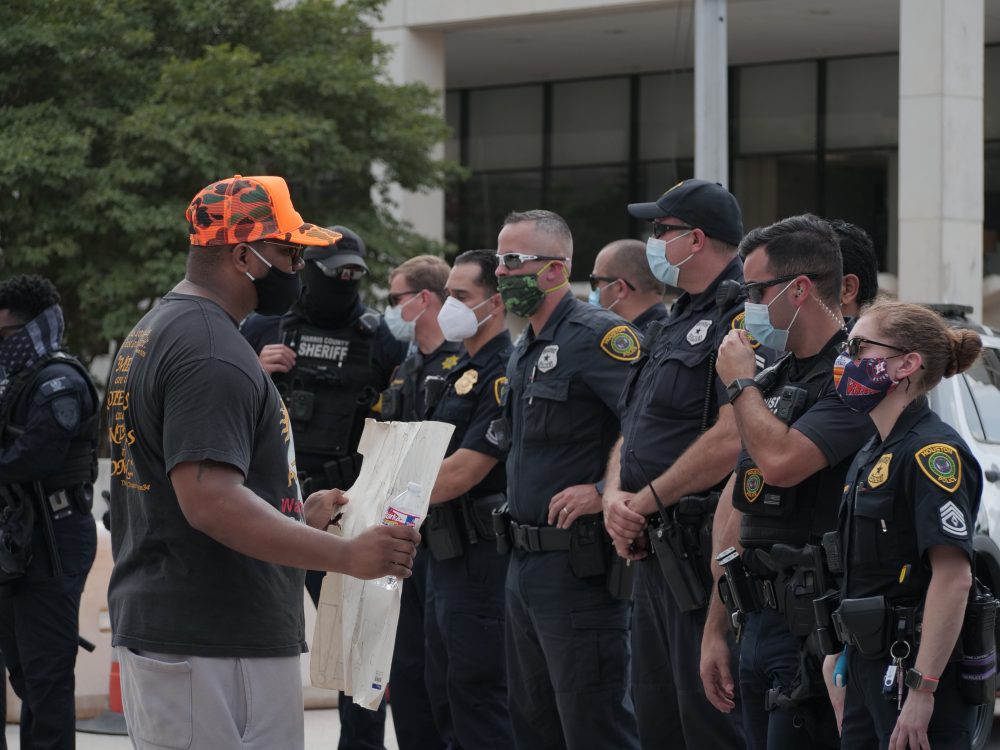 Saturday In San Antonio, a riot broke out on East Houston Street Saturday night after a peaceful march and vigil for Floyd turned violent.
People broke into and looted from shops while San Antonio police officers responded by releasing tear gas and shooting people with pepper and rubber bullets to clear the area. Multiple people were taken into custody.
The situation devolved into a riot after protesters, counterprotesters and police clashed outside the historic Alamo.
Protesters stood toe-to-toe with police officers in riot gear, shouting and throwing water bottles. Officers made rough arrests and fired tear gas and pepper bullets into crowds.
Hundreds of people demonstrated outside Austin Police headquarters and on I-35 on Saturday and Sunday, temporarily blocking all lanes of traffic. In addition to Floyd's killing, protesters cited the death of Mike Ramos, a 42-year-old black and Hispanic man who was killed by Austin police last month.
There were reports of looting on Sixth Street later in the evening, and a mattress and car were lit on fire under I-35. APD said it had made "approximately a dozen arrests."
On Sunday, the Austin Justice Coalition announced that a planned rally at the state Capitol had been canceled due to safety concerns. But protesters showed up at the Capitol anyway, marching through downtown Austin and onto I-35.
Protests in Dallas started peacefully on Saturday, but police later used tear gas to disperse protestors in downtown, while other demonstrators briefly shut down highways and looted businesses.
As of 11 p.m., Dallas police had made 74 arrests, including 10 arrests involving people on freeways. Those arrested will be charged with inciting a riot.
A curfew began at 7 p.m. Sunday in downtown Dallas and nearby neighborhoods. Police Chief Renee Hall said it will be in effect until 6 a.m. beginning Monday, and those hours will continue for the next several days.
Hall said the curfew covers Deep Ellum, Farmers Market, Central Business District, West End, Victory Park and Uptown, with Oak Lawn Avenue, Riverfront Boulevard, Corinth Street and Peak Street serving as boundaries.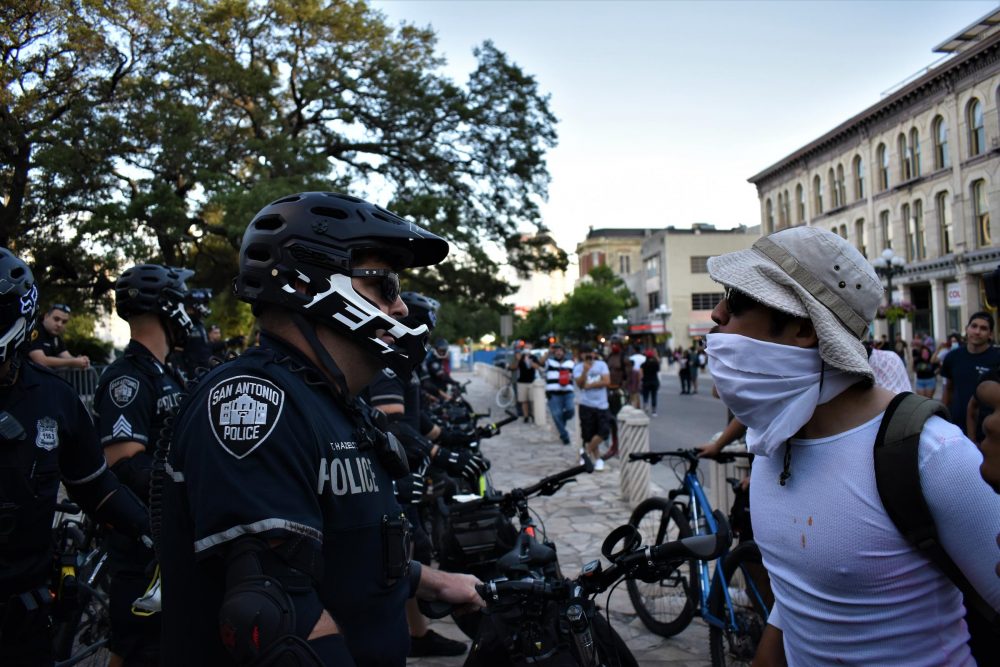 Confrontation at the Alamo
San Antonio resident Trestan Patton was at the Alamo riot, where police stood in front of armed militia members from a group called the Texas Freedom Fighters, who guarded a monument by the Alamo that was graffitied Friday.
"When you have your back toward people that aren't doing a peaceful protest and they have weapons aimed at us, it sparks up a different type of anger and it sparks up a different type of violence that is inherited inside of our brains and inside of our lives." he said.
Police escorted militia members away from the area. As Alamo Plaza began to clear out, people began rioting on East Houston Street. As a crowd of people broke a storefront window at a jewelry store, police officers released tear gas and sprayed small pellet-like objects into the crowd. They then began firing pepper bullets at people.
The crowd was mostly dispersed by midnight, save for a few demonstrators still in the area. By that time, a curfew was in effect for downtown San Antonio.
San Antonio Ron Nirenberg signed a local disaster declaration and issued a curfew effective from 11:30 p.m. Saturday until 6 a.m. Sunday, and then from 10 p.m. Sunday until 6 a.m. Monday.
"This brief curfew will protect the safety of people and property in the downtown business district while allowing the vast majority of people to peacefully assemble," he explained in a statement Saturday night.
According to the city's statement, "all persons must not travel on any public street or in any public place within the designated area of San Antonio's Downtown Business District. Travel is defined without limitation as travel on foot, bicycle, skateboard, scooter, motorcycle, automobile or any other mode of transporting a person from one location to another." A violation of the curfew is a misdemeanor offense, which could be punishable by a fine of up to $1,000 and up to 180 days in jail.
"The planned demonstrations from earlier today were peaceful and the organizations did exactly what they said they would do to keep others safe," San Antonio Police Chief William McManus said in a statement. "The situation was escalated by some bad actors whose only intent was to incite violence and cause destruction. The actions of a few do not represent the majority of those who came out to peacefully demonstrate."
McManus said three officers were hurt and one person suffered a seizure outside the Public Safety Headquarters.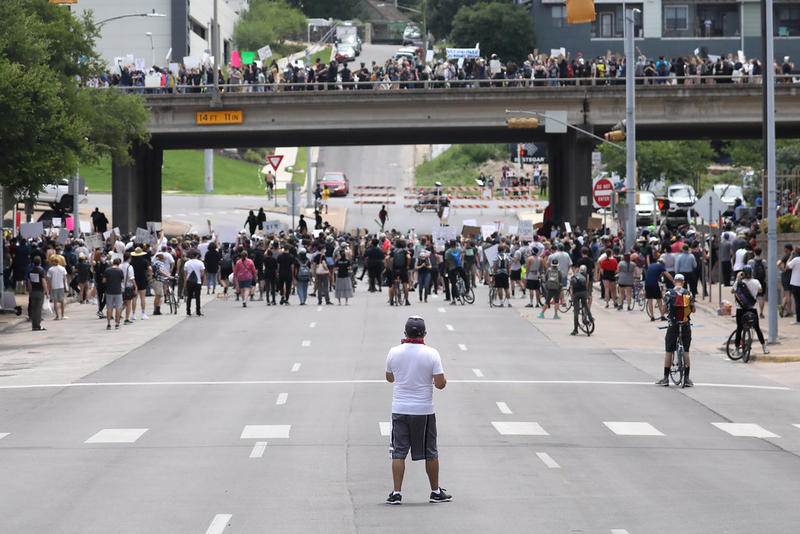 Blocked roadways and pepper sprayed protesters
Christian Wilson arrived at the protest outside Austin police headquarters around 4 p.m. Saturday. He said he saw the activity downtown on Facebook and just couldn't sit at home; he had to do something.
He joined the crowd of hundreds as they chanted "No justice! No peace!" and anti-police slogans while roughly a dozen Travis County sheriff's deputies, DPS troopers and APD officers stood guard.
Law enforcement intermittently pepper-sprayed protesters and fired volleys of beanbag shells from shotguns that were trained on demonstrators.
Wilson said he was pepper-sprayed while helping a counterdemonstrator who'd been surrounded. He said the man was dressed in what looked like military fatigues and was holding an American flag.
"He has a right to be out here with that flag, just like we have a right to be out here to protest," Wilson said, as officers perched on the upper deck of I-35 began firing down upon the crowd. "But let people protest. Don't attack them, you know?"
Throughout the afternoon and the evening, protesters lobbed water bottles, rocks and other objects at police during a demonstration that lumbered from the front of police headquarters to the west side of I-35 around to the east and then back to APD, forcing the closure of the highway.
"This [police killings] has been happening for years. It's just the fact that everybody has a cell phone to view it with a camera," Jomar Simmons said near APD headquarters. "Thank god people got cellphones so they can see what's going on. It's well overdue."
In the early evening, beanbags littered the corner of Eighth Street and the southbound frontage road, along with gallons of spilled milk used to ease the burn from pepper spray.
Wilson said he was going to be there all night, that he hated to see all this violence – "all of this fighting over the color of our skin," he said.
In a pair of tweets, Austin Police Chief Brian Manley said his police force would "continue providing a safe space for the community to express emotions," but that "violence and destruction of property will not be tolerated."
Protesters shut down I-35 a couple of times during the day.
"This is the most impactful protest I've ever seen in this city. I've come and protested for everything. We're speaking up," Jalisa Styles said earlier in the day while walking on the interstate. "We're having a voice. This is amazing. Like seeing all these allies. It's just – it's awesome."
Reporting from the highway, KUT's Claire McInerny was hit by pepper spray. She said police told people if they tried to cross a metal barrier, officers would shoot.
Journalists aren't the point of this. So many people got shot with non lethal ammo or pepper spray, we're not special. But so many people ARENT out there, and our videos and photos help the world see what's happening. If journos are getting arrested, 1st amendment is violated https://t.co/GkysKi9XIR

— Claire McInerny (@ClaireMcInerny) May 31, 2020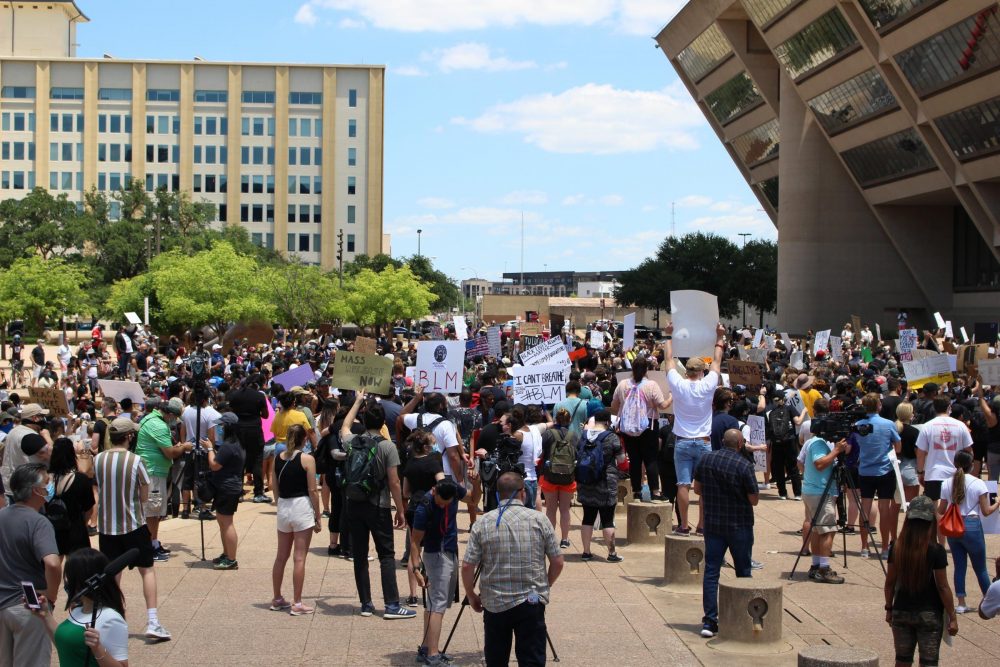 "Dallas today is hurting"
Dallas protests Saturday started with a rally outside City Hall. The crowd included people of all races and ages, many wearing facemasks to help prevent the spread of coronavirus.
"It's not just about George Floyd," said Jennifer Miller, co-chair of the Dallas Alliance Against Racist and Political Repression. "It's about every single victim of police brutality and vigilantes, like the vigilantes down in Georgia who killed Ahmaud."
Ahmaud Abery was shot to death while running in a Georgia neighborhood. He was African American. Authorities began an investigation of the killing months after it had occurred, when video of the shooting surfaced.
Dallas Mayor Eric Johnson and Police Chief Renee Hall held a press conference Saturday afternoon to address the protests that took place Friday night.
"Dallas today is hurting," Johnson said in an emotional address.
The mayor said he respects the protesters calling for justice for Floyd.
"Those protests gave voice to the many people of color in this country who have long felt frustration ... that I not only understand but that I share," Johnson said.
But the mayor also called out the violence carried out by a small group of people "whose agendas had nothing to do with human rights or civil rights."
"We will not tolerate selfish lawlessness in the city of Dallas," Johnson said. "We will not bow to chaos or fear in this city."
Hall said she understood the anger protestors felt over Floyd's death at the hands of police in Minneapolis.
"There's no excuse," she said. "It was murder. And it was intolerable."
The protests led Target to announce it was temporarily closing at least six of its Dallas stores, as well as two in Austin. Dallas locations include Cityplace Market; Love Field (Marsh Lane); Medallion (Northwest Highway); North Dallas (Montfort Drive); Northeast Skillman and Preston Center.
By Saturday evening, a protest continued through downtown Dallas. At one point, the Dallas Police Department deployed tear gas to "disperse unruly protesters." Shortly before 8 p.m., dozens of protesters made their way onto Woodall Rodgers Freeway.
"This is extremely dangerous for protesters, motorists and officers," the police department said on Twitter.
Police say people were looting a Whole Foods grocery store on McKinney Avenue.
A tweet from a Dallas Morning News reporter told of a Dallas resident who encountered police as she was returning home with groceries.
She says she was walking home with her groceries when police fired some sort of pellet in her face. Says she's not a protester. #DallasProtests pic.twitter.com/2IyO1S9j6n

— Kevin Krause (@KevinRKrause) May 31, 2020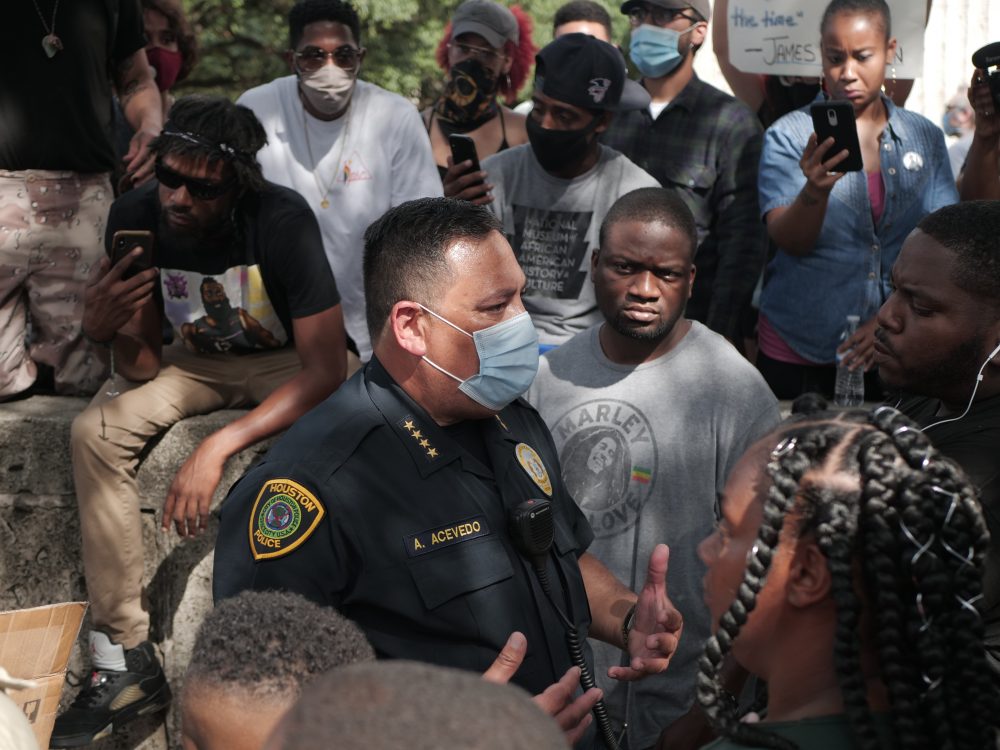 Police chief marches with protesters
As marching started from Houston's Emancipation Park around 5 p.m., Police Chief Acevedo marched near the front of a group of demonstrators, circling the park and eventually heading toward Midtown. By 7 p.m., the march had moved into Midtown, then by 7:40 p.m. had reached City Hall, before turning and heading back in the direction of Third Ward, where Floyd lived before moving to Minnesota. By 9 p.m., the march no longer appeared to be organized and people started dispersing.
Acevedo wore a mask and walked arm in arm with demonstrators like Justin James Jones, who spoke with Acevedo while they marched.
"The chief personally said, he moved his barricade twice – 'let them march,'" Jones said. "He did that. He's taking the reins of this and he said that I'm standing with the people."
Houston Mayor Turner also announced Saturday that Floyd's body will be laid to rest in Houston, where he grew up.
"In the end, this is our home, this our house, and this is the same city that George Floyd grew up in, and his body will be returning to this city," said Turner at the press conference. "And so the focus needs to be on supporting and uplifting his family. It's not about these other individuals who want their moment, it's about George Floyd. And justice for George Floyd."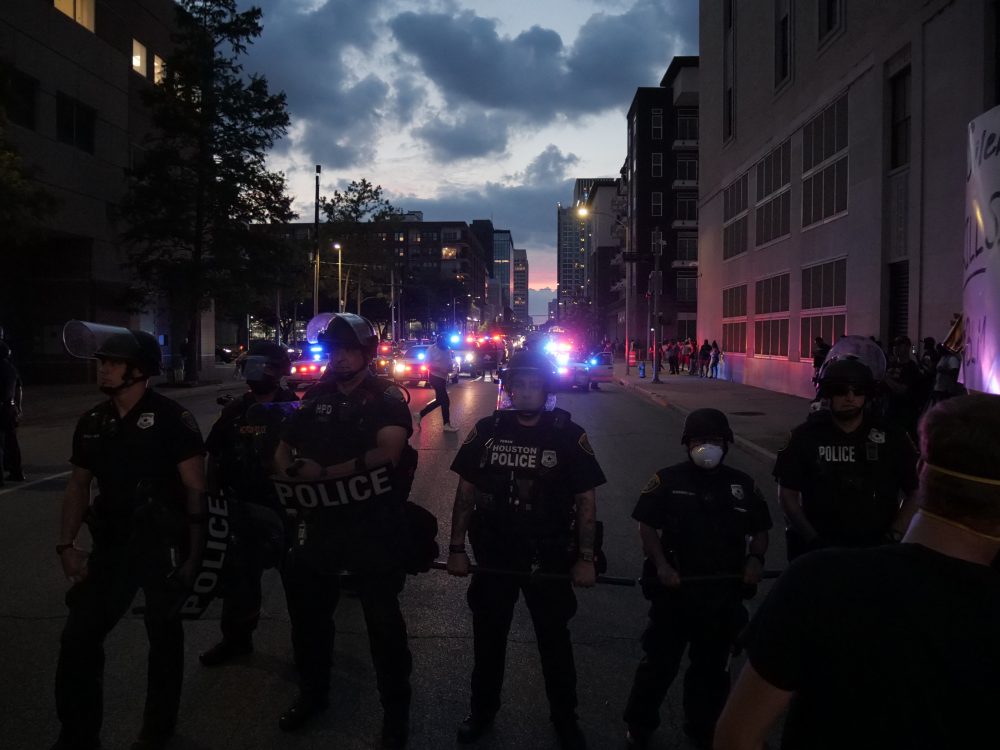 In Houston, where Floyd grew up and spent much of his adult life, protests looked and sounded different than many other cities across Texas and the rest of the country.
Let me thank the people in the City of HOUSTON for peacefully marching and demonstrating yesterday and last night. I want to thank our police officers for exercising restraint and their professionalism. We have a lot of work to do but we can do it together constructively. st

— Sylvester Turner (@SylvesterTurner) May 31, 2020
Ahead of protests, Police Chief Acevedo committed his officers would not deploy tear gas or rubber bullets, unless as a last resort. HPD confirmed with Houston Public Media that officers followed through on Acevedo's commitment, with police saying they did not use any tear gas or rubber bullets over the weekend.
However, Houston police did use pepper spray in some instances on Saturday. HPD also made hundreds of arrests, including 350 arrests for obstructing roadways.
Acevedo has called on his counterparts in other cities and states to increase police accountability. As the president of the national Major Cities Chiefs Association, Acevedo published an op-ed in the Washington Post over the weekend saying departments need to be able to fire bad-acting police officers more quickly and keep them from being hired somewhere else.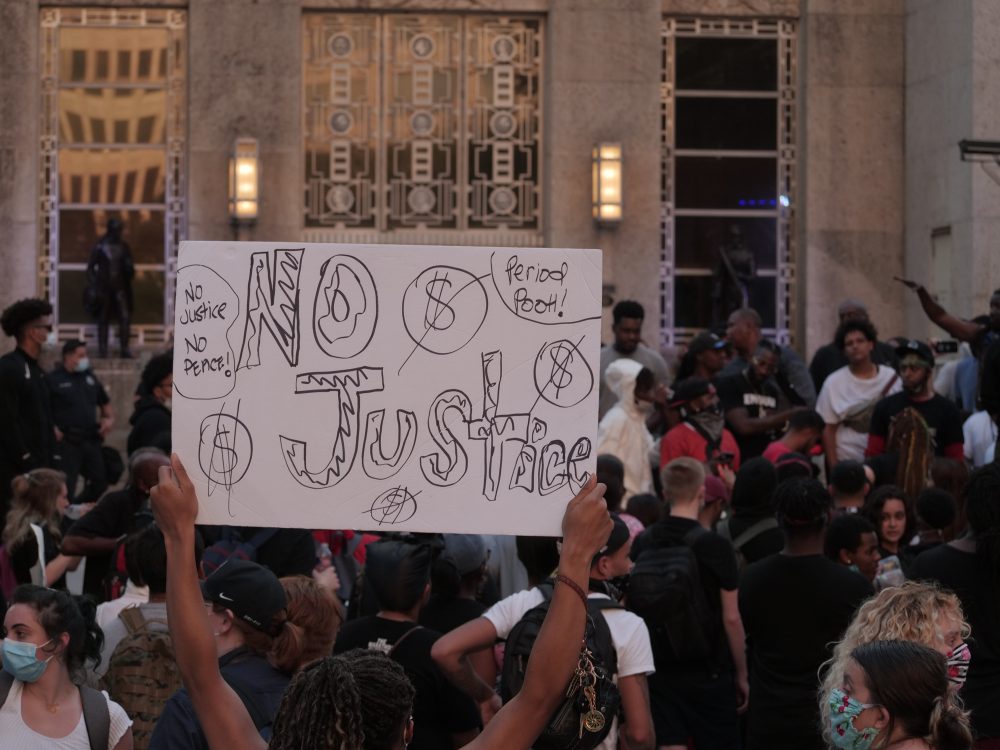 At the same time, Acevedo's department is facing criticism of its own. Houston police officers have killed six people over the course of five weeks — most of them people of color. Acevedo has not released videos of those incidents though he says his department will release footage for arrests going forward to give more context. Mayor Sylvester Turner has said he's reviewed the videos and the cases should be judged individually, not as a pattern.
Hundreds of people flooded the streets of Houston on Friday afternoon in what was a largely peaceful rally and march organized by Black Lives Matter Houston, which stretched from Discovery Green to City Hall.
But as night fell Friday, interactions between police and protesters grew more tense, leading to arrests and injuries to both officers and demonstrators, as well as damage to police vehicles and some storefronts.
Most of the arrests were for obstructing a roadway, while a small number were charged with interference with public duties, resisting arrest, burglary, criminal mischief, and retaliation. One person was charged with aggravated assault with a deadly weapon, and three were charged with assaulting an officer.
Four police officers received head injuries during the protest and were hospitalized, while 16 vehicles were damaged, Acevedo said. In one video shared with Houston Public Media, protesters could be seen smashing the windows of an empty police SUV at Texas Avenue and La Branch Street, one block from Minute Maid Park. One of the protesters could be seen spraying what appeared to be the contents of a fire extinguisher into the passenger side window, before police cruisers approached and the crowd dispersed.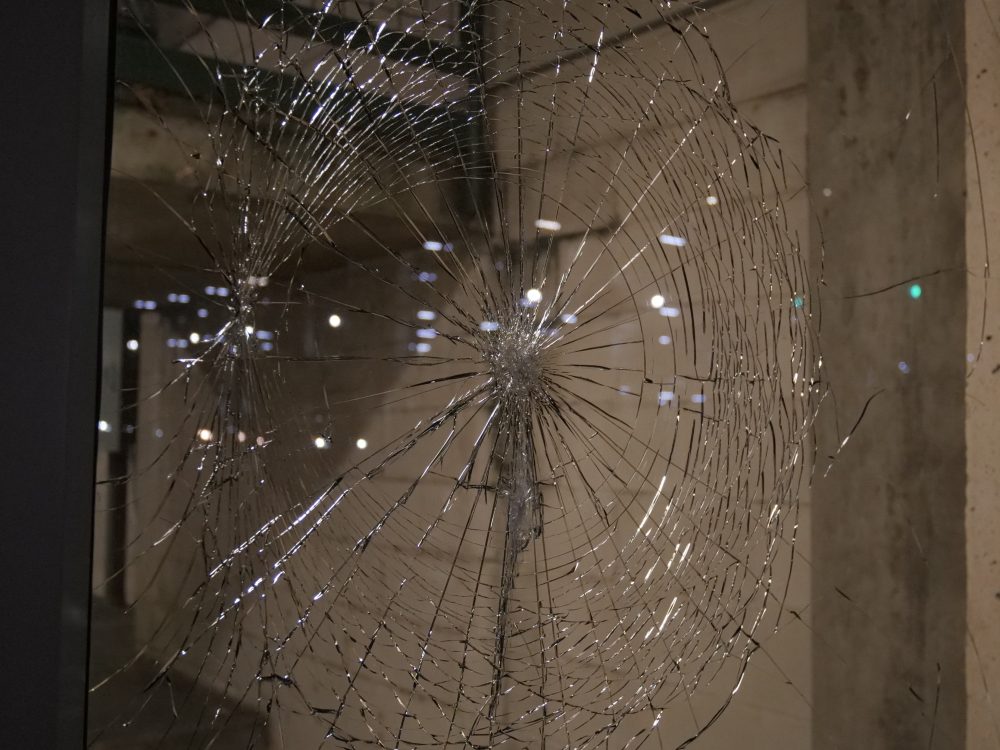 The city did not provide details on injuries to protesters. But in one incident caught on camera, a woman was knocked over by a mounted police officer and stepped on by their horse. Acevedo, who was aware of the video, said he believed the incident to be unintentional. Mayor Sylvester Turner later apologized for the incident.
At Saturday's press conference, both Turner and Acevedo praised the majority of protesters who demonstrated peacefully in Floyd's memory Friday, while criticizing what they said were largely white "provocateurs" and "anarchists."
"We're seeing that there are people, that are not people of color, that are coming into this city and other cities to actually start agitating and actually engage in violence," Acevedo said.
"The elephant in the room is that racism is alive and well in our country," Acevedo said. "And for those that deny it, they're just lying to themselves, or quite frankly they are the ones that are part of the problem."