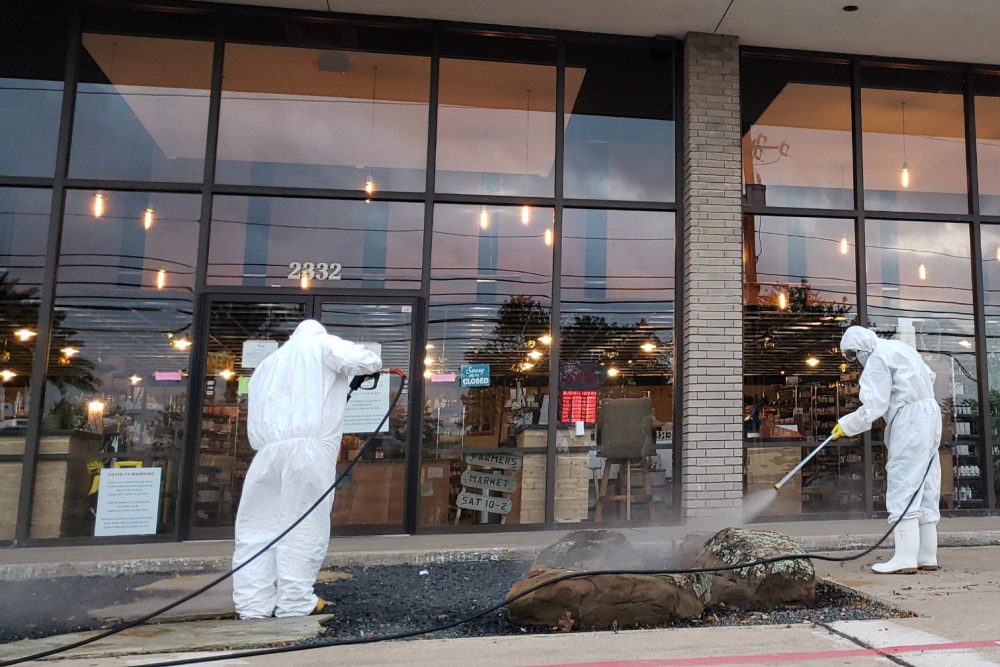 As Texas and the U.S. face a shortage of protective medical gear and cleaning supplies due to COVID-19, companies across the state are repurposing their operations to help meet demand.
A chocolate factory in northeast Texas is using its plastic packaging to make face shields, while a Dallas-based leather furniture company is now sewing face masks. And distilleries across the state like Tito's Handmade Vodka in Austin and Gulf Coast Distillers in Houston's East End are producing hand sanitizer.
For Carlos de Aldecoa, President and CEO of Gulf Coast Distillers, making hand sanitizer was a natural fit because it uses ethanol, which they use to make their spirits, like vodka and bourbon.
"The feedstock was there, the processing facility was there; it was just a matter of being able to produce it and blend it in such a way that it had to be denatured, which means that it's not for human consumption," he said.
This somewhat straightforward transition is why so many distilleries in Texas and across the U.S. have been rushing to make hand sanitizer. In response, the government relaxed permitting requirements, allowing distilleries to manufacture sanitizer without needing an additional permit.
But de Aldecoa said he had already applied for and received the permit prior to the government's announcement.
For him, it's personal.
"We have family in Europe, in Spain and in Italy, that some have been directly affected — I have an aunt that's in ICU in Madrid with the coronavirus," he said. "So in talking to my cousin and my family we just started talking about what could we do here in the states, in Texas and in Houston to better prepare."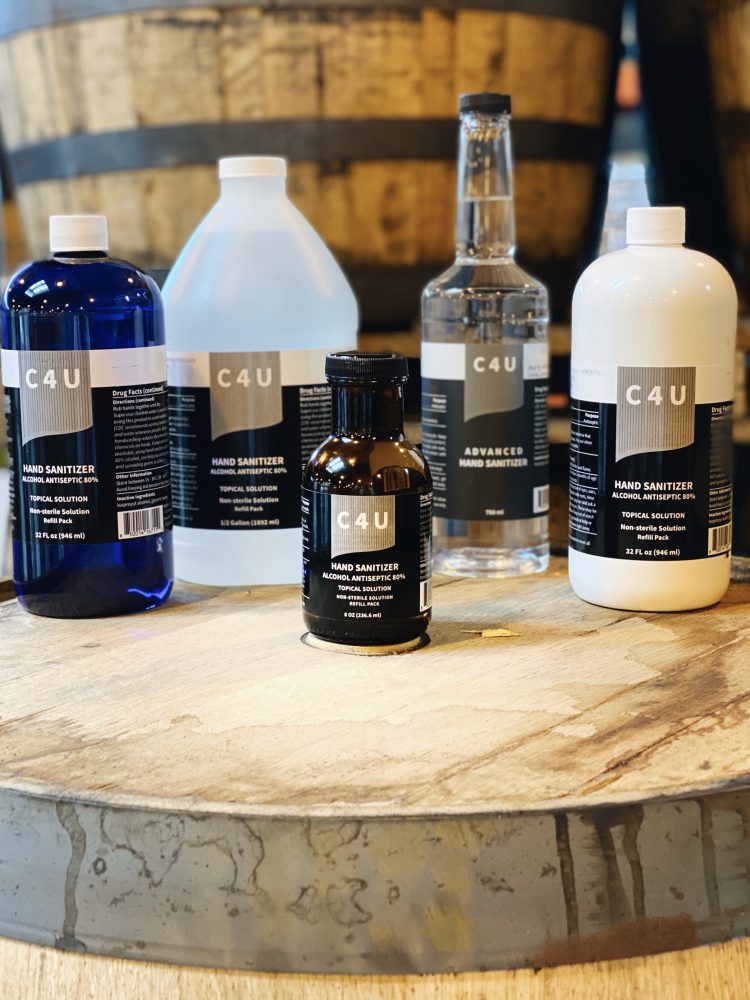 Now, de Aldecoa says Gulf Coast Distillers has the capacity to make 50,000 bottles of hand sanitizer a day, alongside their spirits, which they continue to produce. It's called C4U hand sanitizer after de Aldecoa's son, Carlos IV who they call C4.
De Aldecoa said he hired 20 new employees to help with the expanded operations and pulled in staff from other areas as well.
"We're not running efficiently from a cost standpoint because we might have mechanics and electricians putting stuff in boxes, but we just need to get the stuff out," he said.
They're using an FDA recommended formula that's a little more liquid than the standard gel customers are used to seeing on shelves. It also contains 80% alcohol and hydrogen peroxide.
Some of the hand sanitizer is being sold at HEB and other local retailers, but de Aldeoca said they're working with FEMA and the Texas Division of Emergency Management to coordinate distribution to those who need it most.
"We're really just selling to end users, whether it's infrastructure, petrochem, water authorities, first responders, police, county, that's been our priority, including hospitals," he said.
Providing PPE
Another area where businesses have been helping is with manufacturing personal protective equipment for health care workers, ranging from masks to face shields.
Houston-based medical startup Lazarus 3D is among the companies that have switched to producing PPE. Usually, the startup makes soft, 3D printed models of patients' organs to help doctors rehearse before surgery. But co-founder Jacques Zaneveld said a few weeks ago they started receiving calls from worried doctors.
"On a single day, we had five different emergency medicine doctors, VPs of hospitals, and other medical industry professionals call us up saying that they were unprepared for the COVID-19 crisis," he said. "That they did not have the resources they needed to keep themselves safe."
So the company used its 3D printers to develop a face-shield prototype, and reached out to their existing contacts at factories abroad to mass produce them. Now, Zaneveld said they can make about 40,000 face shields a day, which they are selling directly to hospitals and medical centers.
All Medical Professionals in need of PPE, please contact us or place your order now: https://t.co/hd6hrPvzLU #COVID-19 #3dprinting #flattenthecurve #getmePPE pic.twitter.com/NJXkdFQFHX

— Lazarus 3D (@Lazarus_3D) March 25, 2020
While Lazarus 3D isn't 3d-printing the bulk of the face shields on site, co-founder Smriti Zaneveld said that 3D printing is what allowed them to work quickly.
"We are leveraging 3D-printing technology at its best, which is in rapid prototyping," she said. "Rapid prototyping allows us to quickly create scale models of parts and iterate."
She said they made 10 different versions of the face shield before settling on the final design, vetted and tested by ER physicians and other medical professionals at three different hospital centers.
"Based on all of that then we were able to finally get the face shields to the mass production stage," she said.
The company is currently working on a prototype for N95 masks.
From sandblasting to disinfecting
In nearby Seabrook, industrial painting and coatings contractor AK Wet Works, has also shifted its operations to help fight coronavirus by quickly and efficiently disinfecting surfaces.
The company retrofitted its vapor sandblasting machines into disinfectant applicators, or what they refer to as "AK Covid Killers." The machines were re-engineered to apply EPA-approved disinfectant for coronavirus to surfaces. Each machine can disinfect up to 20,000 square feet per hour.
"Essentially it comes out like a vapor, like a fog," said Michael Bland, Head of Local Business Development. "And that's super important in the process because that allows us to do a very targeted application on whatever surface it is that we need to treat and disinfect."
He said unlike a pressure washer, the vapor method eliminates runoff and uses less product.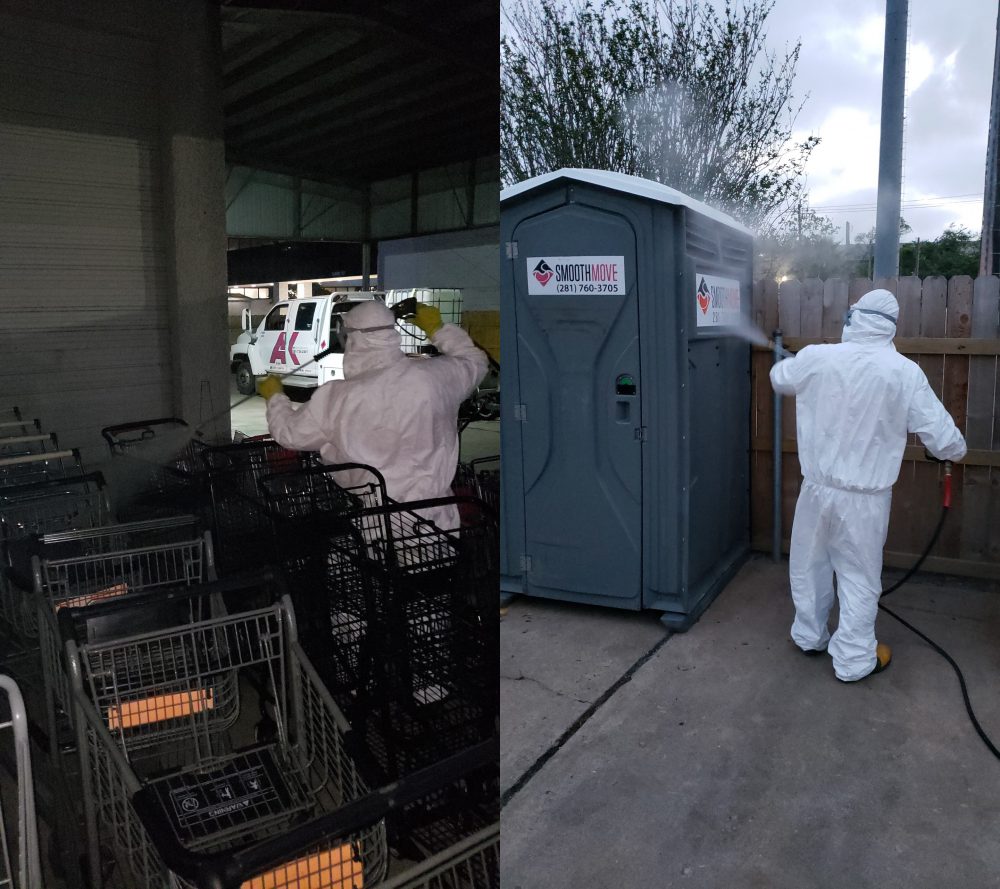 As small business owners, the idea came out of necessity, Bland said.
"Our business relies on our contractors in the petrochemical industry. When they stopped, our business stopped," he said. "So we were literally sitting there, all four of the business owners, looking at each other and we were asking ourselves how are we going to survive this?"
Bland said they started brainstorming ideas that could help during the pandemic.
"One of the four of us said, 'What if we turned our pots into some kind of applicator like you see on TV in China?' We all laughed for a moment and then everybody started chiming in," he said.
From there, the team went to the design floor and started modifying and testing the equipment.
"About 100 hours later and a lot of pain, crying and headaches, we hit a home run and we got it right," Bland said.
Now, they're working with a variety of businesses to disinfect gas pumps, storefronts, grocery carts and other high-touch areas.
A lasting impact?
Vikas Mittal, a marketing professor at Rice University, said repurposing operations during a crisis can help businesses in the long term in several ways, including boosting a brand's reputation and recognition, and improving employee morale.
"For people to be able to contribute positively to society really gives meaning to their work," he said. "It reinforces a positive sense of identity and gives meaning to what you're doing. That is absolutely crucial."
Beyond that, Mittal said it also allows companies to gain continuity, by keeping employees on staff, even if in a different capacity.
"And if the new product that you're making is actually high quality and better this could be an added line of business," he said.
For Bland at AK Wet Works, this just might be the case. He said even after the pandemic ends, the disinfectant applicators might be a business line they continue with. He sees potential for removing mold and mildew caused by hurricanes.