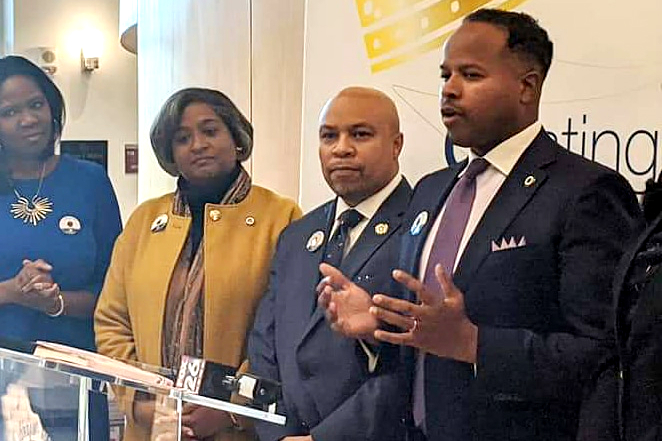 Two state lawmakers plan to file a bill during the next legislative session to ban discrimination against black hair in Texas, after a black Houston-area student said he was singled out by school officials over his dreadlocks.
DeAndre Arnold, 18, gained national attention when he was told the length of his dreadlocks violated Barbers Hill Independent School District's policy. Arnold has said in interviews that he was told to cut his hair or else face suspension, and that he wouldn't be allowed to walk in his high school graduation this Spring in Mont Belvieu. He's also said that he won't cut his hair because it's a part of his father's Trinidadian heritage.
On Thursday, state representatives Rhetta Andrews Bowers, D-Garland, and Ron Reynolds, D-Missouri City, said they want to make it illegal to discriminate against students based on hair typically associated with race.
"I challenge institutions statewide to examine and address any unfair grooming policies that have disparate impact on black children, women, and men," Bowers said at a press conference Thursday. "We cannot turn a blind eye to these incidents, and must stand up against discrimination of all kind.
"Sadly, DeAndre's story is just one of many," she said.
The CROWN Act is part of a nationwide legislative effort to prevent discrimination against black hair, based on hair texture and styles. CROWN stands for Create a Respectful and Open World for Natural Hair, and the legislation would expand the definition of race to ensure protection in workplaces and in K-12 public schools and charter schools.
"I recently met with DeAndre and his parents and I gave them the commitment and the assurance that the Texas Legislative Black Caucus will stand with him and other students who are similarly situated," Reynolds said, "and we would file legislation from the CROWN Act during the 87th legislative session to make sure that that would never take place in Texas."
California, New York, and New Jersey already have similar laws on the books. Reynolds said Colorado is about to be the fourth state, and that it's time for Texas to join them.
"The time is now to end all discriminatory hair policies that hurt students of color that choose to wear braids, dreadlocks, cornrows, or twists," added Reynolds. "I look forward to working with my colleagues on both sides of the aisle to pass this meaningful legislation."
Barbers Hill ISD officials said that while they do allow dreadlocks, they also have a hair length policy.
Below is their full statement:
"Barbers Hill ISD has a long-standing dress code, but we absolutely allow dreadlocks. What we do not allow is any action that circumvents or violates the provision regarding hair length. The student in question was NEVER forbidden from attending school. The U.S. Constitution allows a school board the right to implement local community expectations, and Barbers Hill ISD's continual academic and extra-curricular successes are a direct result of our communities' high expectations."
Since Arnold's story gained widespread attention last month, several celebrities have shown their support for the 18-year-old.
He received a $20,000 check from Ellen Degeneres and Alicia Keys to put toward college tuition.
He's also gotten the backing of Houston Texans football player DeAndre Hopkins.
Never cut your locks Deandre Arnold.

— Deandre Hopkins (@DeAndreHopkins) January 22, 2020
Arnold is also heading to the Oscars this Sunday.
In their roles as producers of the short film "Hair Love," actress Gabrielle Union and former NBA Player Dwayne Wade invited Arnold and his mom to be their guests at Sunday's Academy Awards.