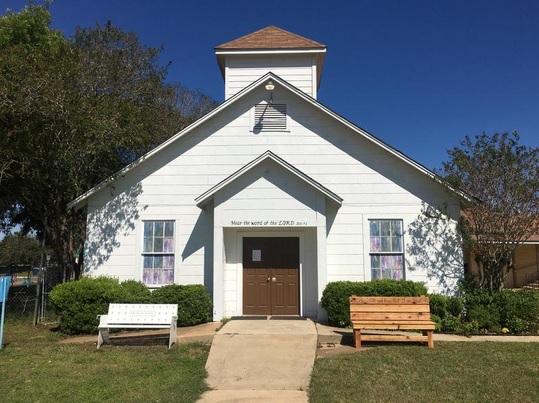 A federal judge in San Antonio has named Academy Sports + Outdoors a co-defendant in a lawsuit stemming from the 2017 Sutherland Springs church shooting, the deadliest in modern Texas history.
Victims and family members from Sutherland Springs sued the government for damages in 2017 after the U.S. Air Force failed to report shooter Devin Kelley's criminal and psychiatric history to the FBI's National Instant Background Check System as required by law. Kelley had a history of felony-level domestic violence offenses which should have disqualified him from purchasing weapons.
The government has argued that it should not be held liable, citing the 1993 Brady Handgun Violence Prevention Act, which protects federal employees if they fail to prevent illegal firearm purchases.
On Oct. 15, the government implicated Academy Sports in the mass shooting because the retailer sold Kelley the gun and high-capacity magazine he used during his rampage.
Attorneys defending the United States filed a motion to designate the sporting goods store as a "responsible third party" in the lawsuit: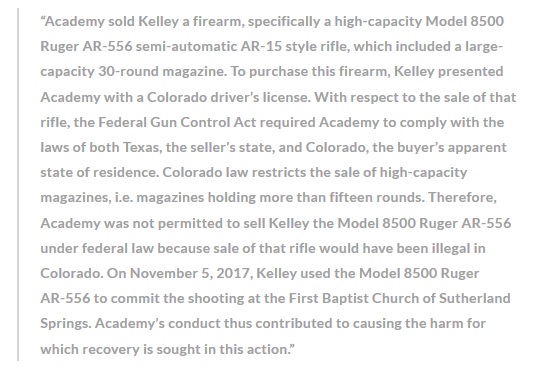 Gerald Treece, a professor of constitutional law at South Texas College of Law – Houston, said the government is trying to shift attention and blame.
"It's a fancy way of saying, 'We aren't liable. But if we are, they [Academy Sports] ought to pay for it'" he said.
U.S. District Court Judge Xavier Rodriguez of the Western District of Texas accepted the government's motion on Oct. 17.
Academy Sports + Outdoors has previously denied wrongdoing in the case of Kelley, but did not respond to requests for comment.
Jamal Alsaffar, PLLC, an attorney for the families, said the government must now investigate its own claims against Academy Sports.
"What is most concerning about this development is the U.S. Government has been aware of systematic and ongoing illegal gun sales by Academy Sports across their hundreds of locations, and done nothing to stop this admitted violation of the law," Alsaffar said in a press release.
"We call upon the government to immediately initiate an investigation to end Academy's nation-wide policy of selling high capacity assault rifles to residents of states that have banned them."
The Texas-based company operates around 120 stores throughout Alabama, Arkansas, Florida, Georgia, Louisiana, Mississippi, Missouri, Oklahoma, South Carolina, Tennessee and Texas.
Carson Frame can be reached at Carson@TPR.org and on Twitter at @carson_frame.