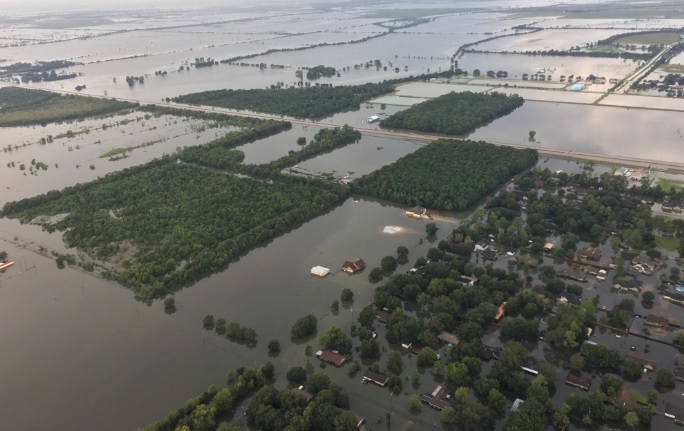 As the recovery from Tropical Storm Imelda continues, Texans impacted by the storm can go to specialized centers managed by the American Red Cross to get recovery resource assistance and emergency clean up supplies.
Earlier this month, Imelda became one of the wettest tropical cyclones in U.S. history, according to the National Weather Service.
The storm caused intense flooding in and around Houston, leaving five people dead and thousands displaced from their homes.
On Sept. 19, Gov. Greg Abbott declared a state of disaster in several counties, including Harris, that were experiencing widespread flooding.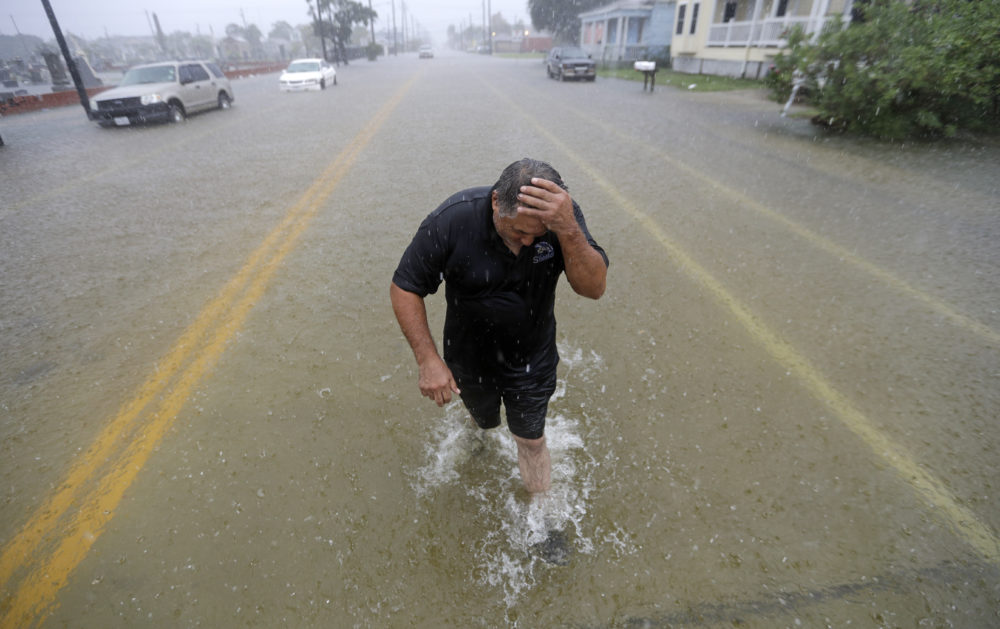 People who go to the recovery centers need to bring proof of address, such as a Driver License or a utility bill. Caseworkers are available to discuss assistance and resources.
The Red Cross said the recovery centers will rotate to different sites across the affected counties over the next week.
Updated information is available at the American Red Cross Texas Gulf Coast Facebook page and by calling call 1-800-Red-Cross.
The Red Cross has also opened shelters for Imelda survivors. You can see a list of shelters here.
Below is the list of recovery centers that will be open this week, as provided by the Red Cross:
Monday, September 30
Chambers County

9 a.m. to 4 p.m. | St. Louis Catholic Church (**P-RAC), 315 W. Buccaneer, Winnie, TX

Harris County

9 a.m. to 6 p.m. | Grayson Community Center, 13828 Corpus Christi St. Houston, TX
8 a.m. to 6 p.m. | IT May Community Center, 2100 Wolf Road, Huffman, TX
9 a.m. to 6 p.m. | Kingwood United Methodist Church, 1799 Woodland Hills Dr., Rm K 105, Kingwood, TX

Liberty County

9 a.m. to 4 p.m. | Sacred Heart Catholic Church (**P-RAC), 3730 FM 160 North, Raywood, TX

Montgomery County

10 a.m. to 7 p.m. | Tullis Library, 21569 U.S. 59, New Caney, TX

Orange County

9 a.m. to 4 p.m. | St. Theresa Catholic Church (**P-RAC), 1409 6th, Orange, TX
Tuesday, October 1
Chambers County

9 a.m. to 4 p.m. | St. Louis Catholic Church (**P-RAC), 315 W. Buccaneer, Winnie, TX

Harris County

8 a.m. to 6 p.m. | Northeast/James Driver Community Center 10918 1/2 Bentley St., Houston, TX
9 a.m. to 6 p.m. | Grayson Community Center, 13828 Corpus Christi St., Houston, TX
9 a.m. to 6 p.m. | Kingwood United Methodist Church, 1799 Woodland Hills Dr., Rm K 105, Kingwood, TX

Liberty County

9 a.m. to 4 p.m. | Sacred Heart Catholic Church (**P-RAC), 3730 FM 160 North, Raywood, TX

Montgomery County

10 a.m. to 5 p.m. | Tullis Library, 21569 U.S. 59, New Caney, TX

Orange County

9 a.m. to 4 p.m. | St. Theresa Catholic Church (**P-RAC), 1409 6th, Orange, TX
Wednesday, October 2
Chambers County

9 a.m. to 4 p.m. | St. Louis Catholic Church (**P-RAC), 315 W. Buccaneer, Winnie, TX

Harris County

9 a.m. to 6 p.m. | Grayson Community Center, 13828 Corpus Christi St., Houston
8 a.m. to 6 p.m. | IT May Community Center, 2100 Wolf Road, Huffman, TX
9 a.m. to 6 p.m. | Kingwood United Methodist Church, 1799 Woodland Hills Dr., Rm K 105, Kingwood, TX

Liberty County

9 a.m. to 4 p.m. | Sacred Heart Catholic Church (**P-RAC), 3730 FM 160 North, Raywood, TX

Montgomery County

10 a.m. to 5 p.m. | Tullis Library, 21569 U.S. 59, New Caney, TX

Orange County

9 a.m. to 4 p.m. | St. Theresa Catholic Church (**P-RAC), 1409 6th, Orange, TX
10 a.m. to 7 p.m. | Orange County Expo Center (*MARC), 11475 FM1442, Orange, TX
Thursday, October 3
Chambers County

9 a.m. to 4 p.m. | St. Louis Catholic Church (**P-RAC), 315 W. Buccaneer, Winnie, TX

Harris County

8 a.m. to 6 p.m. | Northeast/James Driver Community Center 10918 1/2 Bentley St., Houston, TX
9 a.m. to 6 p.m. | Grayson Community Center, 13828 Corpus Christi St., Houston, TX
9 a.m. to 6 p.m. | Kingwood United Methodist Church, 1799 Woodland Hills Dr., Rm K 105, Kingwood, TX

Liberty County

9 a.m. to 4 p.m. | Sacred Heart Catholic Church (**P-RAC), 3730 FM 160 North, Raywood, TX

Montgomery County

10 a.m. to 5 p.m. | Tullis Library, 21569 U.S. 59, New Caney, TX

Orange County

9 a.m. to 4 p.m. | St. Theresa Catholic Church (**P-RAC), 1409 6th, Orange, TX
10 a.m. to 7 p.m. | Orange County Expo Center (*MARC), 11475 FM1442, Orange, TX
Friday, October 4
Chambers County

9 a.m. to 7 p.m. | St. Louis Catholic Church (**P-RAC), 315 W. Buccaneer, Winnie, TX

Harris County

9 a.m. to 6 p.m. | Grayson Community Center, 13828 Corpus Christi St., Houston, TX
9 a.m. to 6 p.m. | Kingwood United Methodist Church, 1799 Woodland Hills Dr., Rm K 105, Kingwood, TX

Liberty County

9 a.m. to 4 p.m. | Sacred Heart Catholic Church (**P-RAC), 3730 FM 160 North, Raywood, TX

Montgomery County

10 a.m. to 5 p.m. | Tullis Library, 21569 U.S. 59, New Caney, TX

Orange County

9 a.m. to 4 p.m. | St. Theresa Catholic Church (**P-RAC), 1409 6th, Orange, TX
Saturday, October 5
Harris County

9 a.m. to Noon | Crosby Community Center, 409 Hare Road, Crosby, TX
9 a.m. to Noon | Kingwood United Methodist Church, 1799 Woodland Hills Dr., Rm K 105, Kingwood, TX

Montgomery County

10 a.m. to 5 p.m. | Tullis Library, 21569 U.S. 59, New Caney, TX