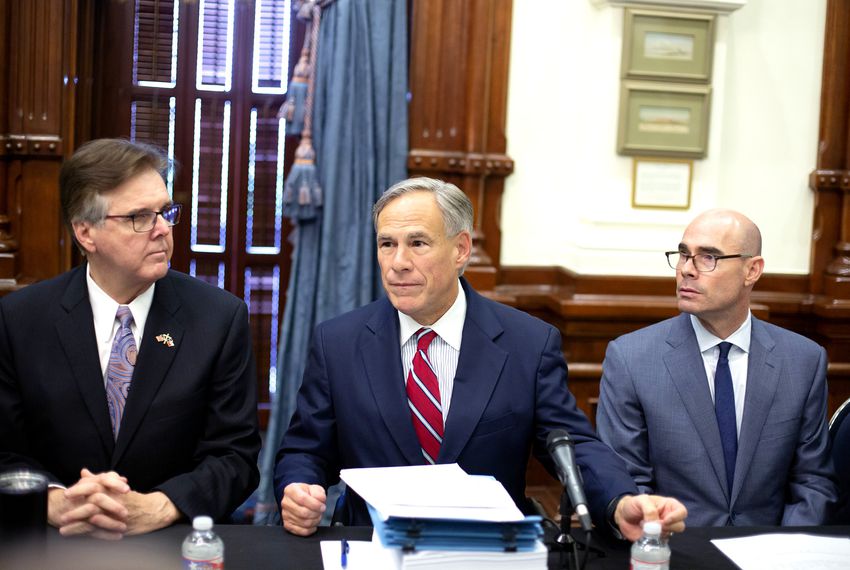 Gov. Greg Abbott on Thursday convened the first meeting of the newly formed Texas Safety Commission, ramping up the state's efforts to devise policy solutions in the wake of the deadly shooting targeting immigrants and Hispanics earlier this month in El Paso.
For over four hours, the commission — which includes state leaders, lawmakers and law enforcement officials — met at the Capitol in what Abbott described as the "next step to make sure that we respond robustly and rapidly to the" El Paso attack.
Speaking with reporters at the end of the meeting, Abbott rattled off a long list of items that were discussed — stronger threat assessment efforts, better collaboration between social media companies and law enforcement, strengthening the state's domestic terrorism law. He also broached more politically sensitive issues related to guns, saying there was discussion surrounding red flag laws, background checks and assault weapons.
Twenty-two people were killed and more than two dozen wounded in the El Paso shooting, which took place Aug. 3 at a Walmart. Authorities believe the gunman, who was arrested and charged with capital murder, published an anti-immigrant manifesto shortly before the massacre, railing against a "Hispanic invasion of Texas."
Thursday was the first of two meetings that are planned for the safety commission, with the second one scheduled for next Thursday in El Paso. Abbott has also assembled a Domestic Terrorism Task Force in the wake of the shooting, and its first meeting is slated for Aug. 30.
Before the safety commission meeting, Gun Owners of America, a hardline gun rights group, held a news conference outside the Capitol warning the commission against pursuing any proposals that would infringe on the Second Amendment. One of the speakers was Stephen Willeford, the hero in the 2017 Sutherland Springs church shooting.
"Gun owners are done," Willeford said, clutching the AR-15 semi-automatic rifle he used to take down the church gunman. "We don't want any more restriction. It does not stop the bad guys."
On the other end of the political spectrum, Democrats have been pressuring Abbott to do more than he has suggested so far to combat the forces that led to the El Paso massacre.
"Texans deserve a lot more than just talk," Manny Garcia, executive director of the Texas Democratic Party, said in a statement on the safety commission's first meeting. "Texans expect actions and solutions to curb racism, white supremacy, and gun violence in our state and in our country. The eyes of the world are on us."
This post was originally published in The Texas Tribune, a nonprofit, nonpartisan media organization that informs Texans — and engages with them — about public policy, politics, government and statewide issues.