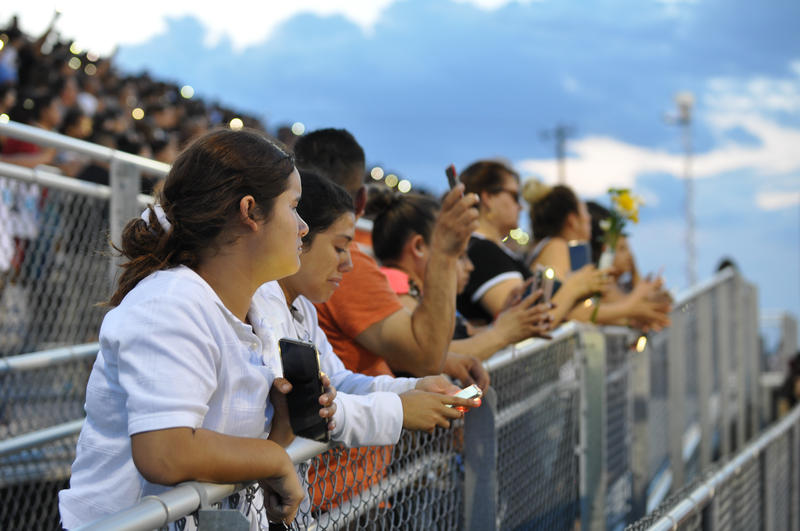 Community members gathered for a vigil in El Paso on Monday night to honor the youngest victim of the mass shooting at a Walmart store on Saturday.
Javier Amir Rodriguez, 15, was supposed to be starting his sophomore year of high school. Instead, his friends and family gathered on the Horizon High School football field to honor his memory.
"Javier did not deserve to be taken away from his parents. Javier did not deserve to be taken away from his family," Juan Martinez, superintendent of Clint ISD, told the crowd. "Javier did not deserve to be taken away from his friends. Javier did not deserve to be taken away from his school. And Javier did not deserve to be taken away from all of us."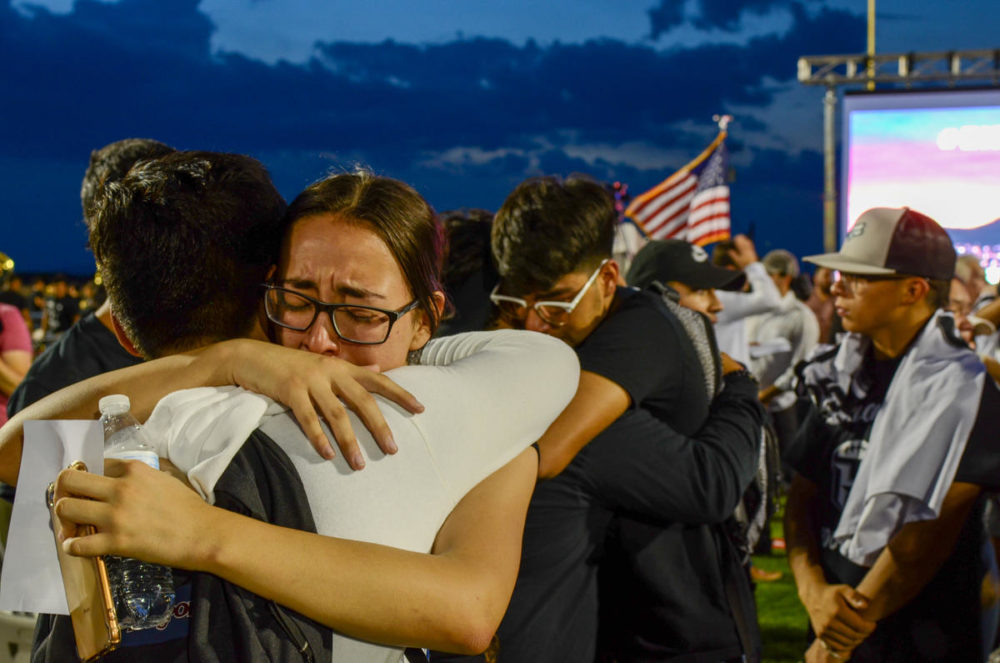 Several friends described Javier as an energetic soccer fanatic, who loved cracking jokes. Sean Cerceres, 18, said it's hard to fully process that his friend is no longer here.
"He was too young, he said. "You know, he was a sophomore in high school, still had two more years to go."
Javier's parents and sister released one white dove in his honor, followed by 21 more, for the other victims killed when a gunman went on a shooting rampage at a Walmart store Saturday.
Texas officials said Sunday they will seek the death penalty against the 21-year-old suspect, Patrick Crusius of Allen, a suburb of Dallas. At a news conference, the U.S. attorney for the Western District of Texas, John Bash, said officials are treating the shooting as a domestic terrorism case and could pursue federal hate crime charges.
In a white nationalist rant posted online and attributed to the suspect, the attack was called a "response to the Hispanic invasion of Texas." The Walmart that was targeted was frequented by Mexican nationals who crossed over into the border town to shop.
El Paso police released the names of the victims Monday. Authorities said 13 were American, seven were Mexican – although the Mexican government said there were eight – one was German and one victim's nationality was undetermined.
Police Chief Greg Allen said Monday that 15 people remain hospitalized, including two still in critical condition.
Here's what we know about the victims.
Andre Pablo Anchondo, 23
Andre Anchondo had recently turned his life around after struggles with drug dependence and run-ins with the law, a friend recalled.
On Sunday night, John Jamrowski, the grandfather of Jordan Anchondo, said in a text message that his family has been notified of the death of Andre Anchondo.
The death of Jordan Anchondo was confirmed in the hours after the attack, but the family agonized as investigators waited to confirm more than a dozen other deaths.
Koteiba "Koti" Azzam, a friend of Andre Anchondo, had fond memories of him.
"I love the guy," Azzam said in a phone interview from San Marcos, Texas, where he attends Texas State University. "He had the character and the charisma."
Azzam said Andre Anchondo had started a business in El Paso, building things from granite and stone, and made it successful through hard work. He also was on the verge of completing a home for his family.
"It makes you question your faith almost," said Azzam, who is Muslim. "But God didn't have a part in it. The hands of man altered my friend's life in a drastic way."
Jordan Anchondo, 24
Jordan Anchondo, Andre's wife, apparently died while protecting her 2-month-old son from the hail of bullets, her sister said.
Leta Jamrowski of El Paso spoke to The Associated Press as she paced a waiting room at the University Medical Center of El Paso, where her nephew was being treated for broken bones – the result of his mother's fall.
"From the baby's injuries, they said that more than likely my sister was trying to shield him," she said. "When she got shot she was holding him and she fell on him, so that's why he broke some of his bones. So he pretty much lived because she gave her life."
Anchondo, a mother of three, and her husband Andre had dropped off their 5-year old daughter at cheerleading practice before going to shop for school supplies at the Walmart.
UPDATE: Andre Anchondo's sister Deborah just told us he is dead. https://t.co/5QyrihE8Vd

— Kate Bieri (@KateBieri) August 4, 2019
Arturo Benavidez, 60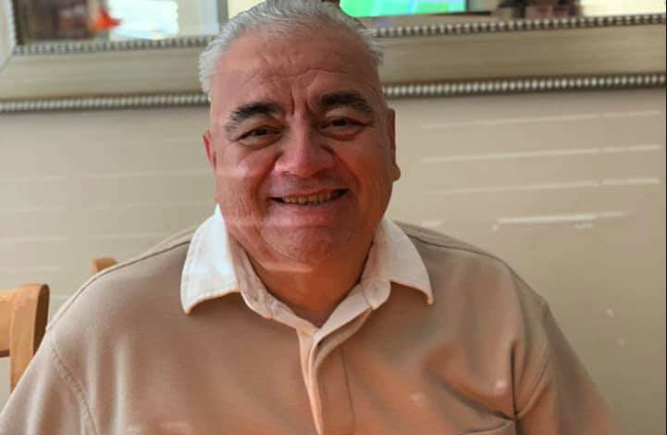 Family members announced on social media Sunday that Arturo Benavidez was among those killed.
The Dallas Morning News reports that he was in a self-checkout lane when he was shot. His wife, Patricia, made it out.
His great-niece Jacklin Luna told The Washington Post that Patricia is inconsolable. She said he was her soulmate and that they had been married more than 30 years.
Leonard Cipeda Campos, 41
Maria Flores, 77
Raul Flores, 77
Jorge Calvillo Garcia, 61
Adolfo Cerros Hernandez, 68
Alexander Gerhard Hoffman, 66
David Alvah Johnson, 63
Maria Mia Madera posted on Facebook that her uncle, David Johnson, was one of those killed Saturday. She said he died while protecting his wife and their 9-year-old granddaughter.
Maria Eugenia Legarrega Rothe, 58
Elsa Libera Marquez, 57
Maribel Loya, 56
Ivan Hilierto Manzano, 46
Gloria Irma Marquez, 61
Margie Reckard, 63
Sarah Esther Regaldo Moriel, 66
Javier Amir Rodriguez, 15
Javier Rodriguez was a freshman at Horizon High School.
We are deeply saddened to learn of the loss of one of our students. Our heartfelt condolences and prayers are with his parents and family.
School counselors are available to support and comfort our students and staff.#WEARECLINTISD #WEAREELPASOSTRONG
https://t.co/s99sieGte8

— Clint ISD (@ClintISD) August 5, 2019
His aunt, Elvira Rodriguez, told the Arizona Republic, he loved to play soccer and did well in school.
"He was such a loving boy," she said.
The school held a vigil for him Monday.
Teresa Sanchez, 82
Angelina Silva-Elisbee, 86
Juan Velazquez, 77
Standing outside the Del Sol Medical Center, Alvaro Mena confirmed one of the fatalities announced Monday was his stepfather, Juan Velazquez. He and his wife – Mena's mother, Nicholasa – were shot in the parking lot. Mena says his mother's prognosis is good.
Mena said his family had convinced the couple to move to El Paso several years ago.
"They lived in Juarez and we were concerned," he said. "We were like [with] the violence and everything – just move to El Paso. It's safer. It was the safest city in USA."
Or it was one of the safest, he said – until Saturday.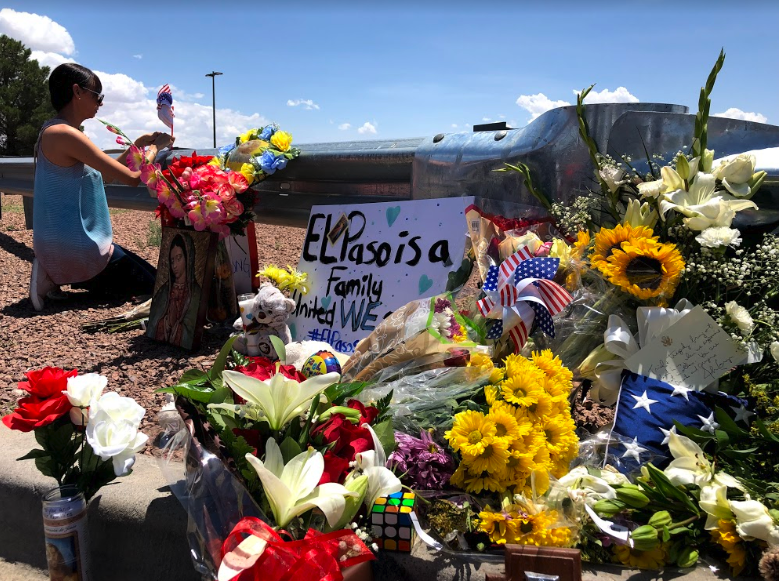 Injured Victims
Jessica Coca Garcia and Memo Garcia were at the Walmart to raise money for a youth sports team one of their children played on when the gunman opened fire, wounding them, a relative says.
Norma Coca told Wichita, Kansas-television station KWCH that her daughter and son-in-law were near the front doors of the store when they were shot.
Coca, who lives in Salina, Kan., said her daughter, Jessica Coca Garcia, was shot three times in the leg. She says her son-in-law, Memo Garcia, was shot twice in the leg and once in the back. She said her daughter was in stable condition and her son-in-law was in critical condition.
Jessica Coca Garcia's father, Don Coca, said they have family in the El Paso area who were able to be with the couple. Don Coca says: "She was just crying … I told her that our prayers are there and we're on our way."
The couple's 5-year-old son and 11-year-old daughter were also at the Walmart, but were not shot.
Maribel Latin and her daughter were outside the Walmart, raising money for their youth soccer league, when Maribel was hit. She was taken to the hospital, where she is recovering.
Her husband, Daniel, spoke briefly at a vigil Sunday night.
"It's something overwhelming. I'm so thankful to have so many people behind us," he said.
Mario de Alba, 45, had come to El Paso with his family from Mexico to go shopping.
Described by his sister Cristina de Alba as an "excellent father" and as a "decent, hardworking person," he was in serious condition Sunday after being shot in the back, the bullet exiting via his diaphragm.
His wife, Olivia Mariscal, and 10-year-old daughter Erika both appear to be recovering after also being wounded, de Alba said from the El Paso hospital where her brother is being treated.
The family lives in Chihuahua, Mexico – a four-hour drive south of El Paso – and was buying school supplies in the Texas city. El Paso is a popular shopping destination for people who live in northern Mexico.
Mario de Alba's Facebook page shows him as a devoted father to Erika.
In one picture, taken in a living room, Erika cups her hand in the shape of a heart in front of an entertainment center. 0n the shelves behind her are the words FAMILY and PEACE in bold letters.
This post has been updated.
Material from The Associated Press was used in this report.