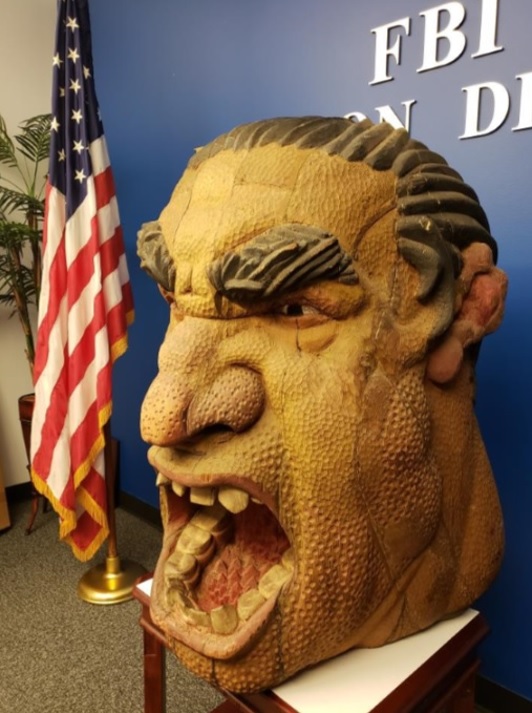 The descendants of a Texas resident have returned a rare, Depression-era sculpture to the federal government.
The 180-pound wood piece depicts the face of a man who looks like he's shouting. It's the work of an unknown artist who was commissioned to sculpt it in the 1930s as part of the Works Progress Administration (WPA), a program created by President Franklin D. Roosevelt to put men back to work during the Great Depression.
The work-relief program employed more than 8.5 million people and, for an average salary of $41.57 a month, WPA employees built bridges, roads, public buildings, public parks and airports.
But the program also employed artists that "would make murals, statues that would go to post offices, that would be at national parks, federal buildings, things of that nature," FBI Special Agent Paul Zukas told News 88.7.
FBI Houston agents have recovered a Works Progress Administration (WPA) sculpture, circa 1935, from a private collector in TX who voluntarily surrendered it to the #FBI. The piece will be repatriated to the Dept of the Interior, who is the repository for all WPA artwork. #HouNews pic.twitter.com/mY8whUEs0i

— FBI Houston (@FBIHouston) May 7, 2019
Zukas is one of the special agents from the FBI's Houston field office that retrieved the sculpture last week from Carrollton, about 20 miles north of Dallas.
Thomas McKee, who worked for the WPA, had stored the sculpture on his property. His descendants reached out to the FBI to return the work of art, as it's the property of the U.S. government.
The sculpture is titled "The Transient Spirit of 1935," and, based on a letter written by McKee that the FBI had access to, it is "symbolic of the misery, rebellion, rage and brutality in the hearts and minds of people during the Great Depression."
The sculpture will be transported to Washington, D.C. and ultimately transferred to the U.S. Department of the Interior, which will likely restore it and perhaps put it on display.
Zukas noted WPA artwork has a considerable following "because it's a unique period of our American history, the Great Depression and the New Deal, Franklin Roosevelt."