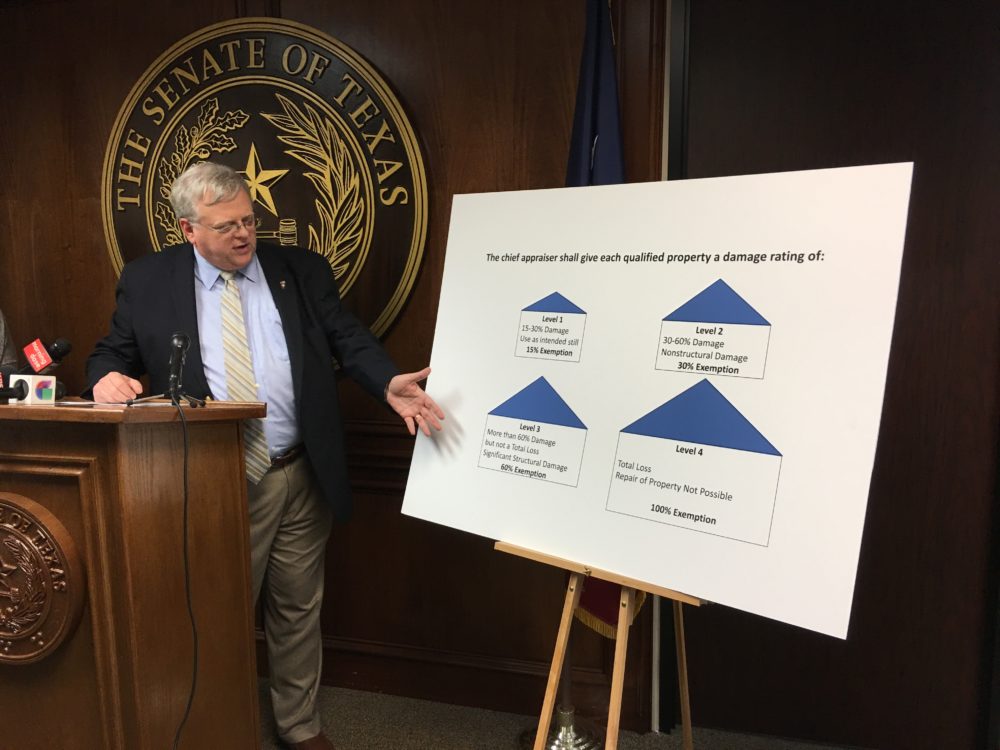 Thousands of homes and businesses lost value after being flooded during Harvey. Senate Bill 1772 would make sure that loss is reflected in a property owner's tax bill when disaster strikes.
The bipartisan legislation already passed the state Senate unanimously.
"What this does, is it gives a top-down guideline that says the next time there's a disaster like this, the governor signs a declaration, people can apply for their disaster reappraisal like that," Sen. Paul Bettencourt, R-Houston, who introduced the bill, said, snapping his finger.
After Harvey, most taxing jurisdictions reappraised, he said, but not all of them did. The bill could save a homeowner up to $5,000 on a $200,000 house that sustained a total loss.
If Gov. Greg Abbott governor signs the legislation, voters will have the final say in a November referendum, since it's a constitutional amendment.
"I expect that the public will approve the change in the Texas Constitution as everyone wants simple disaster reappraisal post Hurricane Harvey," state Sen. Borris Miles, D-Houston, said in a statement.
Brandon Rottinghaus, a political scientist at the University of Houston said he expects the House to pass the bill as well and for the governor to sign it.
"I also assume voters would pass it – constitutional amendments removing tax burdens pass upwards of 85 percent of the time," he said. "That, combined with the Harvey relief and disaster planning element, make this a pretty easy case to pass at the ballot box."
Rice University political scientist Mark Jones agreed. He said while it may be "unsettling" for some taxing entities, who would end up with less revenue from property taxes after a disaster, nobody wants to go on record opposing legislation that helps out people whose homes or businesses have been damaged.