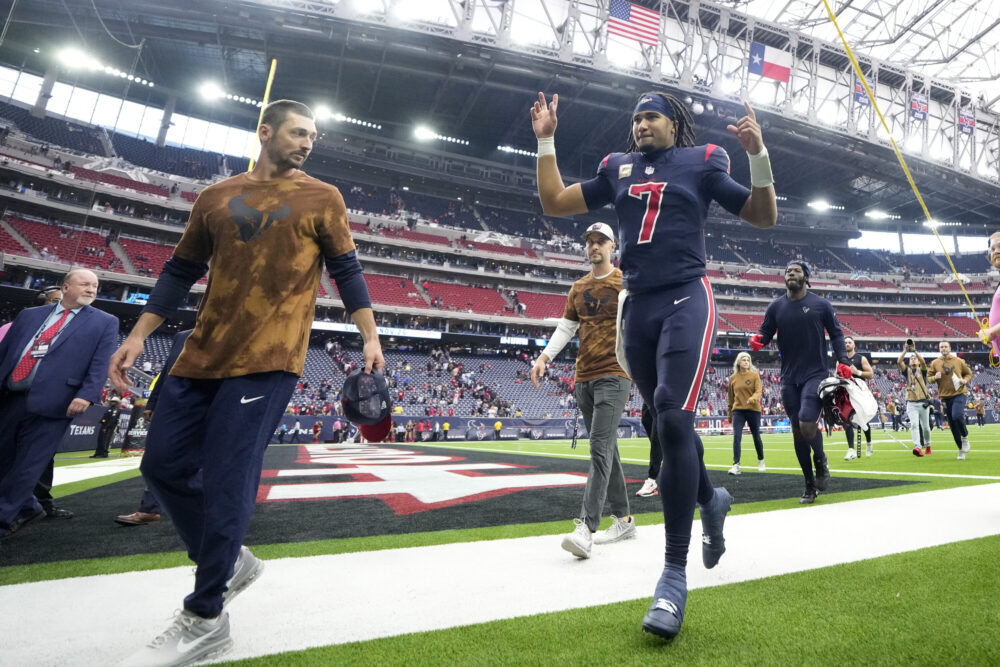 After the Houston Texans rallied for a road win against the Cincinnati Bengals on Nov. 12, giving the team two wins in a row and a winning season record for the first time in more than two years, their rookie quarterback made a request of Houston-area football fans.
"I really want to a see a sold-out stadium," C.J. Stroud said. "I think at this point, man, that's what we're ready for."
But perhaps the city and its sports fans aren't ready to get behind these Texans, at least not fully or at least not yet. Because when they returned home on Sunday and beat the Arizona Cardinals 21-16 – giving Houston's NFL franchise a three-game winning streak for the first time since 2018 – they had their lowest turnout of the year at NRG Stadium, with a paid attendance of 70,247.
And there were not nearly that many fans inside a stadium with a capacity of about 72,000 as several thousand empty seats could be seen on the television broadcast – prompting former Texans star J.J. Watt to chime in on social media as he was watching the game. Watt wrote that the stadium "shouldn't have an empty seat in the house," noting a stellar start to Stroud's professional career and the team's turnaround under first-year head coach DeMeco Ryans, a former Texans player.
"What happens is when you've been as bad as the Texans have for as long as the Texans have been bad, and mostly irrelevant for much of their history, people find they can live without it. They don't need it," said Richard Justice, a contributing writer for Texas Monthly who is based in the Houston area and has followed the team since its inception in 2002. "Also, this is something J.J. Watt should know: Tickets are very expensive. It is expensive to go to a game – to park in the parking lot, to buy a hot dog and a Coke and to go sit in the stands."
NRG stadium shouldn't have an empty seat in the house…

CJ is an MVP level talent as a rookie, playing lights out football and has asked fans to fill the stadium.

DeMeco is one of our own who has the organization headed the right way and in the playoff hunt.

Pack the house!!

— JJ Watt (@JJWatt) November 19, 2023
Officially, the Texans rank ninth among the 32 NFL teams with an average of 71,080 fans per home game this year. But again, that figure represents paid attendance and not actual attendance, and getting fans in the stands on game days has been a challenge throughout the Texans' history, according to Justice. He said there is a "phenomenal" tailgating culture that has developed outside NRG Stadium, but the atmosphere has not always transferred inside the building once kickoff rolls around.
Tickets for the Texans' four remaining home games – including a Nov. 26 matchup against the Jacksonville Jaguars, the team they're chasing in the AFC South Division – cost at least $50 apiece, according to the Texans' website. And those are for upper-deck seats.
Jeff Balke, the host of the Bleav in Astros podcast, said Monday on Houston Matters that attending NFL games is more expensive than going to games in the NBA, MLB or other professional sports leagues. He also echoed Justice's sentiment in saying the Texans need to do more winning and establish more goodwill among their fan base in order for their attendance to improve.
While this year's team is 6-4 and Stroud is among the top passers in the NFL, the Texans were a combined 11-38-1 during the previous three seasons, winning no more than four games in either of those years. Balke and Justice said they both have friends who have either given up their season tickets in recent years or passed up the opportunity to become season ticket holders.
"You want people back in the stands? You want them cheering? Then you have to do something about it," Balke said. "That means running a good organization and winning consistently over time."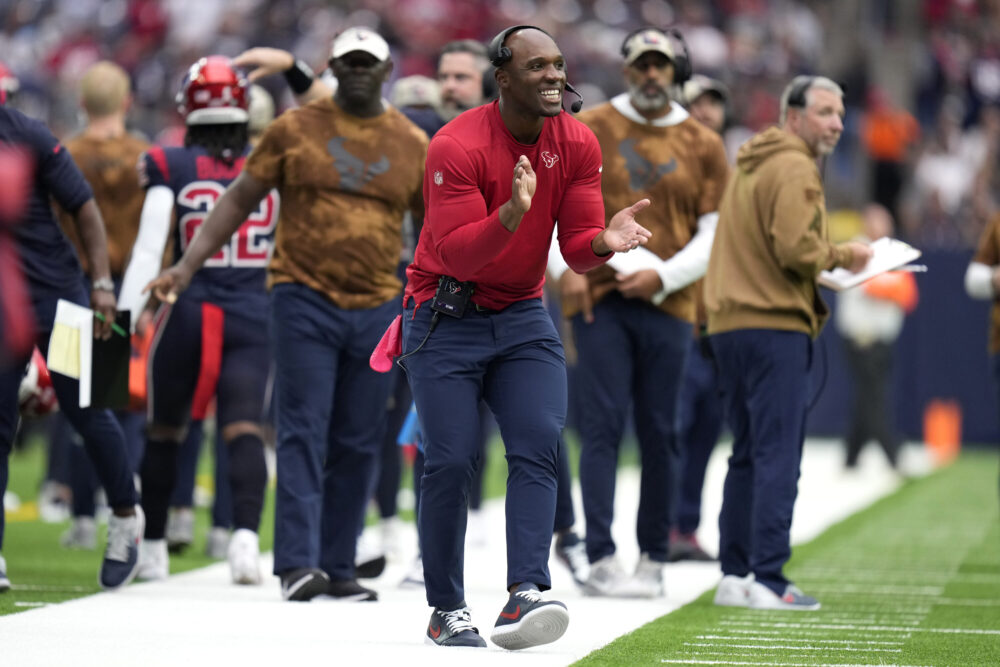 Balke and Justice both said they expect the turnstiles at NRG Stadium to turn more frequently at some point. But if Houston's consistently successful baseball team is an indication, that could take a while.
The Astros drew more than 3 million fans to Minute Maid Park in 2004, the first time they won a playoff series, and then again in 2006 and 2007, with the latter year coinciding with eventual hall of famer Craig Biggio's chase for 3,000 career hits. Their yearly attendance figures then started to tumble, with the team drawing fewer than 1.7 million fans during the 2012 and 2013 seasons, which was part of their three-year streak with 100-plus losses.
Even though the Astros won their first World Series in 2017 and have reached the American League Championship Series every year since then, they did not get back to the 3 million mark in attendance until this year.
"I think if the Texans win consistently, they'll come back," Balke said of their fans. "It's a football state. I just think nobody should be expecting it right now. They're still in a build mode. Get a couple years down the line and we'll see what happens."
Justice said he agrees with Stroud and Watt in terms of this year's Texans being worthy of fans' attention. But it's likely that nothing they say, or nothing anybody else says, will change Houstonians' football-watching habits.
Balke said the franchise needs to rebuild trust with its fans in light of the recent losing seasons and an off-the-field scandal involving former quarterback Deshaun Watson, who was accused of sexual misconduct in a series of civil lawsuits filed in 2021. Watson, who settled many of the lawsuits and did not face criminal charges related to the accusations made by massage therapists, now plays for the Cleveland Browns.
"All you can do as a franchise is do what they're doing right now, which is win, play compelling football and have interesting personalities," Justice said. "I assume that people will come back at some point. But it is a big, big task, and it's no fault from anybody else."