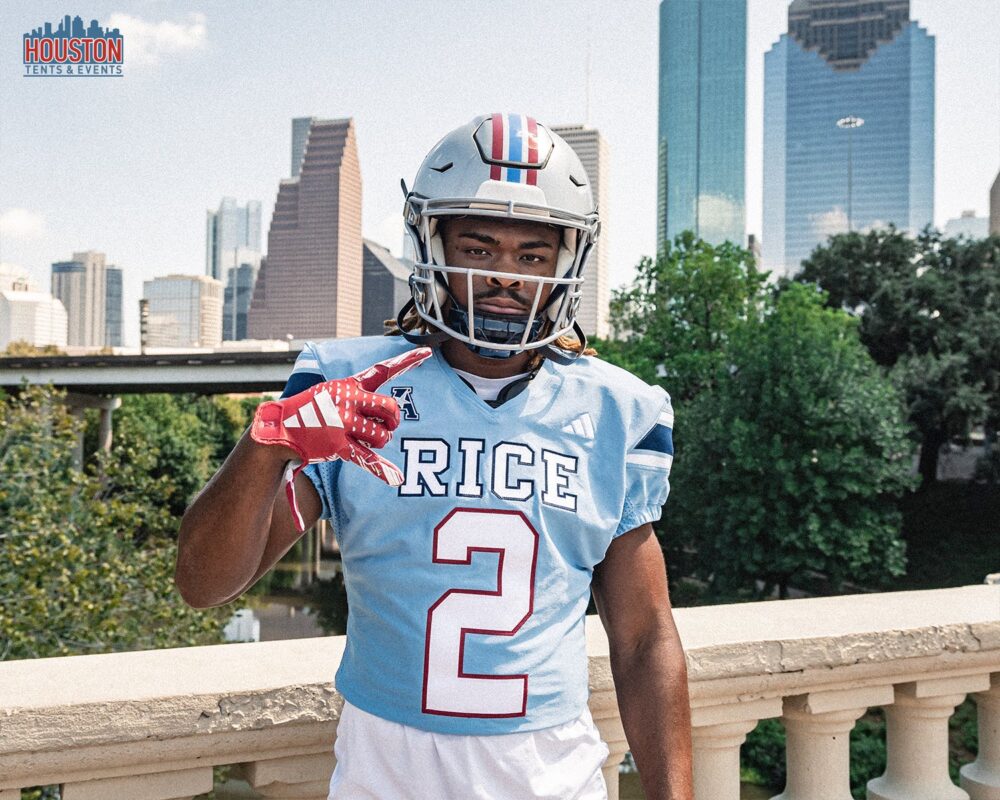 Nearly 30 years after they moved away from Houston, the city and its sports teams continue to show love for the Oilers.
Rice University's football team will wear special Oilers-themed uniforms during its home game against East Carolina at 6 p.m. Saturday at Rice Stadium, where Houston's original professional football franchise played from 1965-67. The Oilers teams of that era wore silver helmets with red, white and blue stripes along the top, and the Owls' helmets will look similar while replacing the iconic oil derrick logo with an "R" for Rice.
Intracity rival University of Houston wore Oilers-inspired uniforms during its season opener Sept. 2, but Rice is not copying the Cougars, according to David Pillen, the university's associate athletic director for external relations. He called it a coincidence, saying Rice had been working on its version of the light-blue jerseys since January.
"We both have love for the city of Houston," Pillen said. "We did this to pay homage to the history that Rice Stadium has to the city of Houston and obviously the Oilers are part of that, because they played at Rice Stadium."
Rice unveiled its throwback uniforms Thursday with a series of social media posts, two of which were videos that included Houston rapper Scarface narrating and dressed in Owls gear. One of them referenced the 1962 speech then-U.S. President John F. Kennedy gave at Rice Stadium about the country's mission to land a man on the moon, which happened seven years later.
History Runs Deep 💯#GoOwls👐 x #RFND pic.twitter.com/bf1FrSs9rz

— Rice Football (@RiceFootball) September 28, 2023
The promotional materials included the phrase "Luv Ya Owls," which is a reference to the Oilers' "Luv Ya Blue" era of the late 1970s. The Oilers relocated to Tennessee after the 1996 season and subsequently changed their name to the Tennessee Titans.
RELATED: Tennessee Titans to wear Houston Oilers throwback jerseys twice during 2023 season
Pillen said Friday the response to the special Rice uniforms has been "really good," while also referencing criticism from Cougars fans. Rice beat UH in double overtime on Sept. 9, a week after the Cougars wore their Oilers-inspired uniforms.
Rice's game Saturday against East Carolina will be televised on ESPN+.
"Obviously there's high emotion with it, because of the dynamics of who's won and who's lost and all that. You get the spirited fanfare," Pillen said. "I think overall we've had tremendous engagement and a really great response for what they look like, and just kind of the national attention there."
The light-blue look has been a campus-wide theme so far this school year, according to Pillen, who said Rice's cross country, soccer and volleyball teams have worn the color during warmups. He also said light blue T-shirts with a "Rice Texas Pride" logo, which also will be featured on the football uniforms, were given to all new students upon their arrival to campus.
The school will give away 1,000 of those shirts to fans at Saturday's game. Other "Luv Ya Owls" apparel, including replica jerseys, are available for purchase at the campus store and online at shopriceowls.com.