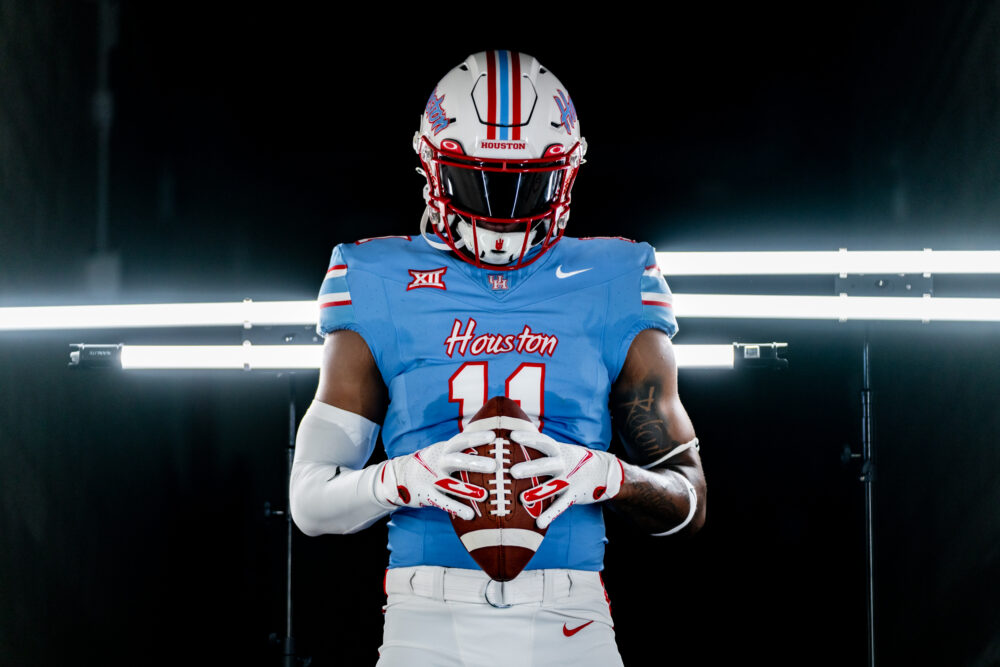 The University of Houston is entering a new era for its athletic department by paying tribute to the city's football past.
The Cougars' football team will make its debut as a member of the Big 12 Conference with a home game against UTSA at 6 p.m. Saturday at TDECU Stadium. Houston's players will be wearing special uniforms that resemble those of the Houston Oilers, the city's first professional football franchise that debuted in 1960 and relocated to Tennessee after the 1996 NFL season.
The Coogs will don light blue jerseys with red trim and white numbers and letters, with the word "Houston" across the front and on their helmets, which will be white with blue and red stripes across the crown – much like the helmets worn by the Oilers but without their signature oil derrick logo. The same stripe pattern will be on the players' sleeves as well as the sides of their white pants.
Houston's coaches will be wearing light blue hats during the game, and both end zones at TDECU Stadium will be painted light blue as well.
Love you, Houston. This one is for you. #GoCoogs | #TEAM pic.twitter.com/X2Ul4SWwf5

— Houston Football (@UHCougarFB) August 31, 2023
The Oilers-like uniforms were unveiled to the team on Monday by athletics director Chris Pezman, with the university making them public on Thursday. In a video posted on social media that was narrated by Carl Lewis, a track-and-field legend and well-known Cougar, he says, "Love ya, Houston. This one's for you."
"Luv Ya Blue" was a mantra adopted by Oilers fans during the late 1970s, when the team made deep playoff runs and featured iconic Texans Earl Campbell as running back and Bum Phillips as head coach.
Both in the video and a news release about the special uniforms, UH did not make any direct references to the Oilers. Their name and logo are trademarked by the NFL franchise, which has been known as the Tennessee Titans since 1999.
The Titans announced in July they would wear throwback Oilers uniforms in two of their home games this year, including against the Houston Texans – the city's new NFL franchise – on Dec. 17.