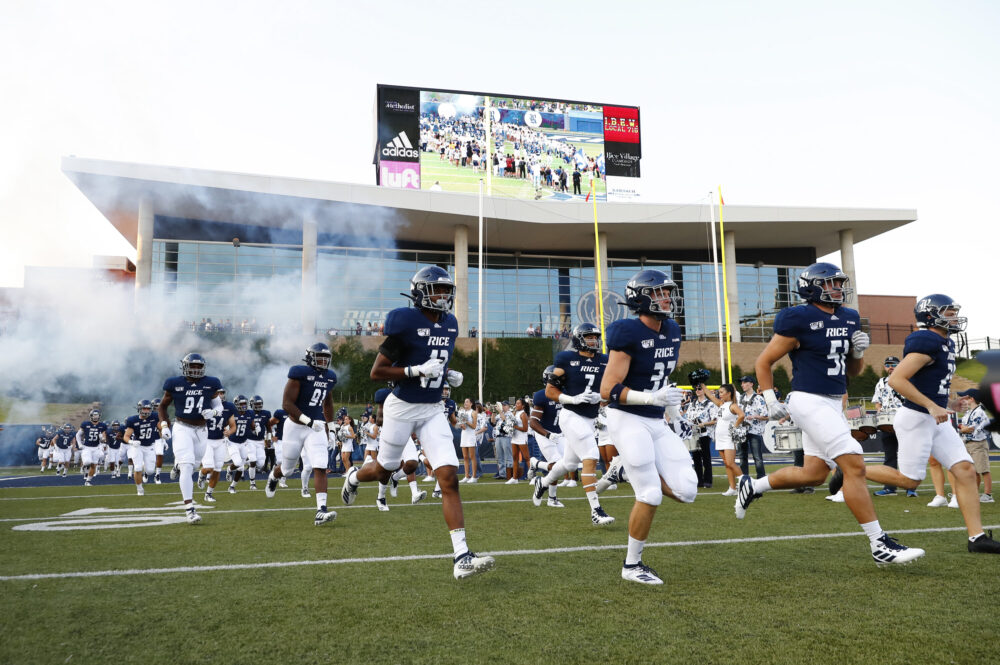 Rice was one of four schools left out of the Big XII when the Southwest Conference disbanded in 1996. Their tumble out of a top-rate conference forced the Owls to wander among college sports' second tier for decades.
Saturday marks what Rice officials hope is a big step in their seemingly endless trek to relevance when the university and its 14 teams officially join the American Athletic Conference.
"We'll have the opportunity to showcase our university on national TV much more frequently now," said Tanner Gardner, Rice Athletics COO. "That will certainly benefit athletics, but I know it will also benefit our university."
Gardner believes the new conference will reignite some regional rivalries. Rice is one of six schools from CUSA moving to the AAC, along with UAB, Florida Atlantic, Charlotte, the University of North Texas and UTSA. The new additions join current members East Carolina, Memphis, Navy, South Florida, SMU, Temple, Tulane, Tulsa and Wichita State in the AAC.
The AAC is widely regarded as the best among the so-called "Group of Five" conferences. In football, the main driver of realignment in college sports, the conference has earned the G5 slot in the New Year's Six bowls in seven out of nine years.
Gardner believes the conference change will increase Rice's profile and provide better opportunities.
Mike Craven, senior writer at Dave Campbell Texas Football, believes that even though increased visibility will help recruiting, the university will still be behind others in the AAC.
"Rice's biggest challenge, at least if we're talking on the football field, is the same that it's always been — and that is that it's a high academic university/institution where they're not able to recruit as many players as the other schools," Craven said.
Craven says that increased donor and alumni interest would be pivotal for Rice's competitiveness.
"It comes down to how much do [alumni] want to compete at football," Craven said.
He believes that if alumni and students are interested in donating, buying tickets and creating NIL deals, that would show the university that they want to have successful athletics programs.
Richard Justice, current contributor to Texas Monthly and former Houston Chronicle columnist, also believes that the alumni will need to play a big role in the success of Rice.
"When they play Texas, as they do this year, [the alumni] want to beat Texas. But they also understand the greater mission of the university," said Justice. "Rice's priority is... we're not going to turn athletics into a big, black financial hole."
Justice says that if that mindset doesn't change, it will be tough for them to compete with the schools at the top of the conference.
Rice officials believe they are piquing the interest of alumni. Last year, athletics increased its number of donors to nearly 1,900, and the amount of money raised to $19.3 million, the third-highest total in athletics department history according to a press release.
There will be new leadership in the athletic department. Joe Karlgaard, Rice's athletic director, announced last Tuesday he would be resigning. Gardner expects a new AD to be appointed "soon" and believed any disruption during Rice's transition to the AAC would be minimal.
The move to the AAC resulted in the university accelerating some long-term projects.
Since the announcement 18 months ago, Rice has invested $6 million into historic Rice Stadium, installed a new basketball floor and lighting in Tudor Fieldhouse, installed a new baseball field, put in a new track, upgraded the tennis facility and improved its swimming facility.
Officials expect a good return-on-investment for the university.
"The television package in the [AAC], on all dimensions, is significantly better than the one we were experiencing in Conference USA and with that comes much better finances," Gardner said.
The TV deal that Rice had in CUSA would pay about $800,000 for the 2023-24 season if the Owls had remained in the conference. The AAC television deal with ESPN will eventually pay Rice an estimated $6-7 million annually. Reports indicate the six new schools will begin with lower payout amounts that will gradually increase.
It also means games will be more readily available, via streaming and cable, to a nationwide audience.
Scott Pera, head coach of Rice men's basketball, believes that the new conference and TV deal will help the university with recruiting athletes.
"We've been doing this long enough to know there's four letters that matter, and that's E-S-P-N," Pera said. "When you say American to recruits, you... hear the change in their voice... it has that impact, it just does because [recruits] see those teams, they know who they are."