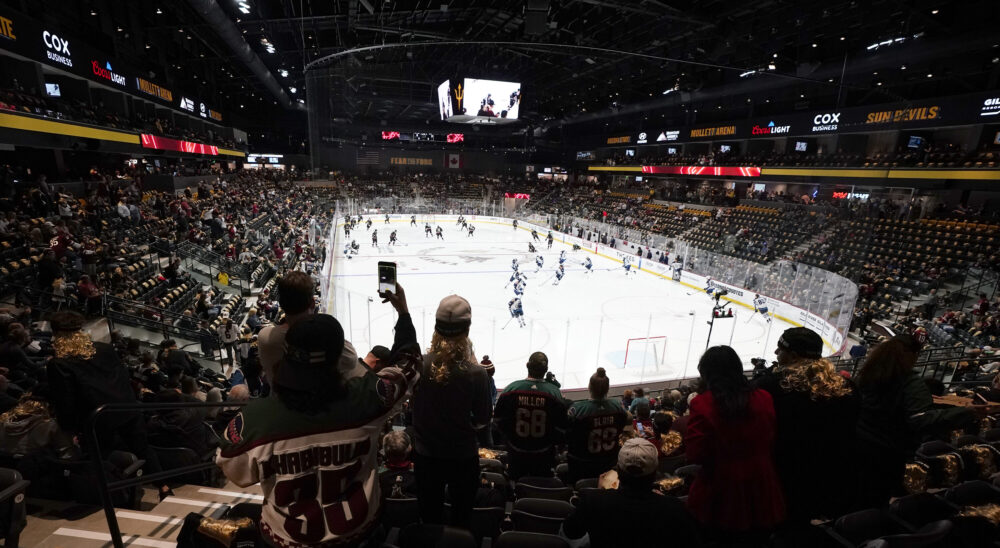 Could the NHL be coming to Houston?
The United States' fourth-largest city has been speculated as a potential relocation destination for the Arizona Coyotes after voters in Tempe, Arizona, rejected a proposal Tuesday to help fund a new arena for the professional hockey franchise. NHL commissioner Gary Bettman said the league and team ownership will now explore other options for the Coyotes, according to ESPN hockey writer Greg Wyshynski, who reported that Houston could be a feasible landing spot for the team because it has a hockey-ready venue in the Toyota Center and the Coyotes play in a division that includes the Dallas Stars.
Such a development would be welcomed by Houston Mayor Sylvester Turner, according his spokesperson, Mary Benton. She said Wednesday that while the mayor's office does not have any insight on the situation with the Coyotes, Turner would like to see an NHL team in Houston.
"The mayor would support an NHL team," Benton said. "The mayor's very supportive of professional sports in our city, because Houston is a sports town. He thinks they add a lot to our city in terms of pride and enthusiasm. And a lot of these organizations give back to our city."
Elliotte Friedman, a hockey insider based in Canada, also views Houston as one of the leading destinations for the Coyotes if they decide to move out of Arizona. They are in the first year of a three-year agreement to play at Mullett Arena on the campus of Arizona State University, according to ESPN.
Friedman said in the latest episode of his "32 Thoughts" podcast, which was published Wednesday, that he thinks the Coyotes and NHL will first try to find a way to keep the team in Arizona. But if that's not feasible, Friedman said he considers Houston, Kansas City, Sacramento and Salt Lake City to be the top relocation options for the Coyotes.
"I think it's likely one of those four cities," Friedman said on the podcast.
Houston has previously been home to two hockey teams, both nicknamed the Aeros. The first team competed in the former World Hockey Association from 1972-78 and was led by hockey legend Gordie Howe, winning two league championships. The second rendition of the Aeros was a minor league team that played in the International Hockey League and American Hockey League from 1994-2013.