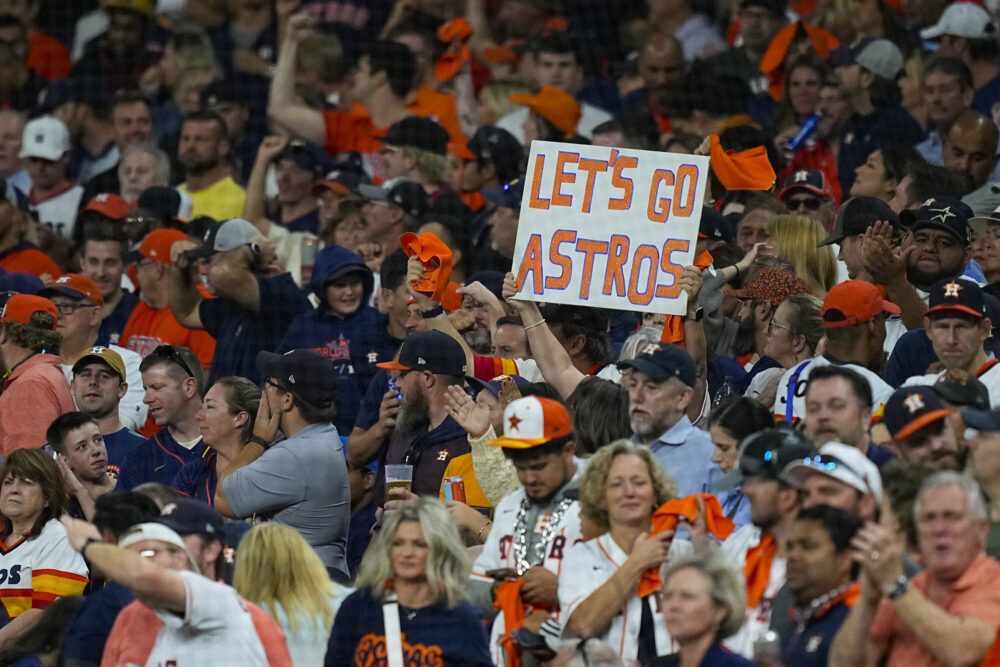 Alcohol sales will go until the end of the game starting this weekend at Minute Maid Park as the Houston Astros join a growing number of Major League Baseball teams extending the sales period due to the new pitch clock shortening games.
The Astros announced on Thursday that fans can purchase alcohol from limited locations, about 40 percent of stands, through the end of the game. Selling by seat vendors will continue to end in the seventh inning.
Teams are making the move because of the pitch clock MLB added this season. Through the first 1 1/2 weeks of the season, the average game time was down 31 minutes, on track to be the sport's lowest since 1984.
The Astros joined four other teams to combat the time crunch: the Arizona Diamondbacks, Texas Rangers, Minnesota Twins and Milwaukee Brewers. Others, like the Miami Marlins and New York Mets, still have seventh-inning cutoffs, but haven't ruled out changes.
Teams historically have stopped selling alcohol after the seventh.
At least one team, the Baltimore Orioles, already sold alcohol through the eighth inning, or until 3 1/2 hours after first pitch, whichever came first. The Astros, however, said alcohol will be cut off four hours after first pitch or at the club's discretion if needed.
MLB says it does not regulate when teams sell alcohol. Most franchises have used the seventh inning as a cutoff, at least partly to avoid overserving customers who could then get in their cars and drive home.
But in reality, most teams already had areas around the ballpark where fans could get alcohol after the seventh, even if the concession stands stopped serving. Many parks are connected to restaurants or have VIP areas where the booze still flows.
"If it cuts off sales in the seventh inning, the eighth inning or the ninth inning, that really doesn't affect our stance because regardless, we just don't want people to drink alcohol and then drive home from the game," said Erin Payton, Regional Executive Director for Mothers Against Drunk Driving.
MORE: Representatives from MADD discuss the move on Houston Matters: