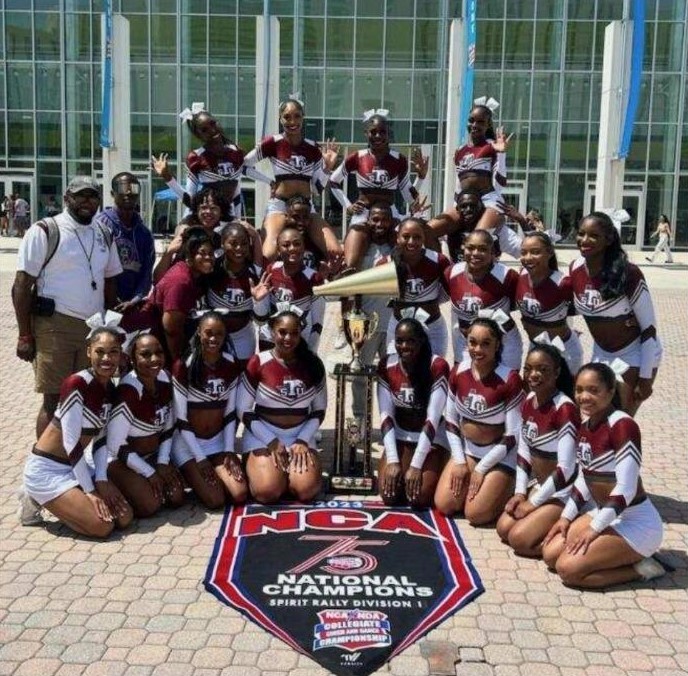 Houston's Texas Southern University is the first historically Black school to win a national title in collegiate cheerleading, having accomplished the feat on Friday in Daytona Beach, Florida, according to the university.
The Tigers placed first in their division in the Cheer Spirit Rally competition at the NCA & NDA College National Championship, held last Wednesday through Sunday by the National Cheerleaders Association.
"To see the long hours they've dedicated come to fruition in the form of a national championship is amazing as I want to commend the coaching staff and team members for their efforts," Texas Southern athletics director Kevin Granger said in a news release from the university. "This team has made history at Texas Southern and everyone a part of TSU nation is proud of their accomplishments."
Cheer and dance teams from universities, colleges and junior colleges all over the United States competed at the annual event, which is not affiliated with the NCAA. The National Cheerleaders Association crowned a total of 55 national champions this year in 12 categories, such as spirit rally for both dance and cheer, game day, mascot, team performance, group stunt, jazz, hip hop and pom.
Texas Southern was among more than 10 historically Black colleges and universities (HBCUs) to compete and the only one to take home a title. Out of a maximum score of 100, the Tigers posted raw and performance scores of 96.1 and an event score of 95.5875, beating second-place Niagara University by nearly 11 points in the Cheer Spirit Rally category for Division I schools.
"I knew this was the year and the team to get the job done," Texas Southern coach Shontrese Comeaux said. "I'm so proud of them and where we're going to take the cheer program next."
Sam Houston State University, located north of Houston in Huntsville, won the Division I title in team performance and the Division II championship in the jazz category. The Bearkats placed second behind Trinity Valley Community College, another Texas school, in the competition for small coed grand champion.
In all, schools from Texas accounted for 17 national titles in the 55 events.