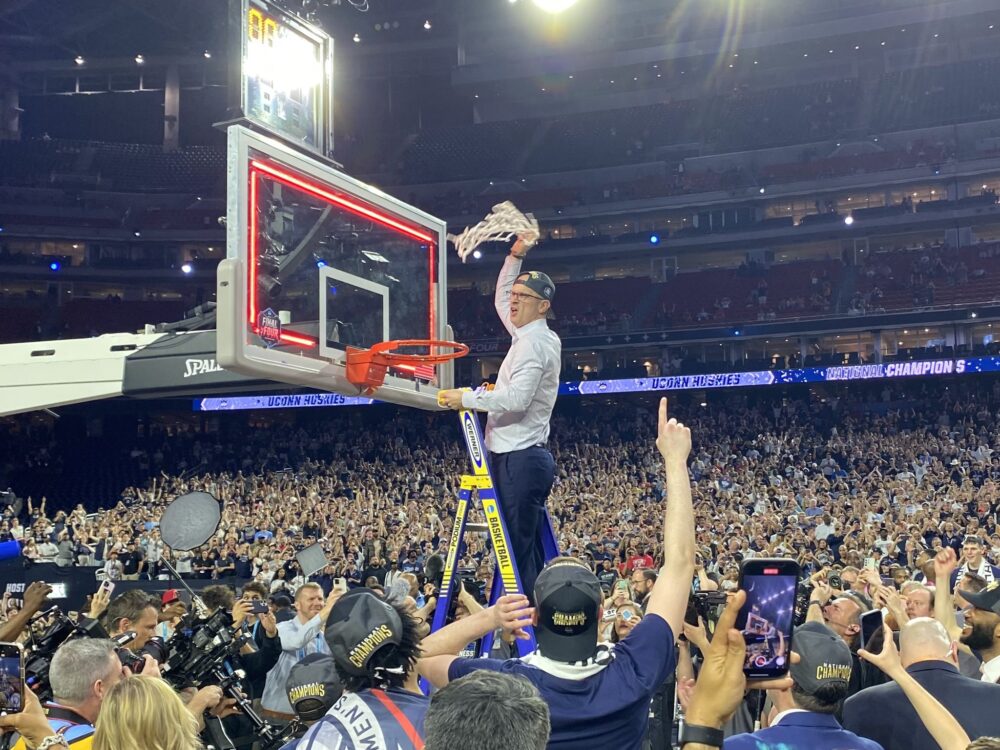 Another Final Four in Houston, another UConn national title.
UConn dominated most of the game and held off a second half charge by San Diego State, winning 76-59.
All of UConn's tournament wins in 2023 were by double-digits. It's the fifth national title in program history, tying the Huskies with Duke for the fourth-most titles in men's college hoops. The Huskies won the men's titles in 1999, 2004, 2011 and 2014.
"We knew we were the best team in the tournament going in, and we just had to play to our level," said Dan Hurley, who joined Jim Calhoun and Kevin Ollie as the third coach to lead UConn to a title.
UConn's lanky star forward, Adama Sanogo, won Most Outstanding Player honors, finishing with 17 points and 10 rebounds in the final, and Tristen Newton also had a double-double with 19 points and 10 boards.
The Huskies (31-8) became the fifth team since the bracket expanded in 1985 to win all six NCAA Tournament games by double-digits on the way to a championship. They won those six games by an average of an even 20 points, only a fraction less than what North Carolina did in sweeping to the title in 2009.
San Diego State was in its first-ever national title game. It advanced in thrilling fashion on Saturday night with Lamont Butler draining a jumper at the buzzer to defeat FAU, 72-71. But it was overwhelmed most of the game by UConn on Monday night.
The pregame festivities were decidedly space-themed, with the newly announced Artemis II astronauts on the court while astronaut Tracy Dyson sang the national anthem.
Actor Bill Murray was spotted in the crowd and was on the court during postgame celebrations. His son, Luke, is an assistant coach on the Huskies staff.
It also marked the end of an era, as CBS broadcaster Jim Nantz called his last college basketball game.
TOP SEEDS
The top four seeds were Alabama, Houston, Kansas and Purdue. Expectations for a chaotic tournament were met quickly: The Boilermakers were ousted by Fairleigh Dickinson in a first-round stunner and the defending champion Jayhawks lost to Arkansas the next day. Alabama and Houston didn't survive the second weekend.
SHINING MOMENTS
Princeton used a late run to earn its first NCAA Tournament win in 25 years by ousting No. 2 seed Arizona and then beat Missouri to lock in its first Sweet 16 spot in 56 years. For Princeton and other teams, getting this far after pandemic-disrupted seasons was a milestone.
Furman celebrated its first tourney appearance since 1980 with a win over No. 4 seed Virginia on a deep 3-pointer by JP Pegues with 2.4 seconds left. Then came 16-seed Fairleigh Dickinson's win over Purdue as the 22 1/2-point underdog. The Knights joined UMBC in the record books as the only 16 seeds to knock out a No. 1.
LOOKING AHEAD
For those wanting to get a start on the 2024 NCAA Tournament, FanDuel lists UConn as the plus-1,000 favorite followed by Duke at plus-1,300 and Alabama, Arizona and Kentucky are each at plus-1,500.
BRACKETS
In the ESPN Bracket Challenge game, 7,201 brackets forecast this matchup, which equates to .04% of those submitted. Of those brackets, 62.1% picked UConn to win. The Huskies were picked on 2.4% of all brackets to win the championship and San Diego State on .3%. Expectations were low for San Diego State to even make the Sweet 16, with 68.8% not having the Aztecs advancing that far. UConn was on 1.9% of CBS Sports' brackets to win it all and San Diego State at .15%.