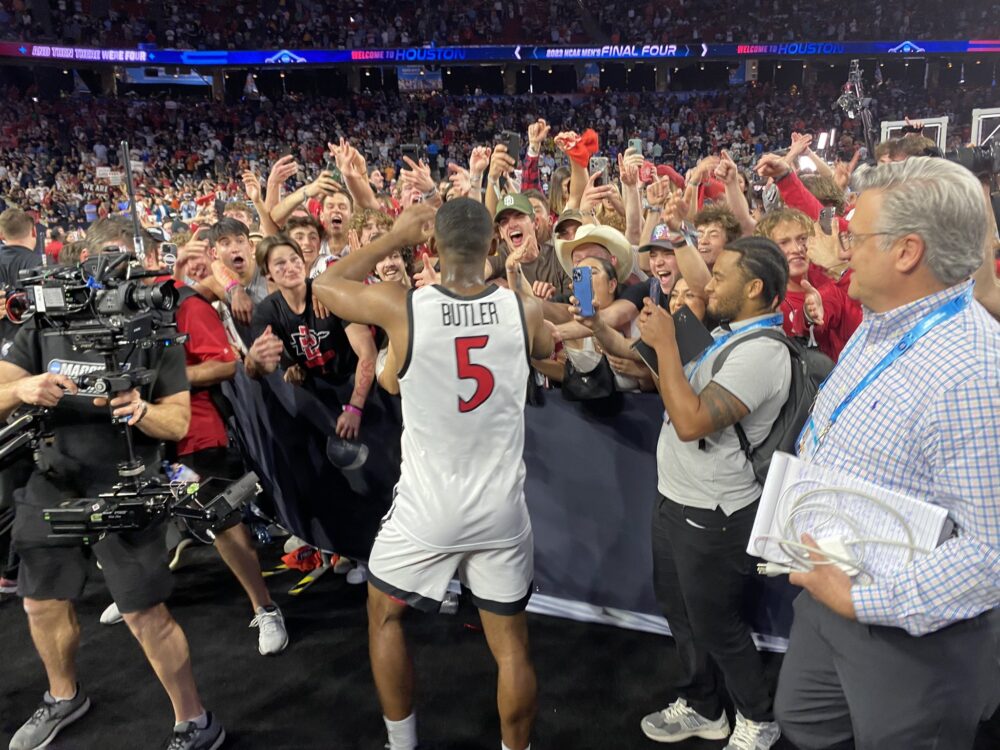 The buildup is over and its time to play, finally.
NRG Stadium is the host for the 2023 Final Four and it's not a group of teams anyone would have predicted would be in Houston when the season started. But the first game absolutely delivered.
Lamont Butler made a jumper at the buzzer of the first national semifinal, sending San Diego State to its first national championship game with a 72-71 win over fellow mid-major Florida Atlantic in the Final Four on Saturday night.
"It's unbelievable," Butler said. "This is what I came here to do. I'm glad the shot went in. I'm just happy for my team right now."
The Aztecs (32-6) appeared to be in trouble as the free-flowing Owls (35-4) picked them apart while building a 14-point lead.
San Diego State got back in it, as it always does, with defense.
The Aztecs shut down FAU and pulled within one when Jaedon LeDee hit a short jumper with 36 seconds left. After FAU's Johnell Davis missed a contested layup, the Aztecs didn't call timeout and got the ball to Butler.
The clock ticking down, Butler dribbled to the baseline, found that cut off and circled back. He stepped back to create a little room and hit a jumper that sent the Aztecs racing out onto the floor — and into Monday's championship game against UConn.
"The plan was just to get downhill," Butler said. "They cut me off a little bit. I looked up, there was two seconds left, so I got to a shot that I'm comfortable with. And I hit it."
UConn is the only school that has previously appeared in a Final Four.
Ticket prices for the Saturday Final Four games nosedived last weekend with the unexpected eliminations of both the University of Houston and the University of Texas. Get-in prices were as low as $50 for seats in the top deck of NRG Stadium.
It's also the end of an era, as CBS broadcaster Jim Nantz calls his last Final Four.
WHO'S FAVORED TO WIN THE TITLE?
UConn is far and away the favorite, and the Huskies have been one of the few things bettors can count on, winning all four tournament games by double digits. They are minus-130 favorites to cut down the nets Monday, according to FanDuel Sportsbook. Someone would need to bet $130 to win $100. All the other teams are in the plus-range, thus better value picks — if you're willing to take a chance against UConn.
UCONN PLAYERS NAVIGATE RAMADAN FAST
For Adama Sanogo, Samson Johnson and Hassan Diarra a traditional pregame meal before Saturday night's national semifinal against Miami wasn't possible. The three are Muslims who observe Ramadan and adhere to a strict fast from dawn until sunset daily until April 20. With the sun setting in Houston just 10 minutes before the 7:49 p.m. tipoff, the players only had time to scarf down a snack and down a drink before taking the court.
BRACKETS
In the ESPN Bracket Challenge game, only 37 brackets of more than 20 million forecast this Final Four. Also, .4% of brackets had UConn meeting Miami in Saturday's national semifinal, and the FAU-San Diego State matchup was on .04%. UConn was on 2.4% of brackets to win the national championship, followed by Miami at .5%, San Diego State at .3% and FAU at .1%. A miniscule .00005% of CBS Sports brackets had this Final Four. UConn was on 1.9% of brackets to win it all, followed by Miami at .4%, San Diego State at .15% and FAU at .04%.