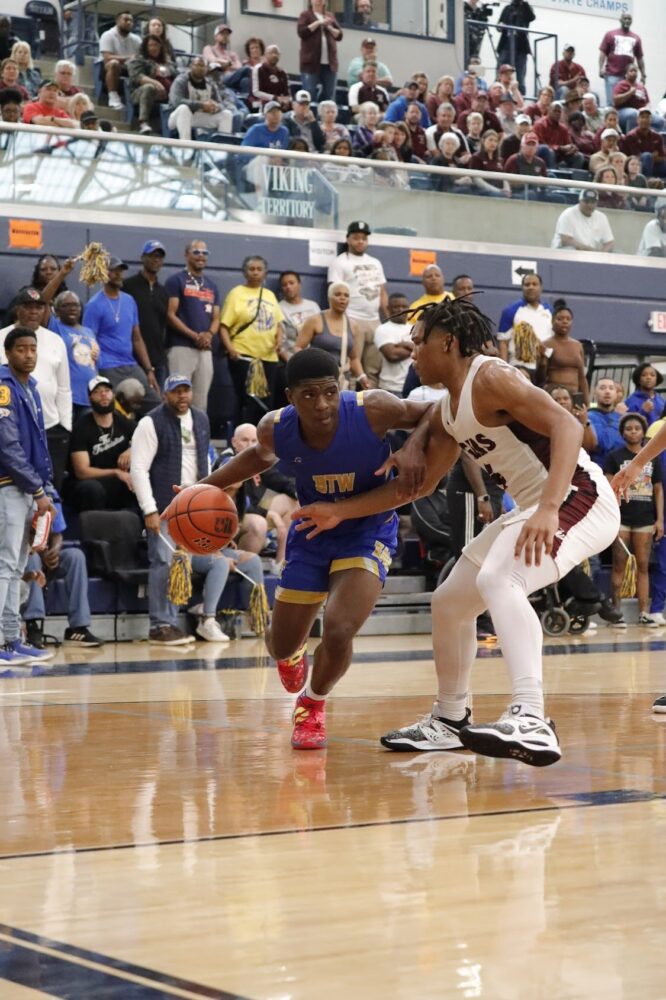 The last time Houston's Booker T. Washington High School played boys basketball in a state tournament, the Golden Eagles were not competing against all of the squads in Texas – just among the Black schools in the state.
More than 70 years later, and long after Texas high schools and their statewide athletic association were integrated, Washington is back on the doorstep of a state championship. The Eagles (28-7) are set to face Boerne (32-5) in a Class 4A semifinal at 3 p.m. Friday at the Alamodome in San Antonio, with the winner advancing to Saturday's 7 p.m. title game.
Their place in history, and the historic opportunity in front of them, is not lost on Washington's talented group of teenage players. And they have provided a renewed sense of pride for their school, Houston ISD and Independence Heights, the historic, predominantly Black neighborhood where the campus is situated.
"It's big," said Chris McDermott, a junior forward for the team. "It's big for the community. I'm happy to be a part of it."
The 6-foot-7 McDermott, a finalist for the annual Guy V. Lewis Award that honors Houston's top boys basketball player at the high school level, is a big reason for Washington's ascension back to the highest level of high school hoops in Texas. He and senior guard Kenneth Lewis, a Prairie View A&M University pledge, led the Eagles to the regional final last season and again have paved the way this year.
Lewis and McDermott are combining to average nearly 39 points per game this season for Washington, which takes a 20-game winning streak to San Antonio. Other leading players include shooting guard Odis Carter Jr. and point guard Andre Walker II, the son of Houston ISD athletic director Andre Walker.
The last HISD basketball team to reach the University Interscholastic League (UIL) state tournament was the Yates boys squad in 2020, when the event was scrapped by the onset of the COVID-19 pandemic. Yates was awarded Class 4A championships in 2013 and 2014 after Dallas Madison, the on-court winner, had to forfeit because it used an ineligible player. Yates delivered the last on-court titles for HISD, the largest school district in Texas, in 2009 and 2010.
Washington's lone championship, in the former Prairie View Interscholastic League (PVIL) for Black schools, came in 1946 with a 40-31 win against Galveston Central. The Eagles lost 56-50 in the final against Wheatley in 1952, their last appearance in a statewide final four.
"I'm an older guy, and I wasn't even born the last time they went to the state championship," said Washington's 55-year-old head coach, Vincent Grayson. "For us to have a chance to be first in the state – no matter Black, white, whatever color they are – it's just a big opportunity."
Grayson said the school's long-awaited debut in the UIL state tournament has created a "buzz" around the Washington community. Students and Independence Heights residents, including alumni from the 1960s and '70s, gathered Thursday morning to send the Eagles off to San Antonio.
A large contingent of supporters are expected to make the trip themselves, including John Gibbs Sr., a lifelong Independence Heights resident and Washington graduate.
"It's history-making," he said. "It's a surge of pride and a sense of accomplishment."
Grayson said the Eagles hope to entertain their fans, and basketball enthusiasts from across Texas, with their up-tempo style of play. Washington has eclipsed the 100-point mark in seven of its game this season, having scored at least 78 points in each of its five playoff games.
While the Eagles are happy to be ending their season at the Alamodome, the annual site of the state tournament, McDermott said their "job is not finished." They're looking for a win Friday and other Saturday night against either Canyon Randall (28-9) or Oak Cliff Faith Family Academy (31-3), the defending state champion.
"I'm excited for the community and the city. It's a long time coming," Grayson said. "We're just going to go out there and compete and hopefully come back with a ring."